Gordon Ramsay attacks father-in-law in bizarre public letter
The famous chef didn't hold back, and threw open his famous family's feud for all the world to see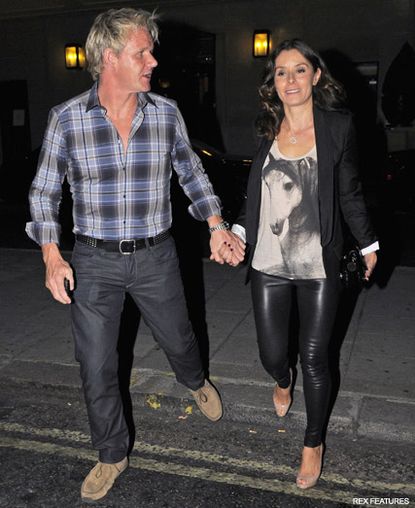 (Image credit: Rex Features)
The famous chef didn't hold back, and threw open his famous family's feud for all the world to see
Celebrity chef Gordon Ramsay launched an attack on his father-in-law yesterday, in a bizarre open letter, published in a national newspaper.
2010'S MOST SHOCKING CELEBRITY SCANDALS
Gordon's famous family have been under strain for some time now, after a series of feud's over his company, Gordon Ramsay Holdings, which his wife Tana's father headed up.
But after Gordon sacked Tana's dad Chris Hutcheson in a legal letter, the fight boiled over, with the family falling out, and not speaking for weeks.
First, Chris spoke out about the cooking star, claiming he had run up thousands of pounds worth of debts and worried staff members with his 'manic mood swings', adding: 'I know where Gordon's bodies are buried.'
Now Gordon has hit back in a bizarre way, writing an explosive public letter to Tana's mother Greta, attacking Chris, and pleading her to bury the hachet with Tana.
'This has to be one of the most painful letters I've ever had to write,' Gordon's message begun. 'Listening to Tana in floods of tears reading your letter from you asking that she stays away from her family is so awfully wrong.
'Removing my father in law from my business has been the hardest and most important decision in my entire life. For a decade, his manipulation and controlling of so many lives has finally come to an end.
'Chris recently suggested my mood swings were down to involvement with drugs; my god did that hurt. How dare he ever suggest this on the back of my frustration and dealings with my younger brother and his addiction'
Gordon's rant then went on to say he had hired a private detective to follow his father-in-law, adding: 'The very complex life that Chris leads, has seen many of my key staff feeling they have had to cover on his behalf.
'His away days were rarely what I thought they were. But beyond that, one of my biggest concerns was the business; signing huge contracts in my name and furthermore discovering emails to be looked at.'
Gordons' revealing letter then ended with a final plea to Tana's mother to patch things up with her daughter, and not let his business dealings get in the way.
'I know how hard this must be for you Greta, and I'm not expecting a birthday card today, but your punishing your daughter and our four children, for all the wrong reasons, it's so sad,' he wrote.
'She's an amazing woman and you've been a fantastic mum please don't stop!'
What are your thoughts on Gordon's public family letter? Should he have kept the matter private? Let us know in the comments box below. 2010'S MOST SHOCKING CELEBRITY SCANDALS
Celebrity news, beauty, fashion advice, and fascinating features, delivered straight to your inbox!