George Michael released from jail
The star made the most of his newfound freedom yesterday, insisting he was 'fine' and giving an impromptu speech outside his Highgate home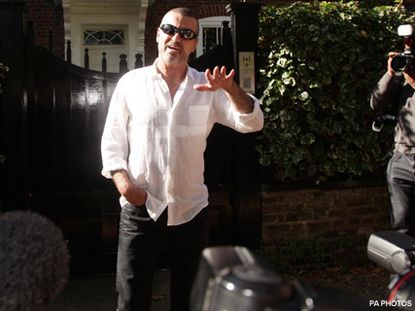 (Image credit: Rex Features)
The star made the most of his newfound freedom yesterday, insisting he was 'fine' and giving an impromptu speech outside his Highgate home
Singer George Michael made the most of his newfound freedom yesterday, arriving home after a 28-day stint in prison.
2010'S BIGGEST CELEBRITY SCANDALS
Michael seemed in high spirits after being delivered home by bodyguards and his partner Kenny Goss, telling photographers he was 'fine', and it felt 'fantastic' to be free.
The sorry star was jailed last month for driving whilst under the influence of drugs, after he crashed his range rover into a Snappy Snaps shop front in North London.
But now it seems he's desperate to turn his live around, and paid tribute to friends and fans in an impromptu speech outside his Highgate home.
'I want to be out. I want to go out,' he said, making a brief appearance to admire the sunny skies. 'You will get sick of me from seeing me about.'
'So if you could all take a few pictures, I'd really appreciate it,' he continued. 'Fantastic, what a beautiful day. I just want to say thank you to everybody who supported me in there.
'It's been inspirational and I'm coming out here on my own so that you'll realise that I just want to start again. Do you know what I mean?'
And it seems prison could even have inspired the outlandish singer, with friends saying the expierience has left him 'reinvigorated musically' and determined to get his career back on track.
'Ooh, by the way... I've just thought of a really good idea for a song,' he told photographers as he stepped back inside. "It's going to be nothing to do with prison."
Are you pleased George is planning to get his life back on track? Let us know your thoughts in the comments box below.
2010'S BIGGEST CELEBRITY SCANDALS
Celebrity news, beauty, fashion advice, and fascinating features, delivered straight to your inbox!