Fifty Shades' Sam Taylor-Johnson is to direct the Amy Winehouse biopic - and there are mixed reactions to it
She's been pegged to the 'Back to Black' production.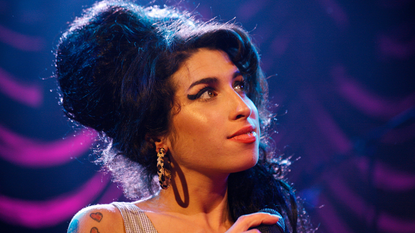 She's been pegged to the 'Back to Black' production.
Sam Taylor-Johnson has been announced as the director of the upcoming authorised Amy Winehouse biopic.
The Fifty Shades of Grey director will take on the project, 'Back to Black' and is expected to begin searching for the actress to take on the lead role within the next few weeks. Studiocanal are producing the biopic, while Matt Greenhalgh has written the script.
The film, which is being made with full support from the Amy Winehouse estate, including her father, Mitch Winehouse, has had a rather bumpy journey.
More than six years ago, Girl with the Dragon Tattoo actress, Noomi Rapace was in talks to play Amy Winehouse in the biopic, with a script by Kirsten Sheridan who was also set to direct.
But the news that Taylor-Johnson is to direct Back to Black hasn't had an entirely positive reception. Some Amy Winehouse fans have voiced their objections loudly on Twitter.
Underneath a tweet by Deadline magazine announcing the news, hundreds of comments have been left and it's quite a mixed bag of thoughts. While some Twitter users voiced their excitement at the upcoming biopic and discuss who should play the iconic singer (spoiler: there are a lot hoping for Lady Gaga), others had something else to say.
One Twitter user wrote "we don't want Sam. Stay away from Amy", while another simply put "No thank you."
Back to Black will explore the life of Amy Winehouse and is expected to cover her journey as a budding singer from North London to becoming a global superstar with hits such as Rehab, Back to Black and Tears Dry.
Opinion on the biopic generally is also divided. While some have expressed delight on social media over the biopic, saying it's been a long time coming, others are strongly against it, claiming that it is exploitative of a troubled soul and shouldn't be made.
The biopic will not be the first feature length film about the iconic singer: in 2015, Asif Kapadia directed the critically acclaimed Amy documentary, which used archive footage and recordings of the multiple Grammy award winner from before stardom until her tragic death when she was just 27-years-old.
Celebrity news, beauty, fashion advice, and fascinating features, delivered straight to your inbox!
Amy Sedghi is a freelance journalist, specialising in health and fitness, travel, beauty, sustainability and cycling.
Having started her career in The Guardian newsroom working with an award-winning team, Amy's proud to have reported on a variety of topics, speaking to a range of voices and travelling far and wide to do so. From interviews on ski lifts to writing up breaking stories outside courtrooms, Amy is used to reporting from a range of locations (she's even been known to type up a story in a tent).
She also loves being active, spending time outdoors and travelling - with some of her favourite features she's worked on combining all three. Cycling and eating her way round the Isle of Man, learning to sail on the Côte d'Azur and traversing the Caminito del Rey path in Spain are just some of her highlights.
Covering a diverse range of subjects appeals to Amy. One minute she may be writing about her online styling session with Katie Holmes' stylist and the next she's transporting readers to the basketball courts of Haringey where she joined a group trying to lower knife crime in the capital.
While at university, Amy was awarded The Media Society bursary. Following her stint at the Guardian, Amy worked at Google and as well as writing for Marie Claire, she regularly contributes interviews, features and articles to National Geographic Traveller, The Guardian, The Independent, The Telegraph, Stylist, Refinery29, Glorious Sport, Cycling Weekly and Rouleur.
When she's not writing, Amy can be found trying to get through her towering stack of books-to-read, cycling down at Herne Hill Velodrome or looking for the next place to eat and drink with friends.