Donald Trump tried to get Salma Hayek to cheat on her boyfriend with him
Spill the tea, girl.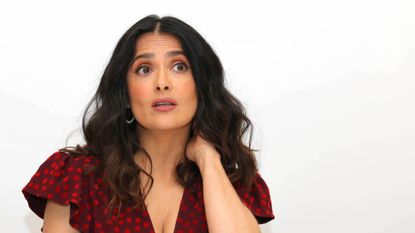 (Image credit: Startraks Photo/REX/Shutterstock)
Spill the tea, girl.
Salma Hayek is a goddess and we love her for it. The Latina actress appeared on The Daily Show last year and had a few choice words about the new American president - and more specifically, his terrible dating habits. It turns out that Donald Trump had pursued her romantically, even though he knew full well she had a boyfriend.
The host Trevor Noah asked her, 'How does Donald Trump ask someone out on a date?'
She referenced one of Donald Trump's outrageous quotes, saying, 'He didn't try to come and grab me that's for sure.'
'I was at an event with my boyfriend,' she revealed, shocking the audience and setting the tone for the whole debacle.
She continued, 'I'm cold and [Trump] put his jacket on [my shoulders] and he was sitting behind. And then I turned around and my boyfriend turned around...He said hello, presented himself - super nice. He said, 'I'm sorry, your girlfriend, I saw she was cold' and I said, 'No, it's okay.' And then he kept talking to my boyfriend.'
It seems like Donald is more politically savvy than he seems, because he then went onto befriend Salma's partner. Following their brief encounter, Trump invited them to a bar for dinner afterwards and even offered to let them stay at his Atlantic City hotel before calling it a night - but not before he grabbed both of their numbers.
Donald's friendship with Salma's boyfriend was short-lived, as she revealed that he 'never talked to [her] boyfriend again'. It seemed the whole thing was a ploy to get her number and he was nothing if not unrelenting.
'Now [Donald Trump is] calling and he's inviting me out and it's just me. And I said, 'What about my boyfriend? Am I crazy, are you asking me out? You know I have a boyfriend. [Trump said,] 'He's not good enough for you. Not important. He's not important, he's not big enough for you. You have to go out with me.'
The Drunk Parents star, who has been married to Francois-Henri Pinault since 2009, swiftly shut him down and unsurprisingly, he didn't take it that well. She implied on a Spanish radio show that he had gone as far as to plant a story in The National Enquirer to coerce her into agreeing to date him, which is terrifying territory.
In Buzzfeed's translation of the show, she said, '[The National Enquirer] said that he wouldn't go out with me because I was too short. Later, he called and left me a message. 'Can you believe this? Who would say this? I don't want people to think this about you.' He thought that I would try to go out with him, so people wouldn't think that's why he wouldn't go out with me.'
The Salma Hayek and Donald Trump love story doesn't end there though. Back in 2008 at a joint Madonna and Gucci fundraising gala, one of the charity auctions up for grabs was a tour of the Chateau Latour vineyard as well as a meal with Salma Hayek.
You can probably guess what's coming - Trump wound up winning the prize after bidding his own charity's money on it. Gawker reported that the Gucci Foundation's tax forms show that figure was more specifically $145,000 - an astronomical amount given that he reportedly only donated $30,000 of his own money to the Trump Foundation that year.
The lunch never came to be however, as Trump stood Salma up. It seems like revenge comes with a pretty hefty price tag.
Salma was an outspoken Hillary Clinton supporter during the election, with strong opinions on illegal immigration, the Mexican border wall and minimum wage. She's made little effort to hide the fact that she still isn't a fan of the president and we can't imagine her revelation will win her any love at the White House.
To be honest, we don't think she gives a damn.
Celebrity news, beauty, fashion advice, and fascinating features, delivered straight to your inbox!
Megan is a freelance journalist who covers entertainment and all things lifestyle, with a particular passion for fashion, beauty, travel and Keanu Reeves stories. She has previously worked on staff for titles including Marie Claire UK, CNN Style and The Evening Standard and has written for titles such as Bustle UK, Wallpaper*, Forbes and Hong Kong Tatler. She splits her time between London and her hometown Hong Kong, where she currently lives with the love of her life - an elderly dog named Poppy - and her husband.