7 lovely things that David and Victoria Beckham have said about each other
Oh these two.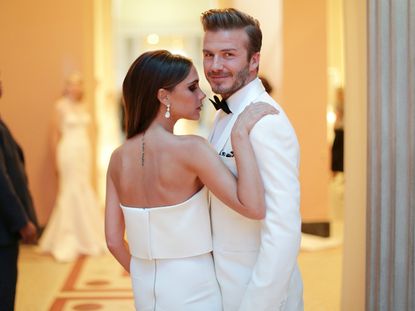 (Image credit: BFAnyc.com/REX Shutterstock)
Oh these two.
As David Beckham admits that Victoria once found a *fault* in that flawless persona (clue; it was all about his tattoo addiction) we're charting the sweetest things the couple have said about each other in the media…
'The tattoos are a way of me expressing deeper feelings about the things I care about and love. Am I done? Probably not.… Think Victoria's given up on telling me to stop now. She used to. She used to say, 'Do you have to?' But she knows it makes me happy.' – David Beckham
'I like Victoria for herself ... I'd like her if she worked in Tesco.' – David Beckham
'I know I would sacrifice anything for my boys (David and sons), including my career, even though I also know that they would never ask me to.' – Victoria Beckham on her family
'He's got more personality than people think and he's very deep and spiritual. He always knows how to dress, that was part of his appeal originally. We've got matching dogs, matching watches, similar wardrobes, matching Jags.' – Victoria Beckham
'If you love someone, you want to treat them, surprise them, remind them how you feel… Whether that means a weekend away somewhere, or a bowl of fruit in the morning laid out in the shape of a heart… I know Victoria thinks I'm romantic like that.' – David Beckham
'You have to have fun together. We've got three beautiful children together which our whole time is making them happy and making sure they're healthy and good so most of our time is spent on them. But we have to also spend time together as a couple and that's always important.' – David Beckham.
'17 years ago our brood started and these little ones have the most amazing mummy that they love so much ... And I love her for many reasons but the main one is because she gave me the most amazing children...' – David Beckham
Celebrity news, beauty, fashion advice, and fascinating features, delivered straight to your inbox!