Cheryl struggling to control X Factor's 'stroppy' Cher Lloyd
The songstress is said to be at her wits end over the diva's behaviour as the competition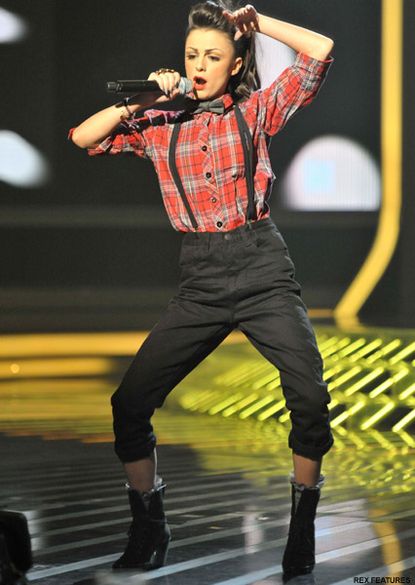 The songstress is said to be at her wits end over the diva's behaviour as the competition
After a week of rows and infighting between her contestants, Cheryl Cole is said to be at her wits end over the warring singers and struggling to handle 'stroppy' Cher Lloyd, according to X Factor's Sinitta.
SEE ALL THE LATEST X FACTOR PICS HERE!
The songstress has had a tough time on her hands, after act Katie Waissell came in the bottom two during the very first week, with the public turning against the star.
Now she's reportedly battling with 'stroppy' Cher Lloyd, who is said to be 'more difficult' than any contestant she's had before, and increasingly has her own ideas on how she would like to perform.
The songstress is reportedly trying to help, but refuses to 'referee their fights and dramas'.
'I think Cher wants to wear boyish clothes and people have tried to persuade her otherwise,' X Factor's Sinitta revealed to OK! in a new interview, referring to Cher's bust-up with the show stylist during the week one show.
'Cheryl's probably found Cher more difficult than previous contestants.
'You try and deal with their needs but you don't need to end up feeling like you're being abused or someone's being rude.'
Sinitta also admits that Cher can be 'stroppy', but puts her behaviour down to her age, and dedication to her performance.
'That's what all teenagers are like, it's not just because she's on X Factor,' she said.
'I'm not saying there aren't better ways of expressing yourself but I understand that every artist wants to feel they look good on stage.'
Adding that Cher 'cries the most', she said: 'It's more out of frustration, she wants things her way and she has a very particular mind about what she wants yet sometimes she can't articulate it.'
What are your thoughts on Cheryl's Cher Lloyd? Stroppy teenager or serious artist? Let us know in the comments box below.
WAGNER LEAVES THE X FACTOR HOUSE
Celebrity news, beauty, fashion advice, and fascinating features, delivered straight to your inbox!