Cara Delevingne and Rita Ora: the BFFs on how to deal with cyber bullies and online negativity
#IWILLNOTBEDELETED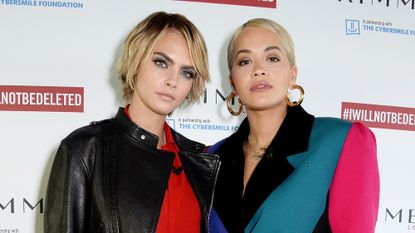 (Image credit: 2018 David M. Benett)
#IWILLNOTBEDELETED
Chances are you, or someone you know, have been beauty cyberbullied in the past. With the number of users on Instagram now at a record high of one billion, it's little surprise that so many of us are affected by comments that appear on our feeds.
According to research, 1 in 4 women have experienced cyberbullying based on their looks, 65% say their confidence has been affected and they're less likely to experiment with their beauty look or style, 46% have turned to drugs, alcohol, self-harm or eating disorders because of it and a whopping 115 million images being deleted per year.
These shocking figures have prompted Rimmel to launch their #IWILLNOTBEDELETED campaign alongside The Cybersmile Foundation, a nonprofit organisation committed to tackling all forms of digital abuse.
The beauty brand's long-term project hopes to raise awareness and take stand against this behaviour: 'Rimmel has a clear purpose to inspire people to experiment & express themselves with make up to be their authentic self,' says Sara Wolverson, Vice President of Rimmel Global Marketing at Coty. 'As a brand, we are against narrow definitions of beauty, people being shamed, judged and criticised because of their looks and this behaviour manifests itself widely today in the form of beauty cyber bullying.' by showcasing real life stories of those affected.
The campaign goes live on 12th November and it showcases real life stories of those affected, including influencers and Rimmel ambassadors Cara Delevingne and Rita Ora.
We sat down with the two best friends to chat about the best ways to deal with negative abuse online and the importance of the project.
MC: BEING IN THE PUBLIC EYE, DO YOU THINK PEOPLE FEEL THAT THEY CAN WRITE WHATEVER THEY WANT ABOUT YOU ONLINE WITHOUT THINKING ABOUT THE REPERCUSSIONS?
CARA: Yes, I think because you're in the public eye they maybe assume that you won't see it, or that-
RITA: Or that you're supposed to just accept it because you're a public figure.
CARA: Or that for some reason you're different than any other human being that gets affected by that sort of thing.
RITA: Yeah, I think people forget that we're also, like, human? You know, and sometimes it's hard. It's like people think that because we've chosen this profession it's almost, like, it comes with the territory, but at the end of the day, no it doesn't. Like cyberbullying is just not cool full stop, and we also feel that too.
CARA: And if we allow it, then it means that we're allowing it for other people to do it too.
RITA: Yeah, which is the point of this #IWILLNOTBEDELETED campaign.
MC: AND HAVE YOU BOTH EXPERIENCED CYBERBULLYING FIRST HAND?
CARA: Yes, for sure.
RITA: Totally, yeah, yeah.
MC: IS IT A DAILY THING?
RITA: Well, I don't focus on the comments as much as I used to anymore, I've very much learned to numb myself to it over the years. But for someone that's first starting out and they've just started an account or whatever, of course you can't help but look. But then you get to a point where you're like, 'This is so bad for me, that it's just poisoning my mind.' Mental health in general is such a big deal and it's so important that you have to look after your mental health and like, do what's right for you so you don't get anxious, you don't have stress, and like, you've got good people around you.
MC: DOES THAT MEAN THAT YOU DON'T LOOK AT THE COMMENTS ANYMORE?
RITA: I don't, no.
CARA: I mean, I do sometimes, especially when I'm posting something that I want to create a conversation or a discussion - whether it's political, or some other thing that I believe in.
RITA: I don't look at my, like, picture comments, but if you want to start a convo that's a good point.
CARA: I remember when I was younger I'd look at comments to try and find things to validate the fact that I felt shit about myself. I hated myself and wanted people to tell me they hated me too so I could be like, 'I knew I was right.' It's really hurtful and bad, but the thing is the amount of time you spend looking at these things you could be doing something to help yourself or someone else. So, if you read a bad comment, write a gratitude list, write down five things you love about yourself on a sticky note and stick it on your mirror and stare at that in the morning.
RITA: That's really good for you.
MC: HAVE YOU EVER REPLIED TO ANY BULLYING COMMENTS?
RITA: No, because I think that it's super negative. It's best just to filter out people in your life that bring negative energy. It's better to surrounded yourself with friends. We're friends and we're doing this campaign together because we're both really sincere about not only our friendship, but the experiences we've gone through together in the public eye. Me and Cara became best friends early in our careers, our friendship blossomed in front of everyone. You know pictures of us would appear everywhere and we learnt together how to deal with these types of things. It's made our friendship so much stronger and now we can put that out to other people and help them. We can be the friend to support them. So, this isn't phony; it's a real campaign, with real people.
CARA: Exactly, this whole things is about real friendship, support and truth and finding the light when the world seems quite dark.
MC: WHAT ADVICE DO YOU HAVE FOR PEOPLE WHO ARE GOING THROUGH A FORM OF CYBERBULLYING AT THE MOMENT?
CARA: Talk about it. Reach out to other people, because everyone has dealt with it before. You know it doesn't matter what position, where you're from, how old you are, what your job is, we've all dealt with some form of it. And also, if you are a cyberbully, check yourself man. Like why are you saying the thing you're saying? I mean I'm sure there are so many reasons as to why. If you're someone going through it, surround yourselself with people that love you or people that lift you up because that's the most important thing.
MC: DO YOU EVER TAKE A DIGITAL DETOX?
CARA: Yes, I try to do one once a week for a whole day.
RITA: I try to not bring my phone into bed. It's not a screen thing, but watching Netflix is way better than scrolling through social media.
CARA: I also get FOMO and I just look at people and I'm like oh, why can't I be everywhere at once and it's just like-
RITA: I suffer from severe FOMO too.
CARA: I look up and I'm like how long have I been in this hole for? Just scrolling.
RITA: It just happens because as women we're really competitive and we really want to just prove ourselves, because that's always what we've had to do for our whole live.
CARA: Because there's that feeling always that there's only one space for one person and it's just ridiculous.
RITA: There's space for all of us and it won't kill you to not go to that party that night. I'm slowly learning myself. I'm learning to deal with that everyday.
MC: CARA, IN THE PAST YOU'VE SPOKEN OUT AGAINST THE USE OF THE DISKLIKE BUTTON ON FACEBOOK, WHAT ARE YOUR THOUGHTS ON THE RECENT IDEA TO COMPLETELY REMOVE THE COMMENTS SECTION FROM INSTAGRAM?
CARA: To be honest, people already have the choice to delete certain comments. If someone is struggling and having really bad issues with cyberbullying then I think it's important to do that. But in my opinion, I like to be able to have conversations in my comments, especially when I'm posting about things that I want to debate about. I think it's important, but there's a limit you know. There's always going to be pluses and minuses, but if you get rid of it completely for everyone then you're getting rid of the choice.
RITA: There's so much pressure amongst kids of who's following who and how many followers they've got and I think it's important that schools are up to date on things like this and teach kids that those things aren't important. It's a much better tool for things like speaking your mind or showing off work that you're proud of. That's what I use it for
MC: DO YOU THINK COMPANIES, SUCH AS FACEBOOK, SHOULD BE DOING MORE TO STOP CYBERBULLYING?
CARA & RITA: Yes.
RITA: One hundred percent.
CARA: They're the people that should be doing it first of all, you know. So I'm really proud that Rimmel, which is a big company that has a huge outreach and inspires so many people, are tackling this. Hopefully this campaign will get back to companies like Facebook, and it'll force them to realise that they need to do something about it. You can't fix the problem completely, you can only help, so they should be helping.
RITA: And it's so cool that it's a makeup brand, you know? And it's a brand that accepts and promotes individuality. In the shoot for this campaign, we all represent something different. And it's just nice to be part of that generation.
The Rimmel #IWILLNOTBEDELETED campaign goes live on 12th November 2018.
Celebrity news, beauty, fashion advice, and fascinating features, delivered straight to your inbox!
Katie Thomas is the Senior Beauty Editor at Marie Claire UK. With over 10 years of experience on women's luxury lifestyle titles, she covers everything from the best beauty looks from the red carpet and stand out trends from the catwalk, to colonic irrigation and to the best mascaras on the market. She started her career on fashion desks across the industry - from The Telegraph to Brides - but found her calling in the Tatler beauty department. From there she moved to Instyle, before joining the Marie Claire digital team in 2018. She's made it her own personal mission to find the best concealer in the world to cover her tenacious dark circles. She's obsessed with skincare that makes her skin bouncy and glowy, low-maintenance hair that doesn't require brushing and a cracking good manicure. Oh and she wears more jewellery than the Queen.