Swoon Alert! Is Brad Pitt getting hotter and hotter?
The actor appeared on the Today Show to talk about his Moneyball Oscar nomination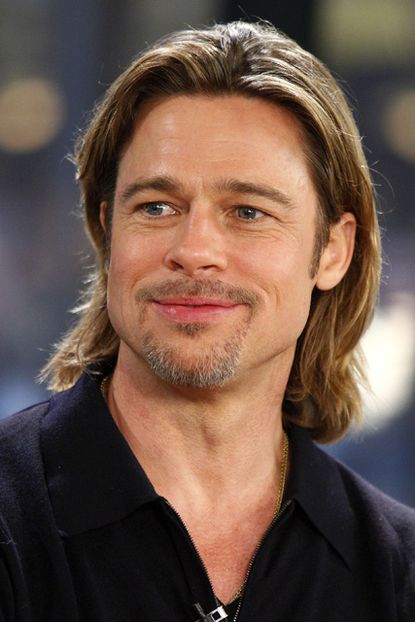 (Image credit: Rex)
The actor appeared on the Today Show to talk about his Moneyball Oscar nomination
Brad Pitt appeared on the Today Show - looking hotter than ever - to talk about his Moneyball Oscar nomination.
The handsome actor sat down with presenter Ann Curry on America's Today Show to chat about what it was like to be nominated for Best Actor for his role in Moneyball.
When Ann Curry asked, 'What would winning mean to you?' adding she didn't want to hear that being nominated was good enough, Brad replied, 'It is!'
The 48-year-old star continued: 'But I just don't believe there is such a thing really. It's apples and oranges. There are so many good performances this year. So many good performances that aren't even being acknowledged.
'What it means for a film to have this kind of support means more films like this will have an easier chance of getting made.'
Angelina Jolie's beau sat next to pal and co-star, Jonah Hill, who has also been nominated for Best Supporting Actor for his work in the film, and described what it was like working on Moneyball after he had to fight so hard for it to be made.
Pitt, who has been nominated three times for an Academy Award, said: 'For me, it's so great knowing what Jonah put into it, knowing how bold it was, what he did and coming onto the scene in this way is exciting. I feel the same about the writers and everyone else that helped get it over the hill.'
Jonah, the Superbad and Knocked Up star, also had nothing but praise for his co-star and producer: 'He's a great boss. He's the producer of the film.
'He was working in the bunker every day trying to figure out this really intricate book - that people said was un-filmable - to adapt it and make sure it came across the way the way they thought it did.'
'I think he deserves it (the Oscar),' Jonah added.
'I genuinely think if I wasn't in the film, he gave my favorite performance this year,' Hill told Curry. 'My vote goes to him... If I had a vote.'
Do you think Brad deserves the Oscar? And, more importantly, is he getting hotter? Tell us what you think in the comments box below...
OSCAR NOMINEES 2012
Celebrity news, beauty, fashion advice, and fascinating features, delivered straight to your inbox!