Amal Clooney Just Gave The Best Comeback To A Reporter Asking Her About Her Clothes
She's got class AND a sense of humour.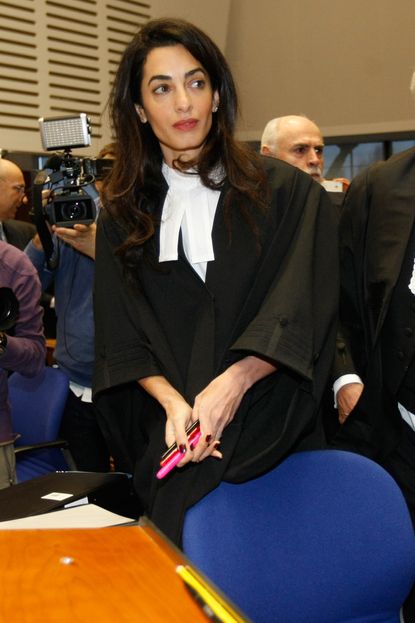 (Image credit: PA)
She's got class AND a sense of humour.
Amal Clooney really does keep getting better. Her latest act of brilliance? A quick-witted comeback to a reporter asking her about fashion.
The top human rights lawyer is currently representing the Armenian government in a case against a Turkish politician who denies the Armenian genocide, which saw 1.5 million Armenians lose their lives, took place a century ago. And, while in court, she was quizzed by journalists. One such journalist, a Bruno Waterfield of the Telegraph, thought is appropriate, at that moment, to ask her about her fashion. Big mistake. Huge.
Seriously, there's a time and a place for that. And during a hearing at the European Court of Human Rights about one the the biggest tragedies of the last 100 years is not one of them.
Writing about his conversation with the lawyer, he posted on Twitter: 'I ask Amal Clooney about the fashion speculation. She laughed and pointed to her robes, "I'm wearing Ede & Ravenscroft".'
Ede & Ravenscroft is a London tailor which specialises in formal robes, like the ones worn by lawyers, judges and what not.
What. A. Comeback.
Now come and see all the ways Amal Clooney was the best thing about the Golden Globes 2015.
Celebrity news, beauty, fashion advice, and fascinating features, delivered straight to your inbox!