All The Ways Amal Clooney Was The Best Thing About The Golden Globes 2015
What you need to know about those gloves, George Clooney's gushing acceptance speech and that spot-on gag by Tina Fey and Amy Poehler.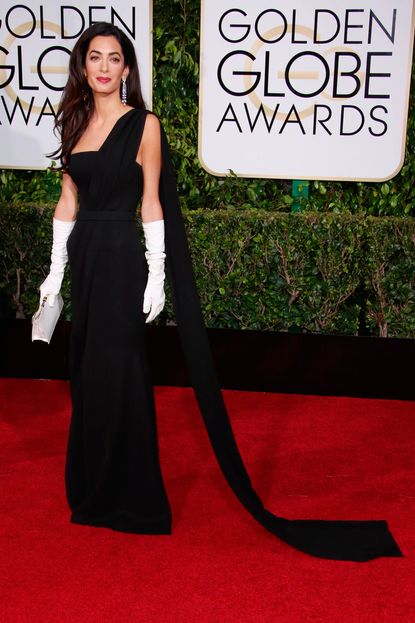 (Image credit: Rex)
What you need to know about those gloves, George Clooney's gushing acceptance speech and that spot-on gag by Tina Fey and Amy Poehler.
Amal Clooney brought a healthy dose of class to the Golden Globes 2015 red carpet last night. In a sea of blinding Hollywood veneers and vacuous showbiz schmoozing, the human rights lawyer was the picture of serenity and sophistication.
With a clearly smitten George Clooney on her arm, Amal was a cut above the rest. Here are all the ways she (and by default George) was the best thing about the Golden Globes 2015:
1. Those gloves. We'll be honest, the Marie Claire office is divided by the white elbow-length gloves Amal chose to accessorise her black Dior Haute Couture gown with, but we just love that they were homemade - by her own fair hand, no less. 'She sewed them this morning,' George revealed on the red carpet. 'She's very handy.'
2. The trophy husband. Golden Globe hosts Tina Fey and Amy Poehler summed up the greatness of Amal perfectly with their best gag of the night. 'George Clooney married Amal Alamuddin this year. Amal is a human rights lawyer who worked on the Enron case, was an advisor to Kofi Annan regarding Syria, and was selected for a three-person U.N. commission investigating rules of war violations in the Gaza Strip. So tonight… her husband is getting a lifetime achievement award.' Excellent.
3. Clooney's gushing acceptance speech. While accepting the Cecil B. DeMille Award for lifetime achievement award, the actor got uncharacteristically soppy about his new wife. 'It's a humbling thing when you find someone to love,' he said. 'Even better if you've been waiting your whole life and when your whole life is 53 years… Amal, whatever alchemy it is that brought us together, I couldn't be more proud to be your husband.' Damn right, George.
4. George wore his wedding tux. Clearly still basking in the warm memory of his Italian wedding to Amal, the actor wore his wedding tux to the first event of awards season. And can you blame him? It was custom-made by Mr Georgio Armani himself and even has his name stitched into the label.
5. Amal used the red carpet to make a political statement. Along with the gloves, Amal accessorised her Dior couture with a badge that read 'Je Suis Charlie' as a tribute to the Charlie Hebdo staff who were murdered in Paris last week. She explained on the red carpet that her look had been 'customised in solidarity with the French people who've gone through a terrible week.' A powerful touch.
6. She doesn't do shots, obvs. During an extremely awkward interview with Giuliana Rancic, Amal and George were offered shots of his Casamigos tequila, but they politely refused. Surely it goes without saying that Amal is too classy for tequila shots, even if it is her husband's. Don't forget to check out our round-up of ALL the Golden Globes 2015 winners.
Celebrity news, beauty, fashion advice, and fascinating features, delivered straight to your inbox!