5 quick tips for the 5 biggest fake tan fails
Because no one wants hands that look like they should belong to an oompa loompa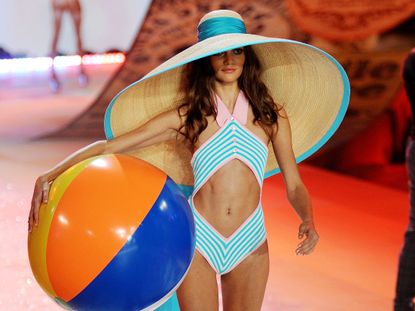 (Image credit: Broadimage/REX/Shutterstock)
Because no one wants hands that look like they should belong to an oompa loompa
We've all been there - reaching for our back's with a tanning mitt, only to miss a critical area; buffering in our tan in to the nth degree, only to end up with bronze streaks down our legs; going to sleep thinking we've covered everything off our pre tan list, only to wake up with hands that look like they should belong to an oompa loompa.
Sure, formulations may have come a long way (especially these fake tans) and tools to make tanning easier have flooded the market, yet sometimes, the occasional fake tan fail is simply unavoidable. What's worse, is that they don't just last a couple of hours, they last days, even weeks!
If you've found yourself in a bit of a bronzed conundrum and don't know how to remove fake tan, try these quick fake tan tips…
1. Orange hands
They're dead give away that your tan isn't real, so you don't want to be waving at anyone with orange hands. If you've forgotten to use a baby wipe to take any tanning lotion off your hands straight after you've applied it to your body, rub them with lemon to remove any colour. The acidity of lemon breaks down the
2. Streaky tan
Whatever you do, don't scrub your skin - you'll take off the tan in patch if you do that! Instead, fill your tub and add some bath oil to soften your tan before working your tanning mitt over the area in circular motions.
3. Missed a spot
When you're in a hurry, this is one of the easiest mistakes you can make. But luckily, it's also one of the easiest to rectify. For small spots caused by water drops, use a Q-Tip or cotton ball to apply your fake tan, while blending the borders into the tanned skin with a buffer. If you have missed bigger spots, apply fake tan where needed and then blend the borders with a tanning mitt. Once dried, rinsed and dried again, if the borders of your old tan and new tan create a darker line, use a small amount of oil on a tanning mitt and go over that area. It'll break down the tan slightly to blend easily.
4. Patchy face
If you think a patchy tan on your body is bad, wait until you make the simple mistake of a blotchy face tan. There's no sloughing it off (the skin on your face is far too delicate for that) and rubbing the area with oil is likely to make you break out. But, there is a failsafe way to get rid of your face tan and start again - slap on a clay mask to speed up the exfoliating process. We love Origins Clear Improvement Active Charcoal Mask, £23, because it leaves pores visibly clearer and dramatically reduces breakouts.
5. Gone too dark
You wanted golden but ended up mahogany? Don't worry. a little bit of body oil will help you out. Apply it all over your body, wait for 30 minutes, then have a bath and use flannel to lightly buff over your whole body. This will remove the oil and lighten up your tan.
Celebrity news, beauty, fashion advice, and fascinating features, delivered straight to your inbox!