Emily Atack on jungle life, rosé and the bargain mascara everyone should own
'It's my lady petrol'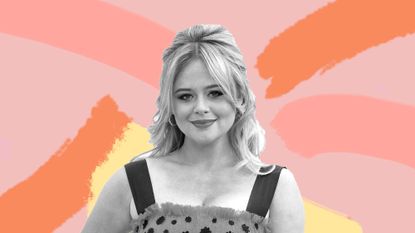 (Image credit: Rex Features)
'It's my lady petrol'
In the latest installment of Beauty Bytes I sat down with actress, presenter and all-round funny gal Emily Atack. If you don't remember her appearance as Charlotte Hinchcliffe in The Inbetweeners, you'll definitely know her from her stint in the jungle on I'm a Celebrity Get Me Out of Here. Attending this year's BAFTA TV awards with Charles Worthington, I caught up with Emily before the red carpet to chat all things beauty...
LA: What's the worst beauty trend you've ever tried?
EA: When I was really young, I was about nine, I decided to go for a head scarf. No one had done it before and I got absolutely rinsed for it. Now it would be really cool, but at the time I was like, this is the worst decision I've ever made. I got laughed at all day at school.
LA: Best beauty advice you've ever been given?
EA: Drink water. Drink plenty of water and that's all. That's the key to having great skin, apparently. I don't drink enough water, I am terrible, so everybody always says to me drink loads of water.
LA: What about the best product recommendation you've ever had? What has somebody put into your hands and you're like, 'I can never go without this again'?
EA: I mean, I've been wearing make-up and using beauty products since I was literally about 10 years old, so I'd say a good foundation. I remember being introduced to foundation thinking 'oh my god, life made'. Do you know what, I'm going to go a bit rogue and say that my whole life since I was really little – I know it sounds terrible – but I had such pale skin and wanted to be really tanned, so I wear an instant tan all the time. If I can't be arsed to have a spray tan, which I often can't, I just put instant tan on. It's the best invention ever. I've been wearing it since I was really young and I've never looked back. The Rimmel Instant Tan, easy. Don't wear it if it's pissing it down with rain though, because that's a disaster.
LA: Which it has been recently!
EA: Honestly, if you're pasty skinned like me and you fancy a quick little glow up, just a nice bit of instant fake tan. The best thing that I was ever introduced to.
LA: So you've talked a little bit before about how life changing the jungle was for you and your self confidence. Are you able to tell me a little bit more about that?
EA: It was the best decision I have ever made, ever. Not everybody can do that, go in a jungle and have that experience of course. But if you ever have an opportunity to be plonked out of the world in any kind of sense, have your phone taken off you, not have alcohol or boys hurting you for three weeks, do it. You learn so much about yourself because, even though you have everyone around you, all you have is you so you rely on yourself to get through it. And then you come out with so much more respect for yourself, because you just think 'oh my god, you did it!' Do you know what I mean?
LA: Yeah, it was really quite emotional watching you sat up there at the end of the series.
EA: Yeah, even though it was the hardest thing I've ever done, I'd do it all again just for that feeling of euphoric realisation that I am good enough and I can do anything, you know? I'm not superwoman, far from it, but I just proved that I can survive without all the everyday things in life that we think we need now. You know, like our phones and social media and all that bollocks. It's all bollocks. When you're stripped bare you realise that nothing really matters other than your health and yourself and the people around you. Everything else is bollocks.
LA: I think my favourite moment was when your mum came in and you were both wetting yourself because she was like... You cannot dance.
EA: Oh yeah, I know. But even moments like that, you really kind of appreciate your life again! You learn about what you have and start to respect what you have. It sounds like a cliché, but it truly did do that for me. I look at life so differently now. I'm still the same person – people keep asking 'did the jungle change me?' No, it didn't change me, it just brought out everything in me that I didn't realise was there, or it reminded me of who I was again. You become like a nine-year-old kid again; I remembered what I was born with. We're not born with all these anxieties and worries and all these terrible annoying things that we have to deal with in life. I was stripped back to being a child again, so it didn't change me, it just reminded me of who I really was.
LA: How do you look after your hair?
EA: I've been going to Charles Worthington since I was very young. It was always a treat, my mum used to take me for a Charles Worthington blow dry when I was about 11, that's where it all began. It sounds so bloody spoilt, but that was my little treat. She would take me into London and let me have a little blow dry, so I've been doing that ever since really. And I always use Charles Worthington products, I just love their style. I've always loved big and bouncy, that's my vibe and I think it always will be. Even if it's not on trend, I don't care, I still like big and fun.
EA: I swear by them for colour as well, they do the best colouring. I've been going to them for years, so Charles Worthington all the bloody way. I'm not just saying that, genuinely all the way. They've got these shampoos that I use and I love them so much. I have to be careful because there's a sort of blonde tinting one, the ColourPlex Toning Ultra Violet Shampoo, and I was using it so much that I was getting blonder and blonder and blonder.
LA: Oh yes, you leave them in for a certain amount of time don't you?
EA: Yeah, but because it leaves your hair in such a beautiful condition I had to really calm myself and not use it every day! You're meant to only use it once a week so I had to really stop myself.
LA: What's your favourite hairstyle if you're going out? You've kind of answered that a little bit with the 'big and bouncy'.
EA: Oh yeah, going out I just love a classic blow dry. I love having a blow dry before I go out. You can't beat it, because they do it in a way you absolutely cannot do yourself. The problem with that though is I end up not washing my hair for about three days, because I want to leave it in for as long as possible. So, on a Friday night you get the fresh blowy – sounds a bit dodge – you get the fresh blowy and it looks amazing, then you go out Saturday as well because it still looks amazing. Then you go out on the Sunday as well, because it still looks great!
LA: Yeah, you just need to shove some dry shampoo in there to keep it going, don't you.
EA: Oh my god, the Charles Worthington dry shampoo changed my life. I carry it with me everywhere.
LA: If the house is on fire – and all the important stuff is safe – what is the one beauty product you'd save?
EA: Probably my straighteners, because you can use them for anything now. Curls, you can do anything, can't you? Because even if you leave your hair to dry naturally – my hair is really, really curly – I just tweak the curls sometimes to put the shape back in.
LA: Three favourite beauty brands?
EA: At the moment I'm loving the bareMinerals foundation, and I love MAC, all the MAC lip liners, and KIKO. KIKO at the moment I use loads. I was actually only introduced to it a couple of years ago.
LA: It used to be that you'd only see KIKO when you went on holiday, right?
EA: Yeah that's so true! So I am so happy now if I see a KIKO, I run straight in there. I love their colours, they have really interesting ones, especially their eyeshadows. So yeah, I'd say KIKO, bareMinerals and MAC.
LA: How do you take care of your skin? Do you have a day and night routine?
EA: It's only in the last year or so that I've been slapping myself on the wrist a bit saying, 'I need to take care of my skin more'. I've always been really lucky in that I've never had spots and I've always had quite clear skin. I am very pale and freckly, so I don't really sunbathe. I sort of pretend to, but I don't like looking at my skin getting damaged by the sun, so I'm all about the fake tan.
LA: Shade bathing.
EA: In that sense I look after my skin, I never lie in the sun for too long. But recently I have had to say, 'OK, I need to have some kind of routine'. I've been using a brand called Tropic, they do this really nice, sort of oily cleanser so I've been trying that. I do use wipes when I'm being a bit naughty and lazy. Sometimes I put make up remover on the wipe... That's alright though isn't it, you can do that?
LA: I think every now and then it's OK.
EA: Yeah, I'm a bit naughty and a bit lazy. When I'm not being lazy and I'm being good, I go through loads of different products. I think I really need to start finding my actual skin routine. I'm still not quite there yet, I'm learning.
LA: Do you find that you're more dry or oily in terms of skin type?
EA: Dry, I'd say more dry.
LA: What's in your make-up bag right now?
EA: Oh it's a shit hole at the moment, an absolute shit hole. My mum bollocks me when she sees my make up bag, she's like, that's atrocious.
LA: Ha, does it have pencil shavings in it and stuff?
EA: Yeah! She's like, 'that is so slovenly'. I know it's really bad but I'm so on the move, and at the moment I get my make-up done every single day because I'm always working and doing things, so I'm not really using it at the moment. But I have got my bareMinerals in there. And do you know what, this mascara that I swear by, I love it. It's the fat yellow one, it's only high street...
LA: Maybelline? Sort of 'this shape'.
EA: Yes! I swear by it. I think it's the best mascara, sorry, I do. It's not expensive, it's like eight quid and I use it all the time. I love it.
LA: Best make-up tip from a pro artist?
EA: So I don't have lip fillers, I've always been quite lucky as I do have quite big lips, but I still like to get that extra bit of plump there. So sometimes I ever so slightly go over the cupid's bow, just because that's the look at the moment isn't it. I call it my Rosie Huntington-Whiteley look.
LA: How often do you get your nails done?
EA: Not often enough! I don't have time at the moment, but when I do have time, I try and do it once a month, or once every couple of months.
LA: Do you like a plain mani or a nail art kind of thing?
EA: I change it up. When I was solely acting I had to be quite neutral, but now that I'm doing more glitzy, glamorous stuff I can mix it up a bit.
LA: Do you have a signature fragrance or a few go-tos?
EA: I LOVE, you can't go wrong with, YSL Black Opium. It's just beautiful. It's the only perfume I've ever worn that men compliment. Men go, 'oh my god, what are you wearing?' I've had men come up to me on the tube saying, 'I'm so sorry, I'm not being a perv, but what is that smell because I actually want to buy that perfume for my wife.'
LA: The original one? Not the newer diamonds one.
EA: Yeah, it's stunning. It's sweet but mature, and a bit young. But oh, it's lovely.
LA: Three most used emojis?
EA: The crying laughing one, the wine glass, red wine one, and the two champagne ones.
😂🍷🥂
LA: Fave alcoholic drink?
EA: Provence rosé all the way. I love a Provence. It's my lady petrol.
LA: What's your favourite book? Are you much of a reader?
EA: Do you know what, you're gonna think it sounds like I'm being so wanky, but I love reading poetry at the moment. I bought this book of poetry, they're love poems, I cant remember what it's called but my mum told me to read it, and they're so lovely. Some of them make me cry. I love reading poems.
LA: Have you read She Must Be Mad by Charly Cox? It's loads of poems about being in your twenties, working out life, mental health, love...
EA: That sounds right up my street.
LA: It's really great. What would your last meal be?
EA: OH, are we doing starter, main, dessert? Right, to begin – and I'm thinking I'm about to die – I would go for a melted Camembert with loads of crusty bread, olives and houmous. Then for my main course I would have a massive lobster, loads of different seafood around it, massive prawns, everything, with sweet potato fries and garlic mayo, a big mish-mash of that. My dessert would be apple tart tatin with salted caramel ice cream.
LA: Dreamy. Favourite TV show to binge watch?
EA: The Office.
LA: UK version right?
EA: Of course, all the way.
LA: Movie?
EA: Titanic.
LA: What about favourite Instagram accounts to stalk?
EA: Ooh, Instagram accounts to stalk, hmm. I don't know, not any that I'm prepared to say! Erm, my boyfriend's?
LA: Yeah let's give him a shout out.
EA: My boyfriend Rob's.
LA: Who were you most star-struck meeting?
EA: Ooh. Do you know, I spend my life being surrounded by famous people at the moment, but I'm telling you now you can't beat meeting a good old soap star you've been watching your whole life. When I see the people out of EastEnders or Corrie, that's more amazing and star-striking for me.
LA: They're on all the time in your house aren't they.
EA: Honestly, I saw Billy Mitchell at the NTAs and I couldn't believe it! That's more like *gasp* for me, because soap stars have been in your life every day from when you were younger and watched them.
LA: What's the weirdest chat-up line you've ever heard?
EA: Um, 'your mum's fitter than you'. No, I don't know – men just seem to think when they chat you up they're really good at it, when they're just shit. Or, people coming over to me and telling me they have no idea who I am. They come over to me and go 'By the way, I've got no idea who you are.'
LA: You should just say, 'same'.
EA: Oh yeah, I should say that shouldn't I?!
Celebrity news, beauty, fashion advice, and fascinating features, delivered straight to your inbox!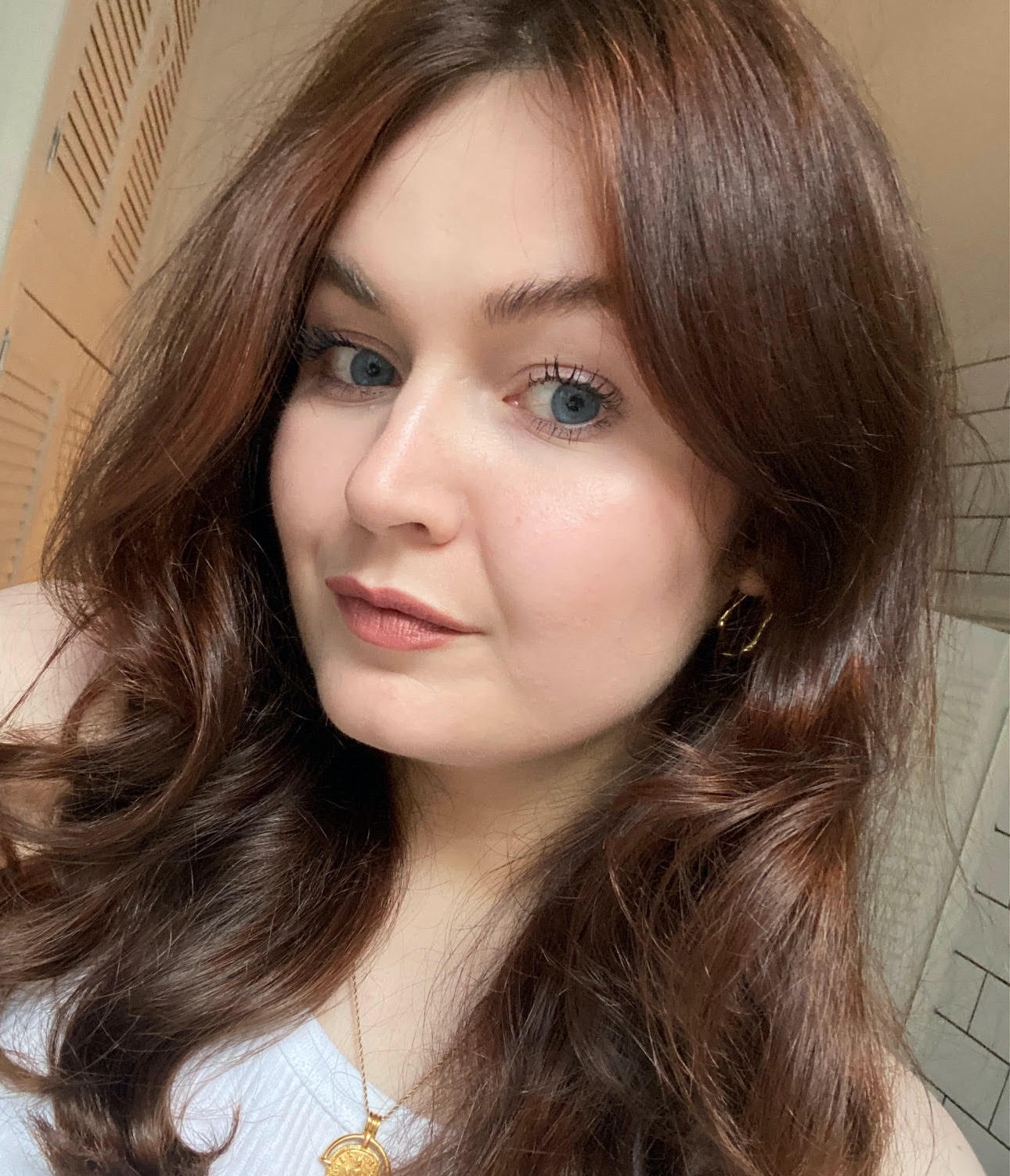 Lucy is a freelance beauty editor and contributor at Marie Claire, and has written for titles including Glamour, Refinery29, Popsugar, woman&home and more. She was previously Marie Claire's junior beauty editor. During her career, she's covered everything from backstage beauty at fashion week to interviews with famous faces like Drag Race royalty and Little Mix. As for her beauty ethos, she's a big advocate for not having to spend a fortune on beauty products to get good results, and when she's not got beauty on the brain you'll find her reading or hanging out with dogs.