Help fight breast cancer by bidding on iconic portraits
Top artists and photographers are taking part in breast cancer charity Future Dreams amazing virtual art auction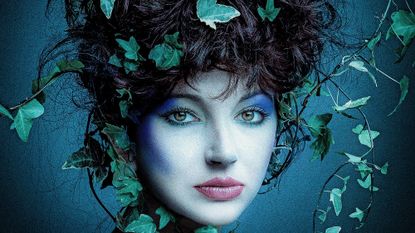 Top artists and photographers are taking part in breast cancer charity Future Dreams amazing virtual art auction
A virtual art auction by breast cancer charity Future Dreams not only gives the liberating experience of enjoying an art gallery during lockdown but unique ideas for gifting someone you really love and helping a great cause.
Sponsored by Sky Arts, TK International and The Arts Club Mayfair, proceeds from which will support those undergoing treatment and surgery for breast cancer during the pandemic. This art auction includes the opportunity to bid for sittings with former contestants in Portrait Artist of the Year Raoof Haghigi and Tina Willis-Jones. (The current series is on Sky Arts, Wednesday at 8pm.) Other lots include iconic portraits of Kate Bush and Sienna Miller as well as works by Rankin and female artists such as Chantal Joffe, Celine Bodin and Sally Hewitt.
Every ten minutes someone in the UK is given a breast cancer diagnosis - it is the most common female cancer. Photographer and Future Dreams ambassador, Simon Emmett, who shot the image of Sienna Miller explains, "I'm supporting this special project as I have experienced first-hand the effects of both a primary and secondary breast cancer diagnosis on immediate family. Therefore, I'm fully aware of the advances in medicine helping to treat it and the incredible work charities like Future Dreams do to help."
Monies raised will go towards research and the funding of Future Dreams House, Breast Cancer Haven's new London centre offering emotional and practical support.
Future Dreams was set up by mother and daughter Sylvie Henry and Danielle Leslie. By a cruel twist of fate both were diagnosed with breast cancer in 2008 and died within 18 months of each other in 2009. Danielle was 35 and mother to three young children. Their dream was that nobody should ever have to face breast cancer alone.
* Place your bid at The Auction Collective virtual gallery, it's live until 7pm on November 30th
Celebrity news, beauty, fashion advice, and fascinating features, delivered straight to your inbox!
Maria Coole is a contributing editor on Marie Claire.
Hello Marie Claire readers – you have reached your daily destination. I really hope you're enjoying our reads and I'm very interested to know what you shared, liked and didn't like (gah, it happens) by emailing me at: maria.coole@freelance.ti-media.com
But if you fancy finding out who you're venting to then let me tell you I'm the one on the team that remembers the Spice Girls the first time round. I confidently predicted they'd be a one-hit wonder in the pages of Bliss magazine where I was deputy editor through the second half of the 90s. Having soundly killed any career ambitions in music journalism I've managed to keep myself in glow-boosting moisturisers and theatre tickets with a centuries-spanning career in journalism.
Yes, predating t'internet, when 'I'll fax you' was grunted down a phone with a cord attached to it; when Glastonbury was still accessible by casually going under or over a flimsy fence; when gatecrashing a Foo Fighters aftershow party was easy-peasy-lemon-squeezy and tapping Dave Grohl on the shoulder was... oh sorry I like to ramble.
Originally born and bred in that there Welsh seaside town kindly given a new lease of life by Gavin & Stacey, I started out as a junior writer for the Girl Guides and eventually earned enough Brownie points to move on and have a blast as deputy editor of Bliss, New Woman and editor of People newspaper magazine. I was on the launch team of Look in 2007 - where I stuck around as deputy editor and acting editor for almost ten years - shaping a magazine and website at the forefront of body positivity, mental wellbeing and empowering features. More recently, I've been Closer executive editor, assistant editor at the Financial Times's How To Spend It (yes thanks, no probs with that life skill) and now I'm making my inner fangirl's dream come true by working on this agenda-setting brand, the one that inspired me to become a journalist when Marie Claire launched back in 1988.
I'm a theatre addict, lover of Marvel franchises, most hard cheeses, all types of trees, half-price Itsu, cats, Dr Who, cherry tomatoes, Curly-Wurly, cats, blueberries, cats, boiled eggs, cats, maxi dresses, cats, Adidas shelltops, cats and their kittens. I've never knowingly operated any household white goods and once served Ripples as a main course. And finally, always remember what the late great Nora Ephron said, 'Everything is copy.'