Kate Bush Is Back: Why She's As Captivating As Ever
Her extraordinary songwriting and unique artistic vision inspired a generation of musicians and enchanted audiences. Now, about to embark on her first tour in 35 years, the irrepressible Ms Bush is back.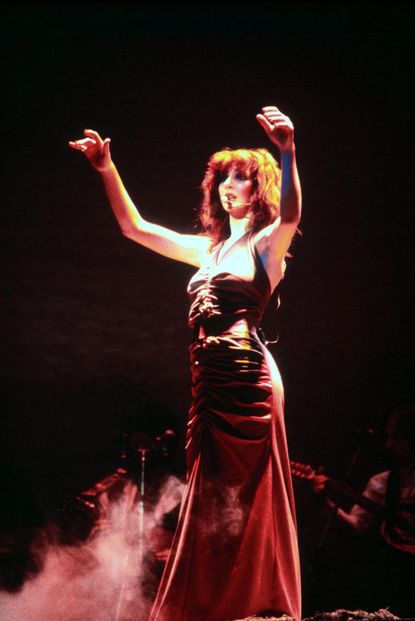 Her extraordinary songwriting and unique artistic vision inspired a generation of musicians and enchanted audiences. Now, about to embark on her first tour in 35 years, the irrepressible Ms Bush is back.
Part banshee, part bombshell, a 19-year-old Kate Bush is making her first ever appearance on TV. It's 1978 and she is channelling the spirit of Cathy, the tragic heroine of Emily Brontë's Wuthering Heights, in her song of the same name. With a mane of frizzy hair, red lips and a floor-sweeping dress, she unleashes a wild, unusual voice and expressive dancing. The hit makes her the first woman to have a UK number one with a song she has written herself; the female artist all other singer-songwriters since have been measured by.
In a 36-year career, the 70s fashion icon has morphed from provocative princess to national treasure, via rumours of drug use, obsessive perfectionism, depression and reclusiveness. She's rarely seen in public and last toured in 1979. No surprise, then, that in March, when she announced a 22-night residency this autumn at London's Eventim Apollo, the tickets sold out in 15 minutes.
The last time Bush toured, she was a leotard-wearing 20-year-old presenting a groundbreaking combination of music, mime, dance and theatre. Melody Maker hailed it 'the most magnificent spectacle ever encountered in the world of rock'. Her performances were more like those of David Bowie than the female singer-songwriters of the time. The petite and seemingly childlike Bush both pirouetted and prowled around the stage, singing about sticky female sensuality, gothic fantasies and violent emotions. It was a heady mix of innocence and precocious experience that ensnared her male fans and spoke to women everywhere. Outkast, Florence + The Machine, Goldfrapp, PJ Harvey, Radiohead, Tricky and Björk are just some of the names who have referenced Bush as a major influence.
'To me, Kate Bush will always represent the age of exploring your sexuality, when you change from a girl to a woman,' says Björk. 'I guess that's what I found fascinating about Kate: she totally stuck out.' But the real Kate Bush was, and remains, an enigma. 'There is a figure that is adored,' she has said. 'But I'd question very strongly that it's me.'
Bush was born in July 1958 in Welling, Kent. Her Irish mother, Hannah, was a nurse and former folk dancer; her father, Robert, a doctor. She had two older brothers, John (known as Jay) and Patrick (Paddy). The family lived in a rambling farmhouse, with a barn in the grounds that Bush later turned into a recording studio. It was a bohemian, idyllic childhood, with books in every room, classical music playing and wild games in the garden. Jay went on to become a poet and photographer, while Paddy is an expert in traditional music and played in his sister's band. Bush began crafting songs from an early age – The Man with the Child in his Eyes was reputedly written when she was 13 – and a family friend passed an early home-recorded demo to David Gilmour, the guitarist in Pink Floyd. He was intrigued by her raw talent, and funded a professional demo that ultimately led to her being signed by EMI in 1976, when she was just 18 and still studying for her A levels at the local Catholic girls' school.
'I knew I had to leave school then,' Bush said. 'I had to get away from the alternative career opportunities being rammed down my throat.' For the next 18 months, she worked on her songs, studied dance and practised her performance skills in a pub band. Finally, EMI felt she was ready to record an album, The Kick Inside, and she chose Wuthering Heights as the first single. Her life following that performance would never be the same again. 'It was extraordinary how everything changed. It happened, it was instant. It was frightening,' she said.
Suddenly, Bush was everywhere – on posters on the sides of buses, chat shows and children's TV. Her unique style was adored and parodied in equal measure. No one was sure if she was an ingénue or a mad woman; a musical genius or one of the odd characters she embodied in her songs. For a young woman who was most at home in a recording studio, surrounded by family and friends, it was a confusing, challenging time – especially as much of the focus was on her looks. 'People weren't even aware that I wrote my own songs. The media just promoted me as a female body. It's like I've had to prove that I'm an artist,' she said. A year after her debut, her first – and, until now, only – stage show, The Tour of Life, was an opportunity to show her true talent. Taking in cities such as Munich, Paris and Amsterdam, as well as the UK, it was a huge success, the culmination of her journey so far. But it also marked the end of a chapter. Bush the performer would rarely be spotted in public again.
The mystery of her 'disappearance' over the next 30 years prompted speculation, which was only fuelled by the sporadic release of her subsequent albums. Was she addicted to drugs; reluctant to reveal her ageing face and body; suffering a mental breakdown? Various myths sprang up: she had stage fright and a chronic fear of flying, or was struggling to deal with her grief over the tragic death of a crew member who had fallen from the lighting galley at the beginning of the last tour. She was described as a recluse living in a remote country pile in Berkshire who hid from public view. The truth was far more simple and profound: this was a woman reasserting her identity, power and control in an industry and society that wanted to reduce her to a pretty face singing pop songs.
'By the end of the tour, I felt a terrific need to retreat as a person,' she said. 'I felt that my sexuality, which, in a way, I hadn't really had a chance to explore myself, was being given to the world in a way that I found impersonal.' There were drugs, but it was joints and cups of tea, not heroin and LSD, that powered her experiments in the recording studio. Her exhausting perfectionism was about creating exactly the sound she wanted and exploring new areas, such as film and video. They were hardly lost years. Her career spans ten albums and 25 top-40 hits. She was the first British female solo artist to top the UK album charts, and the first female artist to enter the album chart at number one. Her acclaimed 1985 album Hounds of Love knocked Madonna's Like a Virgin off the top spot. She is the only woman to have top-five albums in the UK charts in five successive decades, from the 1970s to the 2010s. In 2013, she was awarded a CBE for services to music.
But there were also dark times, and the decade after her 30th birthday in 1988 was particularly difficult. 'I think it's a very important time, where there's some kind of turning point,' she said. 'In your teens, you get the physical puberty, and between 28 and 32, mental puberty. It does make you feel differently.' During this time, two close friends died from Aids and she lost her mother to cancer. She also ended a 15-year relationship with her bass guitarist, Del Palmer, although they continue to work closely together.
'When your mother dies, you're not a little girl any more,' she said. She tried to lose herself in her work, a new and lasting relationship with musician Danny McIntosh and a move to the countryside, but her grieving couldn't be postponed forever and, between 1994 and 1995, she broke down. 'I spent a lot of time sleeping. I used to enjoy bad television, like really bad quiz programmes or sitcoms,' she said. 'I needed to be in a position where there were no demands. I was just trying to recuperate.' Slowly, she found the balance and normality she craved.
In 1998, aged 40, she had a son, Albert (Bertie). Bush has strived to shield him from scrutiny and give him a normal childhood – albeit with a mum who has an estimated £30 million fortune and a helipad so she can make day trips to the family's second home in Devon. Bertie's birth began a new era of creativity for Bush but, as always, it was on her terms. She fitted studio time around the school run and released the critically acclaimed album Aerial in 2005, managing not to appear in person during any of the promotional activities. In 2011, she launched her 'Christmas album', 50 Words For Snow, with guest contributions from Stephen Fry and Elton John, and hinted at possible live appearances. But she was also cautious about the publicity. 'My family life is incredibly important and it comes first. My work fits in around it, which is quite easy to do with the recording process. But doing shows would be incredibly disruptive,' she said in a rare 2012 interview.
This month, when she walks on stage in London for her Before the Dawn residency, Kate Bush will be 56 years old. We can't expect to see the siren of Wuthering Heights, or the avenging vixen of Babooshka, when she appeared in a studded bra with a knife strapped to her bare thigh. We might, however, see Bertie, who's now 16, by her side. 'I've always involved my family and friends in my music, and he's the new member of the gang,' she says. What we can be sure of is that whichever Bush appears on stage – the musician, the recluse, the mother or the wild child – she will be as captivating as ever.
Gered Mankowitz's exhibition of Kate Bush photographs is at the Snap Gallery, Piccadilly Arcade, London, from 26 August to 4 October.
Celebrity news, beauty, fashion advice, and fascinating features, delivered straight to your inbox!
The leading destination for fashion, beauty, shopping and finger-on-the-pulse views on the latest issues. Marie Claire's travel content helps you delight in discovering new destinations around the globe, offering a unique – and sometimes unchartered – travel experience. From new hotel openings to the destinations tipped to take over our travel calendars, this iconic name has it covered.