Sienna Miller Opens Up About Her Hollywood Career, And How She Almost 'Sabotaged' It
Sienna Miller says she nearly ruined her own Hollywood career, as she reflects on her bad girl behaviour...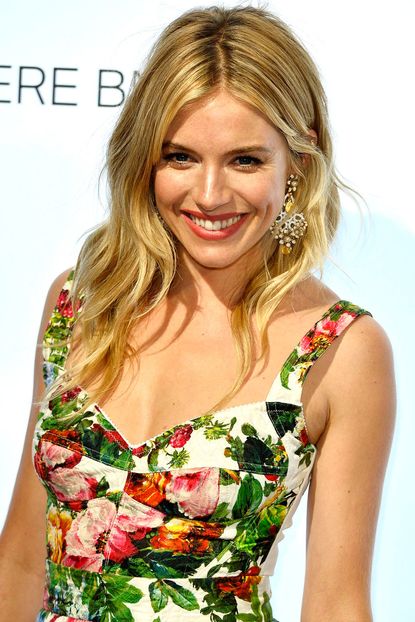 (Image credit: Rex Features)
Sienna Miller says she nearly ruined her own Hollywood career, as she reflects on her bad girl behaviour...
Sienna Miller has opened up on her bad girl behaviour, admitting she nearly 'sabotaged' her Hollywood career before it'd even begun.
Appearing on the cover of Esquire, steamy Sienna says she was 'naive' in the world of showbusiness during her early twenties.
'I was really naive, I was a young 21,' she told the men's magazine. 'Not green as grass - I was by no means an innocent - but I had faith in the goodness of everyone. I was very open. And that led me into all sorts of situations that backfired.'
Sienna Miller's upfront interview comes a day after her alleged affair with Daniel Craig, during her relationship with Jude Law, was the subject of the phone-hacking trial.
A private voicemail left by Sienna on Daniel Craig's phone was heard by the court. 'Hi, it's me. I can't speak, I'm at the Groucho with Jude. I love you,' the British actress said in the recording.
'It had become difficult for me to get the work I wanted, if I'm really honest,' Sienna continues in the Esquire interview. 'It was a weird situation to be in because there was a lot of goodwill for me in Hollywood.
'I think I'd been lucky in that I'd always been naughty in that town and people had always liked me for it. [But] I sabotaged things. I burnt a lot of bridges. I never read a review or paid any mind to what anyone said. And that translated to how I behaved outside work.
'On set, I was first to arrive, last to leave, best friends with the crew, totally professional, no dicking around. But when I wasn't at work, I wasn't behaving the way you should.'
Admitting she made the decision to 'deliberately disappear' from the bright lights of Hollywood, Sienna adds: 'I felt like I had no control over any aspect of my life, professionally or personally. So I deliberately disappeared. I was sick of myself, to be honest, or sick of that perception of me. It all felt so f**king dirty.'
Now, with a string of new movies under her belt and a stunning Burberry campaign with boyfriend Tom Sturridge, Sienna Miller says: 'I'm very lucky to have a second chance in that town.'
Got a tablet? You can now download Marie Claire magazine straight to your iPad, Kindle (just search the store for 'marie claire magazine'), Nook or Google Nexus.
Celebrity news, beauty, fashion advice, and fascinating features, delivered straight to your inbox!