13 annoying things you have to deal with. Every. Damn. Day.
Life, oh life...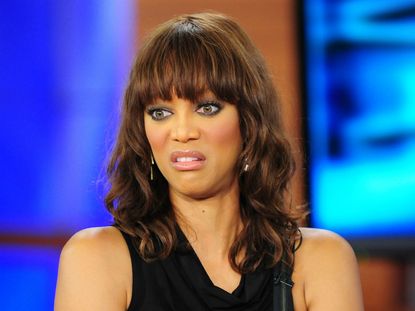 (Image credit: Rex)
Life, oh life...
As Des'ree once sang, 'life, oh life, oh life, do do doo'… Sigh. If only we shared her whimsy, laissez-faire attitude to life.
casual top-knot at the last minute and it not working out. Great idea. GREAT.
3. None of your 1092 pairs of ankle socks match. This incident will render you at least 5-10 minutes late for work.
4. Buses. (Kissing couples,
10. Saying something really funny in the office but no one hears, then someone repeats it louder a minute later. LOL.
11. Psychic slow walkers. Don't try to pass them, they have a sixth sense and will stay in front of you whatever it takes.
12. Despite considered calculation, misjudging the supermarket queue and ending up in the longest line. What's the hold up? Oh, probably the person in front of you trying to pay for a full shop with coupons they haven't even cut out yet.
13. You didn't bring your bank card, did you?
Celebrity news, beauty, fashion advice, and fascinating features, delivered straight to your inbox!
Holly Rains is the digital editor of Marie Claire UK. She has over 10 years journalism experience, working as an editor and writer, specialising in digital media, content strategy and dog breeds. Prior to Marie Claire, she has held senior staff positions at ELLE UK, Grazia and Company magazine.
Holly is a frequent speaker, panelist and interviewer on a range of subjects including media trends, careers and entertainment. From working with Reuters to provide global red carpet coverage for events like the BAFTAs, to discussing fashion and beauty trends on network TV, she was also the host of the Marie Claire series 'Holly's First Dates', where she regularly interviewed a mix of inspiring woman and A-list celebrities (including Jack Black, Dakota Fanning and Renée Zellweger) - a series which garnered half a million views in its first two months. And was approved by The Rock.
Her love of office-based meetings means that the days of discovering the melting point of Cadbury's Flakes are long gone, but when she isn't dreaming of scheduling in meetings, she likes to think about social media, and how best to avoid it whilst still retaining the title of 'digital' editor. She also likes learning about emerging technology, Influencers and how to become a Financially Responsible Adult.
Contact Holly: holly.rains@futurenet.com