'If you don't have to stay in one lane, why would you?'
Powerhouse presenter, actor and beauty entrepreneur Maya Jama is officially on fire right now. The Glow Up star reveals where she gets her drive and how it all went right
DIRECTOR AND PHOTOGRAPHER: Simon Emmett Words: Sophie Goddard
'Moments before speaking to me, Maya Jama shares a slew of Instagram stories, telling her 2.1m followers she's nervous about upcoming press interviews and has turned to Rihanna for inspiration. Explaining that she watches interviews of the singer to mimic her technique, I'm not sure what to expect when Jama logs onto our Zoom chat minutes later. But when she pops into view with a hello in that familiar Bristolian twang, there's no hint of nerves.
MAKE-UP: NIKKI WOLFF USING KVD BEAUTY FASHION CREDITS: TOP BY GAUGE81
'Sun changes my whole personality – if it's sunny as soon as I wake up, I'm happy instantly,' she says from a sunlit room in her London pad, grinning from ear to ear. 'If it's raining, I can stay in bed – but when it's sunny I just want to RUN!'.
This is the Maya Jama I was expecting: lively, animated and 100mph. The previous day she turned up to our cover shoot with the same infectious zeal, nailing each shot in record time before being whisked off to her next engagement. She's back-to-back at the moment, but there's not so much as a yawn. 'I definitely have times where I can't talk to anyone, but I'm naturally more energetic than the average human,' she says. 'I've just always been like that from a child – I'm just like, "Wahey, let's do everything".'
She's certainly giving it a good go. Today, Jama, 26, is talking to us just as her latest project – hosting the third series of BBC Three's Glow Up: Britain's Next Make-Up Star – is set to air. Having taken over the role from fellow presenter Stacey Dooley, the show sees 10 aspiring make-up artists battle to be crowned the winner – and Jama has remained firm friends with Dooley: 'In this industry you end up with industry mates and she's one of mine. She messaged me straight after [Jama was announced as host] and we've spoken about it – she did a cute little Instagram post to say congratulations. She's lovely.'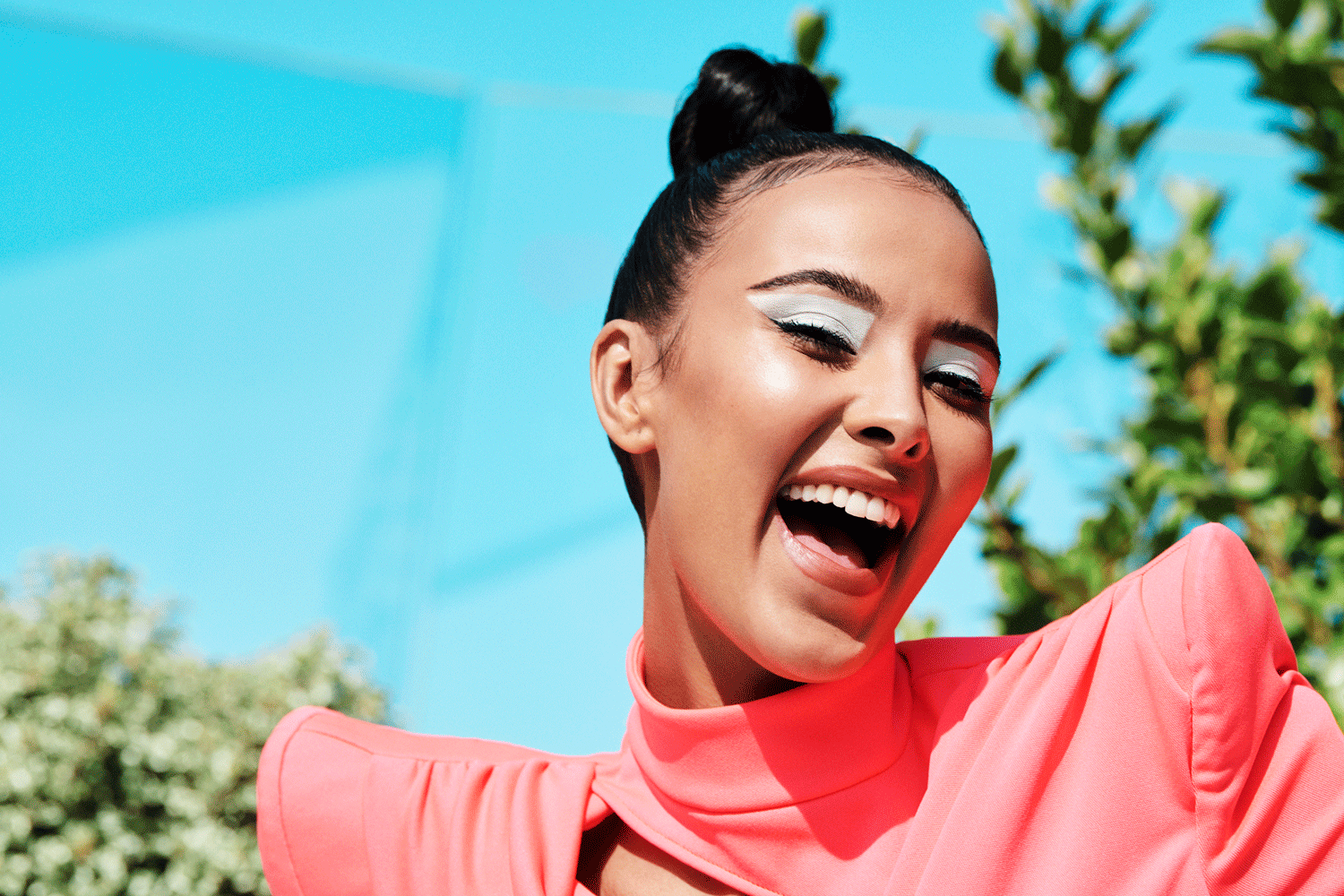 FASHION CREDITS: FULL LOOK BY BALMAIN
On the day of our shoot it's also revealed that Jama will be joining Celebrity Juice as a regular panellist, while co-presenting BBC One's panel show Peter Crouch: Save Our Summer for the second year running. It's fair to say it's been a busy year for the star: alongside her presenting gigs, she's landed her first acting role in Netflix drama The Duchess and has recently launched her own beauty brand, MIJ Masks (short for Maya Indea Jama), too.
So, is she the busiest person in lockdown? 'I've been working the whole time,' she agrees. 'I don't know what I would have done if I wasn't – it's really helped me have a sense of normality. If I wasn't working I would have had to start a whole new career, because my brain would have gone into overdrive. I'm so grateful.'
'I didn't check my bank account for two years. When I felt like I'd worked hard, I had a look and it felt good – but money has never been my motivation.'
But it hasn't all come about by accident. Raised on a council estate in Bristol with her younger brother Omar, Jama left for London at 16 to forge a career in entertainment. 'It was the only thing I wanted to do, I just wanted to perform and entertain,' she says.
She credits that drive and ambition to her mother Sadie. 'My mum is very confident and a proper people's person. She said something so cute the other day; she said, "You're living my dream". Because she had me at 18 and my brother at 21 – and now I've got another little brother Che who's 11. She obviously put us first when she was younger, but she did acting classes and did a few adverts, so I think that's what she had in mind to do. She wasn't a "show mum", though. She always said, "I just want you to be happy, whatever you do". My dad was in jail so there was no pressure on that side either. I had all the support I needed to go and chase a career like this.'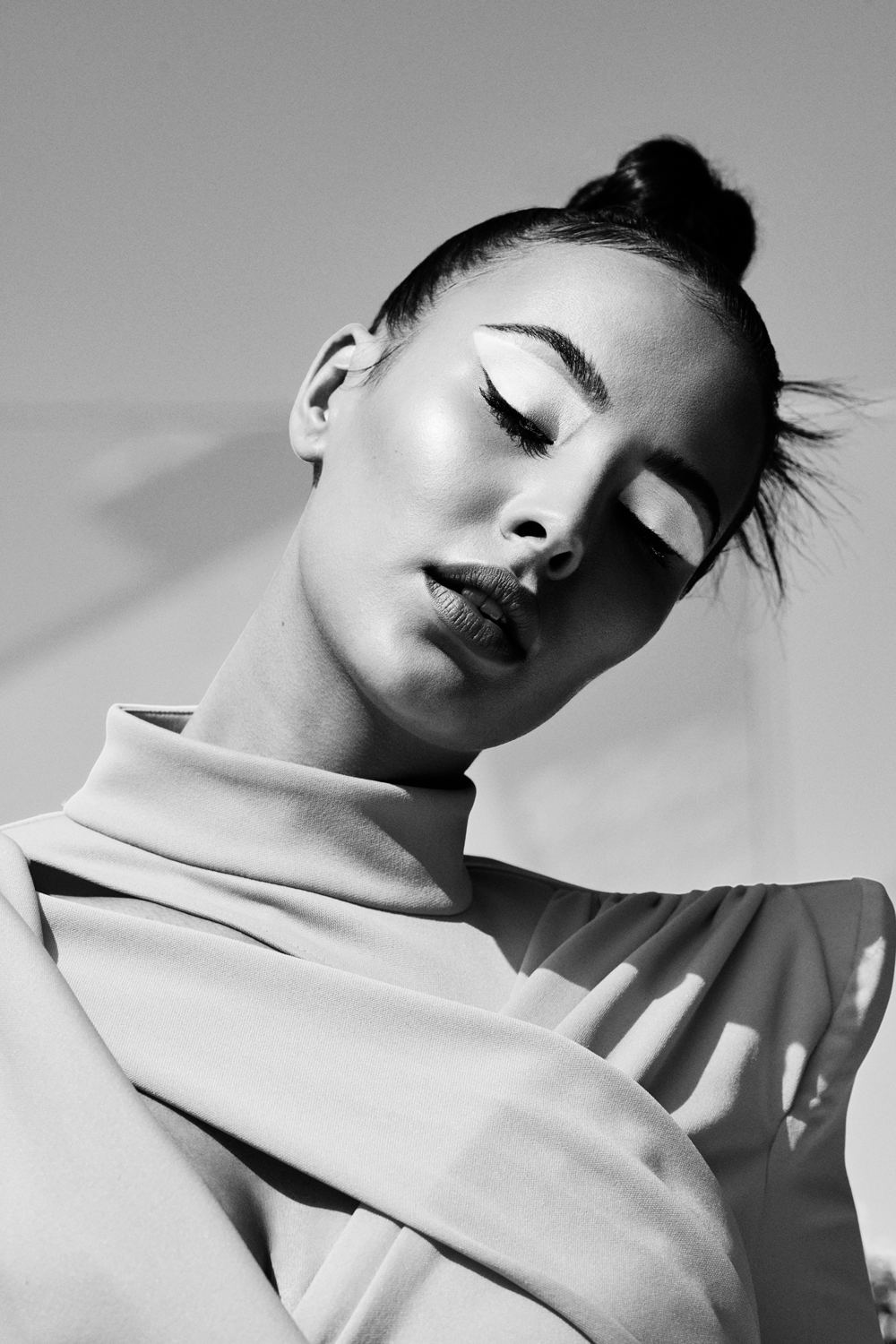 FASHION CREDITS: FULL LOOK BY BALMAIN
 
Jama's father was in and out of prison for much of her childhood. Was she aware of her family set-up being different to that of her friends? 'Yeah. And maybe this is just my approach to life, but anything that seems tragic or could make people feel sorry for me, I make a joke out of. I guess it's because I'm OK with it. I've accepted it and I don't want you making me feel like you're sorry for me. If people said, "Where's your dad?" I'd say, "Oh, he's in jail" and I'd laugh about it. It wasn't something I sat at home and cried about.'
Besides, the support of her wider family more than made up for his absence, she says. 'My aunt and my dad's side of the family were so involved – they filled any void that he could have left.'
Jama also acknowledges the impact her stepfather had on her view of relationships. 'When I was 10, my mum met my stepfather and he is the loveliest man. So I got to see a loving relationship, which I think is what can affect young women growing up without a dad – not experiencing love first-hand and seeing how a healthy relationship should be. Dad wasn't around, but I had all the love I needed from elsewhere.'
The wider community in Bristol played its part too. 'Every woman in my family is super-strong and a go-getter. Because my mum used to babysit boys in our area, I had older boys who would look out for me. If they saw me out, they'd be like, "Maya, we're dropping you home". It was a community and that really impacted who I was as a person growing up, especially with men.'
'Someone called me "Michael Jackson nose" on social media. I'd never thought about my nose before, but then I was in the mirror for a week.'
Jama's relationship with grime artist Stormzy – who she dated for four years before they split in 2019 – was well-publicised and saw her regularly labelled as 'Stormzy's girlfriend' in the press, despite her independent success as a presenter.
Indeed, Jama's break came early. Having moved to London to begin a BTEC in Performing Arts, she secured an unpaid job as a runner on Jump Off TV, which led to a presenting job with football network COPA90, followed by gigs at MTV, Rinse FM and 4Music. Soon, she was presenting major shows like Cannonball, The Circle and the MOBO Awards. Then, in 2018, she was given her own show on Radio 1, which she left last year to 'pursue other projects'.
The jobs have been flying in ever since. But it hasn't all been smooth sailing. 'When I got interviewed in the early days, people were like, "Do you notice sexism in the workplace?",' she remembers. 'I was like, "No, not at all, I get treated exactly the same as my co-hosts". Then, not long into it, I'd find out they actually got paid more than me for exactly the same job. And me being like, "What?!". I know companies and channels have to make more of an effort to make everything equal now, but back then it wasn't like that.'
So, how does she navigate sexism in the industry now? 'If I've got a co-host and it's a man, I'll just ask [how much he's being paid],' Jama says. 'If it's someone I'm working with I'll say, "How much are you getting paid for this?". I've definitely asked good friends like Will Best [her co-host on 4Music]. I haven't asked anyone else recently, but if I thought it was going to be a complete landslide and we were doing the same job, I'd ask. Why not? In some cases there's someone with a bigger platform and that makes sense. But when the only difference is your sex and somebody's getting paid differently? That's not OK.'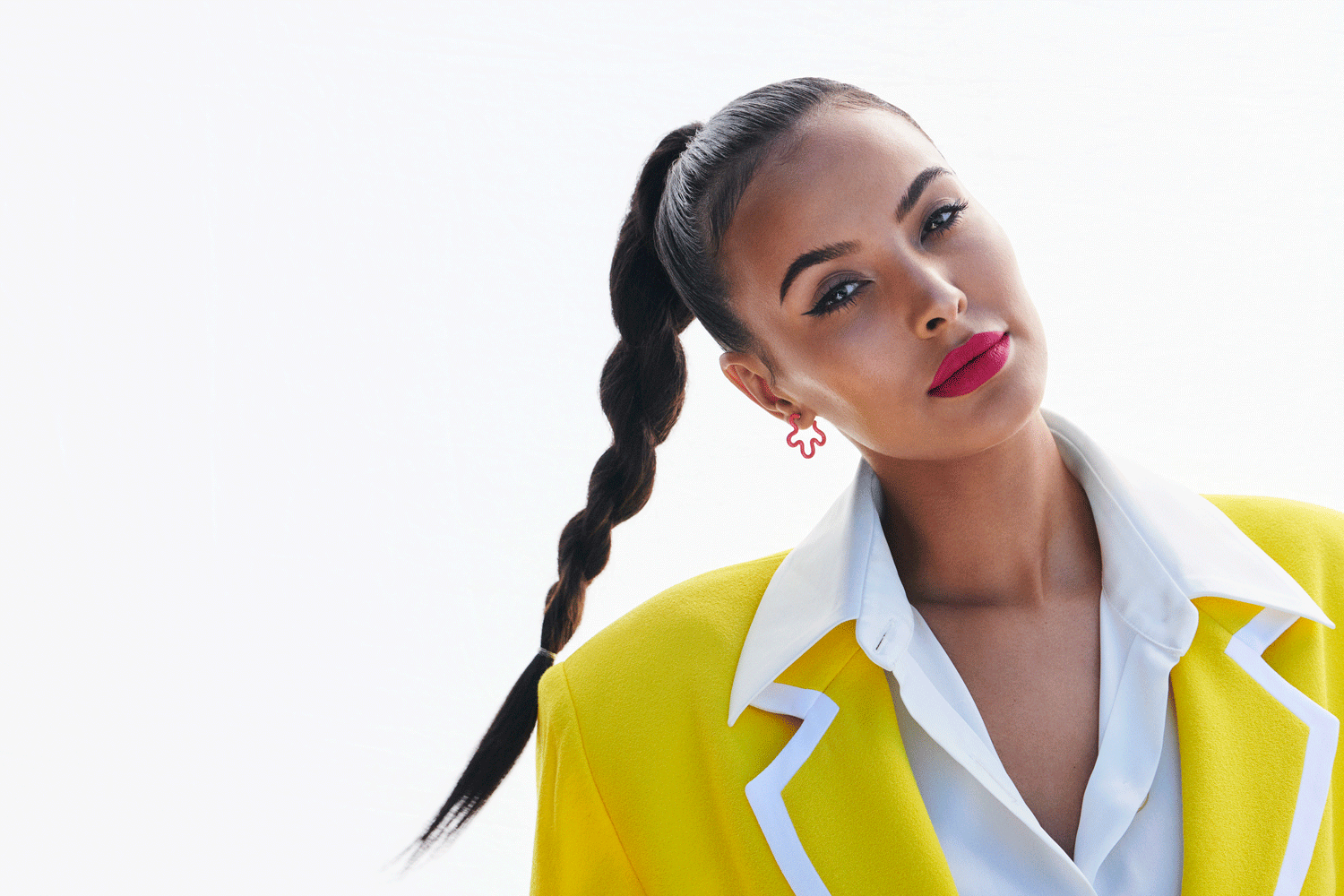 FASHION CREDITS: BLAZER AND SHIRT BY ROWEN ROSE, EARRINGS BY BEA BONGIASCA
 
Her recent move into beauty entrepreneurship seems a bit of a curveball, I say. 'For people that haven't been following me for long, they probably think, "What does this girl actually do – she's all over the place!",' she laughs. But Jama cites Idris Elba [she's close to him and his wife Sabrina] as inspiration. 'He's an actor, a DJ and he has a company – and he's great at all of it. It's like, if you don't have to stay in one lane, why would you? Follow all your dreams, do your passion projects and if they work out, they work out. If they don't, they don't. That's how I looked at it. I love skincare and I'm constantly promoting other brands and products – why am I not doing it myself? We've got the platform, let's do it.'
And Jama's platform is something of a juggernaut: cue 2.1m followers on Instagram and more than 56,000 subscribers on YouTube. When MIJ Masks launched, Jama even created an Instagram filter for fans to 'wear' the masks in advance (they were an immediate sell-out). 'I'll wake up in the morning, lie there for a minute and check my socials. Then pretty much throughout my day, I'll dip in and out,' she says. 'I've got two phones – one has my social media apps, and the other just numbers, WhatsApp and text so I can leave the social media phone at home. That worked for a while and helped me to spend less time online. Then I realised I'll just carry both phones.'
'If people said, "Where's your dad?" I'd say, "Oh, he's in jail" and I'd laugh about it. It wasn't something I sat at home and cried about.'
But with trolling sadly an established part of the social landscape now, I'm interested to know if negative comments impact her. 'It definitely did at the beginning. Nobody really prepares you for that. Now there's a lot more discussion around "be kind", but when I was 18 there wasn't any of that. Before the papers started writing about me, I didn't have to deal with anybody being horrible because my followers were just people that liked me, and I wasn't exposed to so many eyes and opinions. When I started doing proper TV jobs, suddenly there were people who didn't choose to see me, but had to because I was on their platform. That's when I started noticing negative comments.'
She recalls one in particular: 'Someone called me "Michael Jackson nose". I'd never ever thought about my nose before, but then after hearing that I was in the mirror for a week, like, "Does it look like Michael Jackson's?". Strangers can make you question things you've always been sure about before. Now I can have a laugh about it because I'm used to it and nobody's ever said anything horrible to my face, luckily. I can see online comments and think, "The person saying that wouldn't say this to my face and they're probably not happy because nobody happy attacks somebody they don't know". That thought process helps you understand it and feel sorry for the person, rather than sad about yourself.'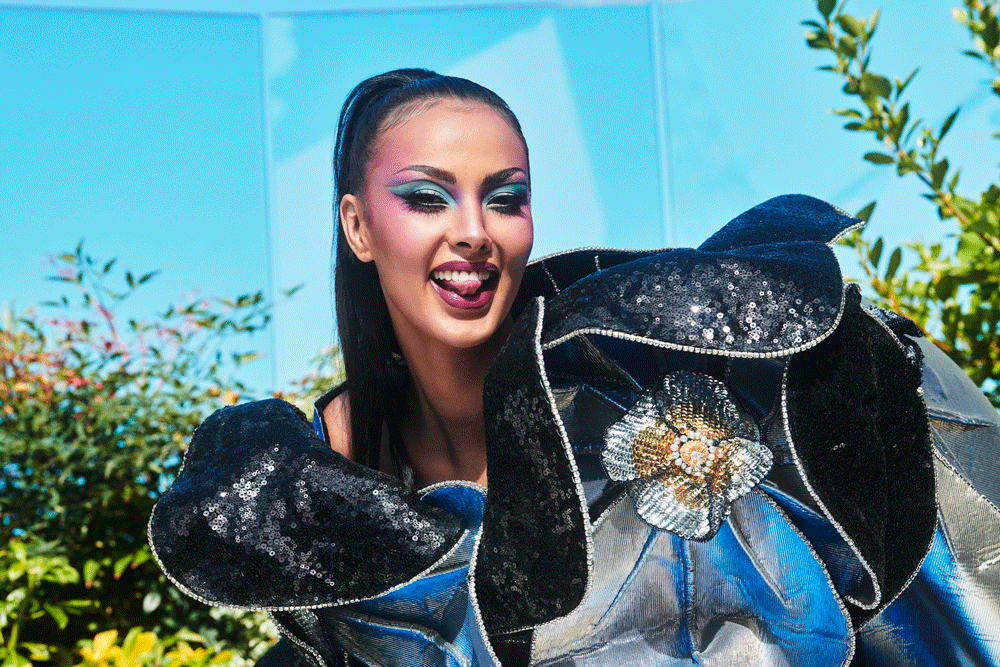 FASHION CREDITS: DRESS BY MISS SOHEE
As if on cue, the paparazzi show up at our shoot and Jama responds by turning her own camera on them. I ask if the constant attention bothers her. 'It's a bit surreal, but it doesn't interrupt my life too much. The only thing I am conscious of is I don't want them to know where I live. I've seen it happen before. You can't even sneak a boy in because they'll be waiting outside.'
Thanks to her early success, Jama bought her first house at just 24. 'It wasn't a life goal of mine – maybe because I didn't think it was in reach,' she says. 'People don't think about buying houses where I c0me from until you're, like, 45. But I think I'm smart with money and I don't really spend on anything other than food and travel. And I work my bloody arse off, so I save loads.'
'If I've got a co-host and it's a man, I'll ask, "How much are you getting paid for this?". When the only difference is your sex and somebody's getting paid differently? That's not OK.'
Has she always been good with money? 'I didn't ever have any, so I couldn't be bad with it,' she laughs. 'When I had it, I was so scared to spend it that I didn't check my bank account for two years. When I felt like I'd worked hard, I had a look. It was [a good feeling], but [money] was never my motivation. It was more like, "I want enough money to live in London peacefully and go about my day doing nice, normal things". I didn't have massive empire dreams. But why not?'
Jama has big summer plans. 'I want to get out of here; see things. Not "find myself" because I know myself, but do something outside of everything I've been doing. Anything that takes me out of this environment and allows me to grow in other ways,' she says. I ask how she would she like to be remembered and she thinks for a second before answering. 'As someone resilient who always saw the best in things and brought light to situations. Life's hard, but we can still have a nice time. I believe the energy you put out, you get back. [I'd like to be remembered as] someone who was having a lovely time trying to spread some goodness.'
BBC Three's Glow Up: Britain's Next Make-Up Star is streaming now on BBC iPlayer, with new episodes at 7pm every Tuesday.
POST-LOCKDOWN ETIQUETTE: FROM MASTERING THE ART OF POWER DRESSING TO NAVIGATING LIFTS LIKE A PRO, MAYA JAMA HELPS EASE YOU BACK INTO FREEDOM (SORT OF)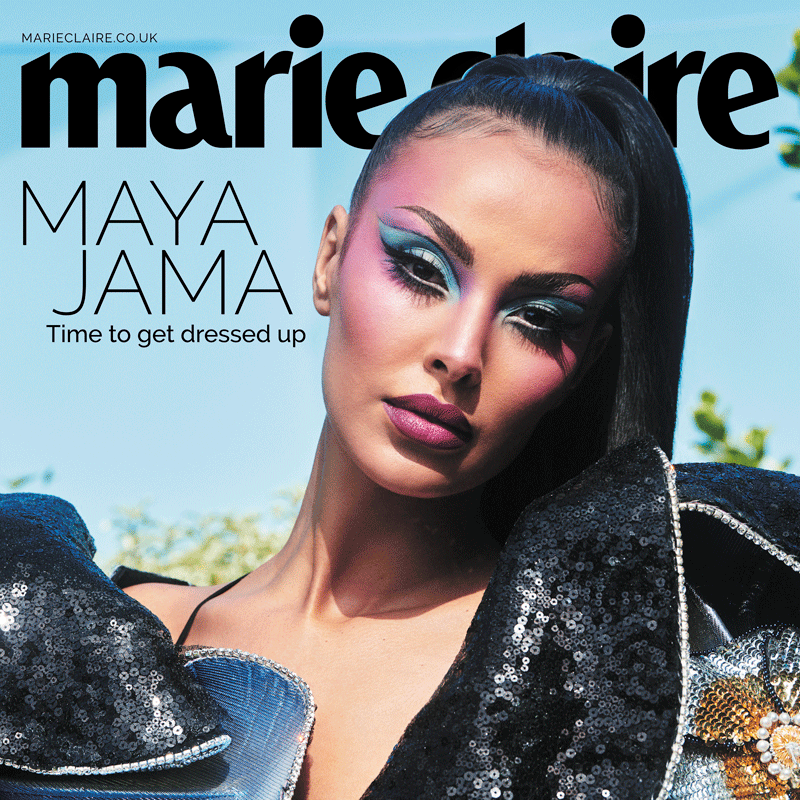 CAST
TALENT: MAYA JAMA
PHOTOGRAPHER AND FILM DIRECTOR: SIMON EMMETT
EDITOR IN CHIEF: ANDREA THOMPSON
CREATIVE DIRECTOR: LISA OXENHAM
VIDEO CONCEPT AND SCRIPT: HOLLY RAINS
WORDS: SOPHIE GODDARD
MAKE-UP ARTIST: NIKKI WOLFF USING KVD BEAUTY
HAIR STYLIST: AARON CARLO USING TRESEMMÉ
STYLIST: KIRSTY STEWART AT THE ONLY AGENCY
PRODUCER: TOREY CASSIDY
DESIGN: ANA OSPINA AND MICHELLE EDWARDS
DIGITAL TECHNICIAN: CLAUDIA GSCHWEND
LIGHTING: TOM FRIMLEY
DOP: JACK WILKINSON
POST FILM EDIT: ANT SHURMER
STYLIST ASSISTANT: KATIE M
MAKE-UP ASSISTANT: MAHA ALSELAMI
LOCATION: CORINTHIA LONDON