How to choose an engagement ring: The questions to ask
It's claimed to be your best friend and is supposed to sit on your left hand for the rest of your life. But does size really matter when buying a diamond? And what should your hubby-to-be look for? It's all about the four Cs...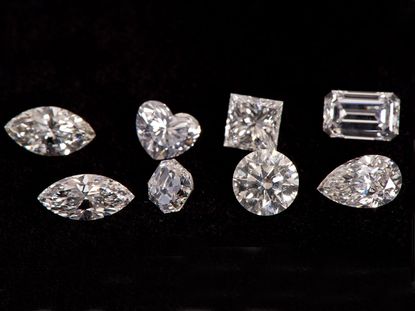 (Image credit: Vashi.com)
It's claimed to be your best friend and is supposed to sit on your left hand for the rest of your life. But does size really matter when buying a diamond? And what should your hubby-to-be look for? It's all about the four Cs...
Buying an engagement ring can be a tricky business. When you finally do unveil your rock for the very first time, it's likely you'll be met by an abundance of questions and an equal amount of opinions. But whether your fiancé has chosen the ring himself, or you're picking the diamond together, these are the only things you need to know…
What are the four Cs?
When jewellers talk about diamonds, you'll often hear them refer to the four Cs: Colour, clarity, cut and carat.
Carat is the measure of weight of the diamond, and also equals quality. The greater the weight of the diamond, the greater the value.
Cut is your next factor. 'A well-cut diamond will have angles which allow light to reflect back into the eye of the beholder,' says diamond expert and founder of Vashi.com, Vashi Dominguez. 'When a diamond is well-cut and viewed face-on, light enters through the top of the stone where it reflects from one side to the other before bouncing back out of the diamond to be seen by the viewer's eye. This light is called the "brilliance", hence the term 'brilliant diamond'.
So basically, think of cut as determining how sparkly the stone is. Easy, right?
Clarity describes how clear the diamond is. The purest diamond will be flawless. But if you're no Kanye West and Kim Kardashian, your rock is likely to have a few 'inclusions' (a far nicer word for flaws inside the stone).
Colour is also important, and this is before you've decided on the easy part, the colour of your future spouse's band – gold, white gold or platinum. The colour is graded on how colourless or 'white' the stone is. Jewellers recommend purchasing a diamond that is in the D-G colour range, and in the flawless to VS2 clarity range.
What shape should he choose?
Aside from the quality of the diamond, it's important to consider the shape. This is probably the easiest part, since most of us actually have an idea of the style of ring we'd like to wear. Window shop first and get an idea for the style and shape you could see yourself wearing, forever. Are you an emerald-cut girl, or a Princess-cut? After something round and traditional, square or pear-shaped?
Think about where your wedding ring would sit, too – this diamond's going to have one very cosy neighbour for years to come.
If you're looking for inspiration, you can look to the stars' rocks with our edit of the most beautiful celebrity engagement rings.
What kind of shopper will he be?
John Amos, director at Boodles, says: 'There are three types of engagement ring shopper…
1. 'The adventurous type – he's prepared to go it alone but will need plenty of support from the sales person. He will then surprise his girlfriend with the engagement ring.'
2. 'The twosome – he has proposed to you already and you'll get to enjoy the whole experience of engagement ring shopping together.'
3. 'The cautious type – he'll tells you that you may get engaged at some point, you'll look together so that he can surprise you at some point in the future.'
'There is no right or wrong way to do it, and different people fall in to different categories, but the important thing is to remember is that the ring will be on your finger for many years to come, so it's worth immersing yourself in the whole experience and taking your time over it.'
And if he is going it alone? One word. Hint.
How much should he spend?
There are all sorts of old tales about how much an engagement ring should cost, but the truth is, every couple is different.
John tells us: 'The general consensus is the ring should cost twice the man's NET monthly salary. However, our advice at Boodles, is to spend what feels right – every girl deserves the biggest diamond in the world – but there's no need to start married life in debt!'
If you're feeling really savvy, you can check out our guide to the best Black Friday engagement ring sales as well. There's no shame in a good bargain.
Can I buy online?
There are plenty of great online stores for purchasing an engagement ring, but if you want to follow the four Cs and ensure you get great quality, it's best to look in store first. And if you do buy online, just remember to clear your internet history so you don't let the cat out of the bag.
John at Boodles adds: 'My advice would be to buy an engagement ring from a recognised and reputable brand as they will be able to support you in the future or offer additional services that will add to the overall experience, not just at the buying stage but also in years to come.'
Celebrity news, beauty, fashion advice, and fascinating features, delivered straight to your inbox!