5 New Year's Eve ideas for people who hate New Year's Eve
Feeling the pressure to have the best NYE ever? Try one one of these (relatively) stress-free ideas...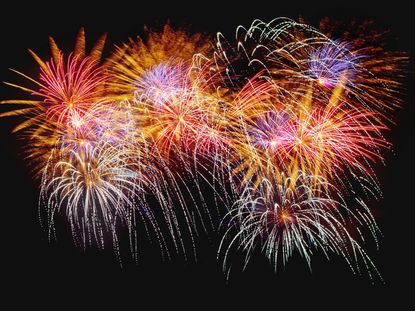 (Image credit: REX)
Feeling the pressure to have the best NYE ever? Try one one of these (relatively) stress-free ideas...
So… What are you thinking of doing?' 'Is that like, a definite plan…? 'OMG I don't know what to do' 'I HATE this time of year!'
These are all snippets of conversations you've likely encountered over the last few weeks as the countdown to the New Year commences. Unless you're one of the smug, lucky few to be jetting off somewhere exotic and your New Year's Eve plans are sorted, there's probably a ball of anxiety that knots your stomach every time someone mentions it. Responded to with sighs of despair, face planting the table, or a breezy: 'Oh I'm not planning anything, just going with the flow, see what happens.'
Translated: 'I don't know what the hell I'm doing and I'm trying not to think about it or I'll cry and I'm just hoping someone tells me about something cool on the day.'
It's the one night of the year (other than Valentine's Day, obvs) that is hyped up so much, we're basically setting ourselves up to fail. There's too much pressure - we need to have ALL of our friends around us, it needs to be busy but not too busy (so we can actually get to the bar) and we ideally need that special someone to kiss at midnight…
All of these expectations are unlikely to happen. Our friends will probably be scattered around the globe with other groups of friends/their significant other, we'll end up in some old man pub where you have to queue for two hours to get a drink, and the only kissing you'll do is in your head as you cheerfully pat the arm of that friend you once had a thing with (awkwarddd). OR you'll ring in the New Year on the tube with a bunch of strangers as you hurry to try (and fail) to meet your friends before the clock strikes twelve. Might as well start the New Year as you mean to go on…
So to avoid all the above, we've come up with a few alternative suggestions that will have you sailing into the New Year stress-free and hangover free (JK, there is of course alcohol involved).
1. Go on a New Year's Eve break
This requires a high level of organisation, but it's totally worth it. Can you imagine anything better than waking up with 10 of your besties, somewhere secluded, with breakfast croissants and homemade jam aplenty, after having spent the night eating and drinking your way into oblivion? Sounds perfect, right? This is the ideal scenario when planning your 'perfect' NYE getaway.
Unfortunately when drunk friends combine with intimate surroundings and high expectations, disaster surely follows. If it's a boy/girl group there will either be some ill-advised tussling beneath the sheets or a blazing couples row along the lines of 'I CAN'T BELIEVE you spent last NYE with your EX (even though we weren't together then)'.
If it's all girls, we need hardly give an example. Some form of cliché, passive aggressiveness will ooze its way to the surface, like the row two of your friends have been brewing for the last few months, just itching to come out at an inappropriate time. If by some miracle you actually manage to get all your friends in the same place and willing to part with money in advance for a deposit (unlikely), and you decide to ignore all the above, visit holidaycottages.co.uk for some ideas on where to go.
2. Host a New Year's Eve dinner party
We've all seen that scene in The Holiday (and if you haven't, WTF?!), where they're dancing around in their finest black tie, listening to big band music and twirling each other delightfully around and basically having the time of their lives. This is what we envisage a NYE dinner party to be like. The reality can often be very different. If you don't plan this carefully, it'll just end up being you and four of your mates, sitting around drinking warm Prosecco out of tea mugs and fighting over which song to play next on Spotify… a very bleak prospect. However, done correctly it can be lovely; organise a prolonged dinner with several courses, prosecco in REAL champagne glasses (or wine glasses at least), dress up real nice and maybe listen to some jazz, not Arctic Monkeys.
3. Book a New Year's Eve London party package
This might well sound like exactly the type of thing you're looking to avoid, but grabbing a couple of your mates and purchasing an advance ticket (look for ones with some drinks included to lessen the blow of the ticket price) to somewhere practically guarantees you a night of fun to ring in the New Year. If your idea of hell is crowding around a tiny VIP table in the West End while skinny high heel-wielding girls elbow you out of the way of the one bottle of vodka being shared out amongst 20 of them (and let's face it, that's most people's idea of hell), then you should probably check out our list of alternative London nights that promise a little something different:
For some 1920's style razzle-dazzle. Expect marching bands, lone pipers, views of the fireworks and of course endless cocktails and champagne.
Prohibition party. Another 1920s theme but with a slightly more authentic edge. Charleston dancing, top hats and feathered headbands required, and cocktails served in teacups. Not to mention the silent cinema and flapper girls – if you want an out of this world experience, this may be the night for you…
Fast forward 20 years and you might find yourself at the Blitz Party. Set in an air-raid shelter in the East End, expect searchlights, black-out curtains and lots of jitterbugging 'til the early hours to a live band.
For something altogether different. Everyone's favourite fun first date place transforms itself for NYE, by adding canapés, a cocktail bar and a DJ to the usual table-tennis mix. Expect heads to roll and balls to fly (see what we did there?).
4. Skip New Year's Eve
This can go one of two ways; you can stay in with your significant other or your BFF and watch movies, crack open a bottle and watch the fireworks on TV. Or you can make the fatal mistake of deciding to have some wholesome family time with your parents. This is nice in theory, but after a week of intensive Christmas family time, you will NOT want to spend your precious NYE with the family you only see for a weekend once every couple of months and have basically just been under house arrest with. Go find your friends and make a pact to either stay in together or go out together - 'together 'til death' (or something less dramatic - you get the gist...)
5. Go traditional with New Year's Eve fireworks
Ahh the traditional route of fireworks watching along the Thames, so simple, so London, so New Year… what could possibly go wrong? You'll probably have to queue for hours to watch the fireworks six rows behind all the most unfathomably tall people in London, then realise that the fog/tall buildings actually make it impossible to see the 15 minute firework display. Most likely followed by avoiding puddles of puke on the pavement and rushing to get the tube back home. Well worth the trip (NOT). To avoid all of these evident disasters, we suggest booking your spot with a £10 advance ticket. We'd also suggest doing it now before they sell out… Make haste! Visit the Greater London Authority website for more info.
So if you haven't plotted your NYE with military precision already and are stuck for ideas – have a look at this bunch and you're sure to find something to take away the sick feeling in your stomach. Which only leaves you looking forward to the extreme dieting and lack of money that January brings…
Celebrity news, beauty, fashion advice, and fascinating features, delivered straight to your inbox!
The leading destination for fashion, beauty, shopping and finger-on-the-pulse views on the latest issues. Marie Claire's travel content helps you delight in discovering new destinations around the globe, offering a unique – and sometimes unchartered – travel experience. From new hotel openings to the destinations tipped to take over our travel calendars, this iconic name has it covered.