Sustainable eating isn't so hard if you've got these 10 hacks up your sleeve
Trust us when we say, these tips will help you cut down on waste, protect our planet and save money. Winner, winner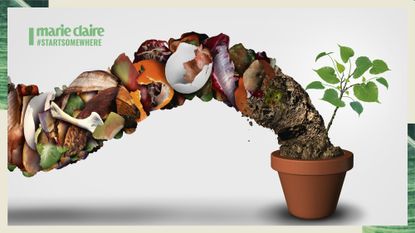 Trust us when we say, these tips will help you cut down on waste, protect our planet and save money. Winner, winner
Be it the devastating forest fires in Australia at the beginning of last year or the photographs of paradise-like beaches littered with mountains of plastic; it's clear that we need to start looking after our future and our planet. By educating ourselves on both sustainable living and sustainable eating, and how what we eat impacts the planet, we can all make a difference.
With so much information to take on board, it can feel hard to know where to begin with sustainability. Do you go vegan? Are super processed plant-based alternatives worse for the planet anyway? Is eating organic meat actually a more realistic approach than cutting it out altogether?
That's where the team at MOB Kitchen come in. The chefs are on a mission to help us make more environmentally-conscious decisions with our food shops, storage and cooking. It's really quite simple: champion seasonality, prioritise plastic-free, where possible, and do your best at aiming for as little waste as possible.
For more tips, keep reading. They've covered their top ten ultimate (and simple) hacks for sustainable eating every day.
10 simple tips for sustainable eating
1. Eat more seasonally
Put simply, try your best to eat food as it is grown and harvested. This means trying not to buy asparagus in winter or parsnips in the summertime. All it takes is a quick Google and a scroll and you'll know what fruit and veg is in season in no time.
Why is seasonal eating important? Well, it not only supports your local economy, but reduces food miles and means your food will be fresher and tastier, too.
2. Change your eating habits
At MOB Kitchen, they strive to eat less meat. They also ensure that when they do, they're buying the best quality they can afford.
Why not give it a try yourself? One easy way to ease yourself into this style of eating by going veggie (or even vegan) for one day of the week. Read up on all the pros (and cons) of trying the vegan diet for weight loss, while you're here.
Earth MOB: Reduce waste, spend less, be sustainable, by Mob Kitchen, £7.99

3. Buy responsibly sourced
When you are food shopping, look for sustainability stamps such as the RSPO (Roundtable of Sustainable Palm Oil), Fairtrade and MSC (Marine Stewardship Council).
Fun fact: these stamps are important to have on your radar as they ensure high standards of welfare and practice. If you see one of the stamps above, the workers were treated fairly when the product was made, and the producers haven't jumped through any questionable hoops during production.
4. Make sustainable swaps
Did you know? Sometimes simple changes like swapping out ingredients is enough to make a difference to your environmental impact.
Top swap: swap beef for chicken. Why? Beef requires on average 28 times more land, 11 times more water and 6 times more fertiliser than chicken to be produced. Even better? Swap meat for a plant-based alternative. The mob chefs love tofu and chickpeas.
5. Get organised
With extra lockdown time on your hands right now, this one could actually be a fun weeknight activity. Try getting every tin, tub, bag and box out of your cupboards and fridge. Then, after a good old clean, set yourself a challenge of using things up and see what delicious creation you can get cooking with.
Similarly, these food waste apps are great at letting you know when local restaurants or cafes are flogging food that would otherwise go in the bin for a fraction of the price. See, sustainable eating needn't be boring.
6. Get cooking
On the point above, if you're keen to up your sustainable eating but don't feel confident enough, we have three words for you: practice, practice, practice. Home cooked food will always be more eco-friendly than store bought, and so becoming a more confident cook will instantly up your eco cred.
Plus, it'll massively reduce your packaging consumption and help your reduce food waste, too.
7. The freezer is your friend
When it comes to stopping food waste, remember: the freezer is your saviour.
Be it saving a portion of something you have already cooked or rescuing ingredients from going off, it can help. Nearly all ingredients can be frozen, including hummus.
MOB's favourite is to pre-slice bread, freeze, then toast straight from frozen. No bread waste here (which is actually the most wasted food in the UK).
8. Say no to single-use plastic
Reducing your consumption isn't going to happen overnight, so try and think of it as a journey. You can work out what sustainable eating looks like for you over time - it doesn't need to be in one go.
Easy changes include buying ingredients in glass over plastic, and ditching clingfilm in favour of reusable containers.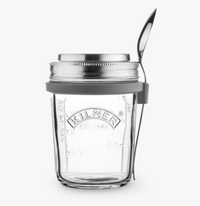 Kilner Glass Breakfast Jar & Spoon Set, 350ml, John Lewis, £7.00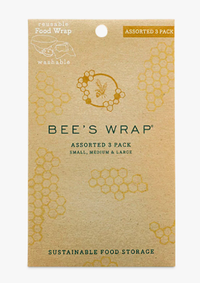 Bee's Wrap Honeycomb Reusable Sandwich Wraps, £19.99

9. Give something a second life
Money saving and eco-friendly? We're sold. Top tip: give your used glass jars a proper wash with boiling water. Then, once clean, use to make dressings, quick pickles and even overnight oats in.
10. Recycle properly
Did you know that any leftover food will prevent all items from getting recycled? Wash and dry packaging before you put it into the recycling bin and read the packaging labels to see exactly what can be recycled. Often you will need to separate the non-recyclable and recyclable bits first.
Celebrity news, beauty, fashion advice, and fascinating features, delivered straight to your inbox!
Maria Coole is a contributing editor on Marie Claire.
Hello Marie Claire readers – you have reached your daily destination. I really hope you're enjoying our reads and I'm very interested to know what you shared, liked and didn't like (gah, it happens) by emailing me at: maria.coole@freelance.ti-media.com
But if you fancy finding out who you're venting to then let me tell you I'm the one on the team that remembers the Spice Girls the first time round. I confidently predicted they'd be a one-hit wonder in the pages of Bliss magazine where I was deputy editor through the second half of the 90s. Having soundly killed any career ambitions in music journalism I've managed to keep myself in glow-boosting moisturisers and theatre tickets with a centuries-spanning career in journalism.
Yes, predating t'internet, when 'I'll fax you' was grunted down a phone with a cord attached to it; when Glastonbury was still accessible by casually going under or over a flimsy fence; when gatecrashing a Foo Fighters aftershow party was easy-peasy-lemon-squeezy and tapping Dave Grohl on the shoulder was... oh sorry I like to ramble.
Originally born and bred in that there Welsh seaside town kindly given a new lease of life by Gavin & Stacey, I started out as a junior writer for the Girl Guides and eventually earned enough Brownie points to move on and have a blast as deputy editor of Bliss, New Woman and editor of People newspaper magazine. I was on the launch team of Look in 2007 - where I stuck around as deputy editor and acting editor for almost ten years - shaping a magazine and website at the forefront of body positivity, mental wellbeing and empowering features. More recently, I've been Closer executive editor, assistant editor at the Financial Times's How To Spend It (yes thanks, no probs with that life skill) and now I'm making my inner fangirl's dream come true by working on this agenda-setting brand, the one that inspired me to become a journalist when Marie Claire launched back in 1988.
I'm a theatre addict, lover of Marvel franchises, most hard cheeses, all types of trees, half-price Itsu, cats, Dr Who, cherry tomatoes, Curly-Wurly, cats, blueberries, cats, boiled eggs, cats, maxi dresses, cats, Adidas shelltops, cats and their kittens. I've never knowingly operated any household white goods and once served Ripples as a main course. And finally, always remember what the late great Nora Ephron said, 'Everything is copy.'