This is the exact formula for what to wear on a first date, according to a fashion psychologist
Ready to feel your most confident self?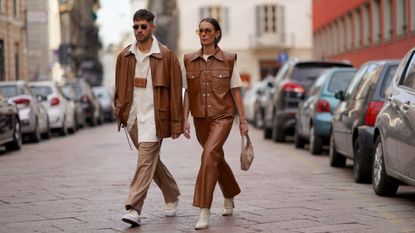 (Image credit: Getty Images)
Knowing what to wear on a first date is a feat that can take hard work and, sometimes, the dedication of your entire group chat. It can includes at least four outfit changes and three different Facetime calls just to check you're going for the right vibe.
Sound familiar? Yep, we thought it might - but nailing an outfit that makes you feel confident is vital for getting over first date nerves and having a good time (whatever your date's like).
That said, let's be honest: unless your best friends are stylists or date connoisseurs, knowing what to wear can feel like a guessing game, and there are often dates where falling back on the classic option of denim and a nice top isn't going to cut it.
That's where this article comes in - because yep, we're getting science involved to work out exactly what to wear on a first date. We've picked the brains of style psychologist Shakaila Forbes-Bell, this year's eBay's x Love Island partner and Author of Big Dress Energy. It's safe to say Forbes-Bell is the expert when it comes to what to wear on a first date. Have you ever heard of the theory of enclothed cognition? Neither had we, but buckle up, because it changes everything.
Keep scrolling for all of Forbes-Bell's expert tips on how to create the perfect date night out - and don't miss our guide to dating profile tips, expert dating advice for women and first date tips, while you're here.
What to wear on a first date: your guide
"It's common to feel anxious or self-conscious when engaging in unfamiliar social situations like a first date," begins Forbes-Bell. While we couldn't agree more, we're sure we're not alone in thinking that deciding what to wear is usually the most stressful part.
So, how do we get over it? "When deciding what to wear, it's best to utilise the theory of enclothed cognition to embrace confidence," the style psychologist goes on.
Never heard the term enclothed cognition before? In short, the phrase was first coined by Hajo Adam and Adam D. Galinsky in 2012 and explains the power of connection between what you wear and how you feel. "It suggests that if we wear clothing styles that we associate with confident people, we will embody confidence when we wear those styles," explains Forbes-Bell.
Want to give it a go? Try this: "Think of a person who exudes confidence to you," she suggests. "Ask yourself this - what styles do they wear that you like? Those will be your perfect first-date outfits," she demonstrates.
BRB, stalking Beyoncé's Instagram grid..
What is the best colour to wear on a first date?
Good question, but yep, you probably already guessed it - red. "Often the main aim of a date is for our partner to be attracted to us," explains Forbes-Bell. "And if that is the case, then studies suggest that red is the best colour to wear."
Case in point: one 2012 study published in the Public Library of Science journal found that subjects were more excited to talk about dating when the interviewer was wearing red, linking romantic attraction with the colour, Forbes-Bell tells us.
Don't have any red items in your wardrobe? Give a classic red lip or the red nail theory a go, instead.
Red not your thing? She adds that the colour black has always been associated with confidence and dominance. "A 2018 paper published in the SAGE journal found that choosing to wear black is perfect for helping you mask any first date nerves, as people wearing the hue are perceived to be more powerful and in control."
What to wear on a first date to feel confident:
Looked through all the photos of the person you find most confident and keen to give enclothed cognition a go? Our guess is you might have opted for heels.
"I personally always opt for high heels on a first date," says Forbes-Bell. Why? "The psychology behind it is super interesting," explains the expert. "Even in presidential campaigns, the taller candidate is always more popular because we associate height with power and authority, so I opt for a comfortable heel to give me that extra boost of confidence," she continues.
Heels never been your style? A figure-hugging dress is also a great option. "I love a good form-fitting dress for a first date as it allows me to celebrate my curves and helps me experience deep touch pressure," she shares. "Deep touch pressure explains the squeezing sensation around your body which produces calming effects - great for first date nerves."
That's definitely one way to say bye, bye to dating anxiety.
What to wear on a casual first date?
Having looked at the figures that I find inspiring as per the pro's advice, a more casual outfit works for me. Combining that with her advice about opting for a figure-hugging option and the colour red, something like a red bodysuit with your favourite denim could work.
Denim also gets a yes from the expert. Why? "Studies have linked casual styles like denim with sociability, extraversion, and increased friendliness, so it's perfect for coming across as warm and approachable on a causal date," explains Forbes-Bell. Wondering how to choose the best jeans? Our Fashion Editor has got you covered with her edit of the best ones available to buy right now.
What to wear on a first date for drinks?
Heading for a drink for your first date and not sure what to wear?
"I would suggest wearing something in a long-wavelength colour like red, orange or yellow," she advises. "Drink dates can be quite exciting, so match that energy by embracing colours that arouse sympathetic neurons in our autonomic nervous system that raises our heart rate and makes us feel active and energetic." Who knew science could be so fun?
Similarly, identifying something in your wardrobe that you wore when you had a really great or lucky day can be a safe bet. "As per the enclothed cognition theory, when you wear that outfit, you will embody all of its good vibes and project that onto your evening," she explains. "Even if it's your favourite pair of lucky pants, get them out of the laundry and embrace the power of the mind-clothes connection."
What to wear on a first date for dinner?
A dinner date has to be one of the most common dates but the hardest to decide what to wear for. That said, the expert reckons you should try something out of your comfort zone for this one.
Forbes-Bell explains the psychology behind it. "Wearing something slightly different from your usual style - something outlandish - is said to carry a tension-release dimension because they help us to embrace escapism," she shares. "This feeling could help us to showcase the uniqueness of our characters and keep the excitement going throughout a long dinner date."
Only going to wear it once? Opt for a party dress rental for a more sustainable option.
She adds that unique jewellery or a distinctive bag can double up as good conversation starters, too.
Now that you've got what to wear on a first date sorted, make sure to check out what to talk about on a first date, expert help on deciding whether to kiss on the first date and exactly what to text after a first date.
Happy dating.
Celebrity news, beauty, fashion advice, and fascinating features, delivered straight to your inbox!
Dionne Brighton is a writer at Marie Claire UK, specialising in all things shopping, beauty and fashion. Born and raised in North London, she studied Literature at the University of East Anglia before taking the leap into journalism. These days, you can find her testing out the latest TikTok beauty trends or finding out what the next full Moon means.