This is exactly when and what to text after a first date, according to top dating experts
Yep - you'll want to read this.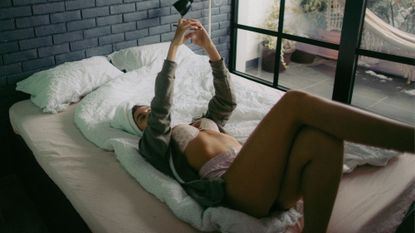 (Image credit: Getty Images)
To text or not to text after the first date - that age-old question. Forget Hamlet - knowing correct text etiquette and perfecting the not-too-friendly, not-too-cold tone can prove challenging for the best of us.
Picture the scene: you've just got home after the best first date in a long time. You liked your date, but you're stumped about when - and how - to contact them. Does a casual "Nice meeting you?" suffice? And do you text them straight away, or wait it out a while?
Knowing the do's and dont's for this kind of situation can cause serious dating anxiety, but know this: you needn't feel anxious. Everyone has their own set of tips when it comes to dating and texting. Personally, if they don't text or call to check I got home safely then it's a no (she says, while getting ready for a third date with someone who did not text to check I made it home..).
With that in mind, I thought it was about time I asked the experts what their thoughts are on text etiquette after a first date. Keep scrolling for exclusive advice from relationship psychotherapist Jordan Dixon and Tinder relationship expert Paul Brunson. After reading their tips, you need never Google what to text after a first date again...
Don't miss our explainers on dating advice for women, first date tips and what to talk about on a first date, while you're here.
When and what to text after a first date: your expert guide
Who should text first after the first date?
Ah, possibly the most common question. Should a woman text after a first date? Does gender even matter?
Here at Marie Claire UK, we think it's high time we threw outdated gender norms out of the window, and Brunson agrees, adding that it really doesn't matter who texts first. "It's important not to overthink things following your first date (although that's easier said than done, I know)," he explains. "If the vibes were right and you both felt comfortable, it doesn't matter who initiates the conversation first."
What should you text after a first date?
You can keep it as simple as thanking your match for a great time and proposing a next date, suggests Brunson. "It could even be a follow-on from something that happened during your time together, showing you were actively listening throughout your date. If keeping things flirty and cheeky has been your thing since you first matched on Tinder, you can choose to keep up this energy, too."
Try the following prompts, if you're not sure where to start.
"Thank you for a great time last night, it was lovely to meet you."
"I had so much fun on our date last night, we should do it again sometime."
"Did you get home okay?"
It's important to remember that there are no hard and fast rules when it comes to texting after a first date - what you discuss will hugely depend on what you bonded over and who you are as individuals.
"There are no scripts or shoulds," Dixon continues. "What works for some people, does not for others." That's why her go-to bit of advice is to ask - what would you want someone to text you?
When should you text after first date?
This depends on a few factors. If you enjoyed yourself and want to see them again, it's perhaps better to act sooner rather than later, reckons Brunson. Similarly, if you're unsure, being polite and letting them know that is important (no one likes being ghosted - don't be brutally honest, but don't leave them out of the loop).
"The most important thing in all this is not to leave things hanging for too long," he shares. "Communication and authenticity are key, not only in committed relationships but during the dating process too."
Dixon agrees, adding: "Dating is not a performance. It's important to be more real and human to not have to keep up with appearances," she shares.
Just remember to check in with yourself and know what you want from the other person, before you text them.
Haven't been text after a first date?
We get it, after getting date night ready and preparing with our expert guide to first date tips, receiving no text after the first date might feel frustrating - especially if you had a really great time.
Know it's normal to feel a little out of sorts - putting yourself out there can make you feel vulnerable. That said, although it's certainly easier said than done, both experts advise moving on if your date hasn't texted back rather than dwelling on it.
Fear not: there are always the best dating apps or best sex apps to have fun with, instead...
What to text after first date: do's and dont's
Keen to follow the do's and dont's that the experts apply to their own love lives? You're in the right place.
Do: Be clear, honest and transparent
"It can pay dividends in the long run and save us time and energy," says Dixon. If you're into someone, honesty is the best policy - let them know you want to see them again.
And if you're not, "don't let guilt control you", Dixon reminds us. A simple, "I think you're nice but I don't see this going beyond friendship" would suffice.
Don't: Worry about appearing keen
Dixon recommends avoiding playing games with tactics. Who cares that you read a rule on Instagram somewhere saying you should wait three days to avoid appearing "too keen"? Do what feels right for you. If they're the right person for you, they'll be happy to receive a text from you.
"Someone who can clearly communicate and express what they want exudes an air of someone who is self-assured" Dixon reassures.
Do: Keep it simple
Sure, easier said than done, but when it comes to dating, things can get overcomplicated fast. Rather than second-guessing yourself, trust your gut and keep things simple.
For example, if you enjoyed the date, say, "I enjoyed the date." If you'd like to do it again sometime, say, "I'd like to do that again sometime." Easy.
Don't: Play games
As per Dixon's previous point, consider how you'd like to be treated. There's no point using tactics here if you're looking for someone to settle down with, and it could jeopardise all-important trust.
Do: Be brave
In other words, don't let fear of saying something silly put you off taking a risk and putting yourself out there.
"Don't be fearful of making mistakes," recommends Dixon. "Bringing humour and human honesty can really help take the edge off things."
Celebrity news, beauty, fashion advice, and fascinating features, delivered straight to your inbox!
Dionne Brighton is a writer at Marie Claire UK, specialising in all things shopping, beauty and fashion. Born and raised in North London, she studied Literature at the University of East Anglia before taking the leap into journalism. These days, you can find her testing out the latest TikTok beauty trends or finding out what the next full Moon means.