We-Vibe Touch X review: "As a sex expert, I always recommend this toy - it's one of the best clitoral vibrators you can buy"
On the hunt for an easy-to-use yet effective first-time vibrator? Then you're in the right place..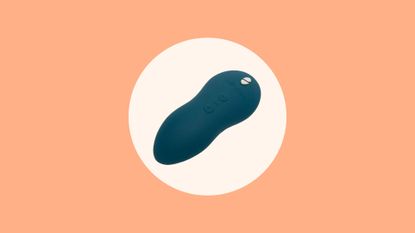 (Image credit: Future)
You'll likely have heard of We-Vibe, one of the better-known sex toy brands promising long-lasting pleasure. Their Touch X is no different - a soft silicone vibrator that proves that soft can still be powerful. When testing, I found that the toy offers deep and pleasurable clitoral stimulation alongside seven (yes, seven) different vibration patterns and eight (yes, eight!) rumbly intensity settings. It's pebble-shaped, so ergonomic for your hand and easy to hold, not to mention the shape also allows you to comfortably slip the sex toy between bodies to enhance your couple's play. It might be small but it's certainly powerful - as you can tell, I'm a fan, and think it's a great effective yet easy-to-use beginners toy.
Reasons to buy
+

Rechargeable

+

Powerful

+

Rumbly vibrations

+

Silky smooth silicone

+

Waterproof

+

Travel lock

+

Buzz to signal low power

+

2 hours of play

+

Warranty

+

Storage bag

+

Lube sample

+

Ergonomic

+

7 vibration patterns

+

8 different intensities

+

Whisper quiet
Reasons to avoid
-

Might be too basic for more advanced sex toy users

-

The magnetic charger can come loose
Ever heard of We-Vibe? If you haven't, you're in for a treat reading my We-Vibe Tango X review. It's one of their most body-friendly sex toy that also promises intensely powerful vibrations.
Fun fact for you: this particular edition of the toy was designed as a special edition for the brand's 10th-anniversary celebrations. It's pebble-shaped, soft to the touch, and in my opinion after testing, one of the top clitoral vibrators out there, offering intense vibrations in an ergonomic design.
A bit about me, too: my name is Ness Cooper and as a sexologist, I've introduced many individuals and couples to sex toys. We-Vibe is always on my recommendation list - so keep reading on to find out why, plus the logic behind why I always recommend the We-Vibe Touch X in my private practice.
Interested in the We-Vibe Touch X? Check my review of the We-Vibe Tango X, it's sister design, while you're here, and don't miss our edits of the best sex toys, best lubes and best condoms, too.
We-Vibe Touch X Review: "One of the most powerful soft touch vibrators out there"
Where to begin with the We-Vibe Touch X. It's silicone soft to the touch, has seven vibration patterns, plus eight rumbly intensities to choose from. It promises to be a powerful vibrator ideal for first-time users looking for an unforgettable clitoral orgasm experience.
Other things to note: it's waterproof, pebble-shaped and easy to grip if you're keen to explore aquatic play in the bath or shower.
Not to mention one charge will leave you with around 120 minutes of play (yep, that means multiple orgasms in one session without it running low on battery).
Special features and what sets it apart from competitors
So, what did I think when testing the toy? First up, that the We-Vibe Touch X is a super powerful rumbly vibrator that offers the same intensity as the We-Vibe Tango X.
Unlike the Tango X, the Touch X is designed to be ergonomic - that is, it's designed to be easy to use, reducing grip discomfort and fatigue. I immediately noticed that the soft silicone body offers a concaved flexible tip that glides smoothly over erogenous zones. The dip in the tip of the sex toy is great for hugging the clitoris, and the flexibility of the tip allows you to add in flicking sensations and motions alongside the vibrations if you want. The pebble vibrator's design makes it perfect for you to use during certain penile and vaginal-focused sex positions as it rests over the vulva.
If you've been keen to invest in a soft or flexible pebble clitoral vibrator for a while, you've probably checked out the Dame Pom (read my Dame Pom review, here). While the We-Vibe Touch X isn't as flexible as the Dame Pom, for some, it may be just the right amount of softness and flexibility as it allows you to place more pressure against your body during massage without being completely rigid.
What I liked the most about the We-Vibe Touch X is its rumbly vibrations, as many similar compact vibrators only offer buzzy surface-level vibrations. With this toy, however, the vibrators don't just touch the surface of the clitoris but travel much deeper.
How to use the We-Vibe Touch X and how it was
Opening the toy, the packaging is pretty basic, with the toy nestled in a box complete with a USB cable, instructions, a lubricant sample, and a storage bag. It's always a nice extra to receive a storage bag with your sex toy as silicone can attract dust when not in use, plus it's convenient for storing your charging cable so you don't lose it (read our guide to how to clean your sex toys, here).
Top tip - do remember to charge your toy for the full two hours before you first use it. It's also worth noting that you need to hold both the plus and minus buttons together for two seconds to deactivate the travel lock pre-using.
When using, I found the tapered tip on the Touch X and dipped underside made it perfect for teasing between the labia and over the clitoris. The flexible tip really added extra depth to foreplay, and the arched tip made the vibrations easier to direct (plus, it felt more powerful than other competitors on the market).
When using it with a partner, I found resting it between our bodies during missionary position the best. A main selling point for me was that the buttons don't get knocked easily during intercourse, meaning that you're less likely to be interrupted by unwanted vibration patterns.
How to keep it maintained and clean
This part was simple - as it's made from silicone, the body of the Touch X can easily be wiped down by a sex toy cleaning wipe. Also, as the We-Vibe Touch X is waterproof, you can wash it with warm water with your standard antibacterial wash.
Top tip: once it's dry, place it back into your storage bag with the USB cable ready for next use.
About the brand We-Vibe
We-Vibe is an award-winning brand, scooping prizes for their toys from the likes of the Sexual Health Expo, ETO, and the Venus Awards in Berlin.
It's best known for the Tango X Bullet, but the Touch X is a great addition to their offering.
Should I buy it?
Good question - and something that'll be totally personal to your sexual preferences and personal journey. That said, I'm a fan of the We-Vibe products and believe the Touch X is a worthwhile investment. Why? Well, I like how you can use the tip of the pebble vibrator for different sensations, that the ergonomic shape fits the palm of my hand nicely and also works well between bodies mid-sex, plus that the rumbly vibrations don't desensitize the clitoris like other competitors.
Trust me, you'll want to keep using this vibrator again and again...
Celebrity news, beauty, fashion advice, and fascinating features, delivered straight to your inbox!
Ness Cooper is a Sex and Relationship Expert and Writer. She's been a freelance writer for over 10 years, knowledgeable in all areas of human sexuality and has a special interest in sex toys and tech.
Ness has been nominated for many awards during her career. From ETO's Best Erotic Journalist, to Best Sexologist at the 2022 Sexual freedom Awards.
Her first published pieces were theatre reviews, written for her local paper when she was 13. I think we can all agree that she now reviews more fun items.
Not only does she write down-to-earth sex and relationship articles, she tests sex toys, including prototypes. She knows what works and what doesn't with sex tech and sexual pleasure!
Ness is always training and trying to expand her skills. This has led her to train in Pelvic Floor Biomechanics and Pilates. Her pursuit of knowledge has also taken her to the Kinsey Institute in the US, where she studied human sexuality.
With a background in sex and relationship therapy, coaching, and education, she's one of the UK's leading Sex and Relationship Coaches and Sexologists. She helps people to find their authentic sexuality and sexual happiness and teaches Sexology to other human sexuality professionals.
Ness also offers 1-2-1 coaching and group sessions.