How to go plastic free: 'Ditching plastic for a week, these are the 6 most important lessons I learned'
As Plastic Free July draws to a close, Delphine Chui shares her experience of going plastic free (spoiler: she loves it)...
As Plastic Free July draws to a close, Delphine Chui shares her experience of going plastic free (spoiler: she loves it)...
Let's face it, going plastic free is one mean feat. Despite investing in a reusable water bottle or always taking tote bags to the supermarket, getting rid of all plastics feels near enough impossible.
That's why, this year's Plastic Free July is all about challenging people to take small steps towards a plastic-free future. Throughout the month, why not dine in at your local coffee spot instead of opting for a takeout, learn how to recycle your beauty products, or buy a reusable straw?
While you're here, do read our top need-to-know recycling facts, guide to ethical fashion and tips for sustainable living, or, if you're keen to read more about living plastic free, keep scrolling. Here, one writer shares how she found going plastic free - keep reading for the all-important lessons she learnt along the way.
Knowing how to go plastic free can feel like a minefield. I've always considered myself a mindful person when it comes to the environment. I'm vegetarian and conscious of the origins of my food; I use food waste apps and am an avid recycler; and I take public transport as much as possible.
But, if I'm being honest, I've never delved into what actually happens to my rubbish or recycling after I chuck it into the respective bins. And when it comes to sustainable periods and sustainable beauty? Honestly, I've never really thought about them not being sustainable.
So, I decided to take on a challenge to live without plastic for a week. The realities of the stats I learnt was really shocking. Although I may never be zero waste - that is, totally plastic and waste free - I can certainly put a dent in how much I'm contributing to landfill. That's a start, isn't it?
To learn exactly how to go plastic free and my top tips for how to hack it in a world that's geared towards plastic, keep reading.
Wondering how to go plastic free?
Did you know that nearly 88% of the sea's surface is polluted by plastic waste, or, that microplastics have already been found embedded into Arctic ice?
Well, if you're educating yourself on how to be more sustainable, you're in the right place. I learnt a lot from going plastic free for a week - and the stats are enough to convince you to do your bit, in whatever way you can.
1. Assess your recycling habits
As a nation, we only recycle 14% of recyclable plastic. And around 50% of the plastic we do recycle is never actually recycled because it's not been properly disposed of.
I admit I never looked at my local council's recycling policy before I went plastic free, so was guilty of putting things like plastic bags in my green lid wheelie bin (rather than at a specific plastic bag collection bin) and being completely confused about what I should do with bubblewrap (which can jam recycling machines if not put in the right place).
Read up - it's important. Learning how to go plastic free really isn't that complicated, once you start doing your research. Recycle now is a great resource and you can learn more about what is being called the 'seventh resource' here.
2. Buy a reusable coffee cup
Think about how much coffee you drink every day. Now, think about how many cups you chuck in the bin. Yeah, I quickly realised that it all adds up, with 7 million coffee cups thrown away in the UK every day - which adds up to 25,000 tonnes of coffee cup waste every year, to be exact.
I bought a reusable coffee cup instead. If you're on the hunt for one, try to bag cup made from bamboo, as it's one of the world's most renewable materials. What's more, bamboo produces 35% more oxygen than equivalent tree mass and research has shown that it can absorb as much as 12 tonnes of carbon dioxide per hectare per year.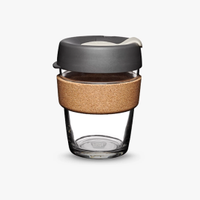 KeepCup Cork Brew Reusable 12oz Glass Coffee Cup, £24.00 | John Lewis
This is an absolute icon in the world of reusable coffee cups for good reason. I can attest that this will see you through your morning coffees and 3pm pick me-ups with no spillages thanks to a handy lid plug.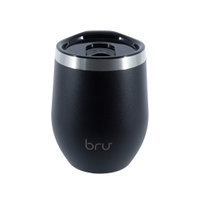 Bru Reusable Coffee Cup, £16.99 | Amazon
If you're looking for something a little more hardwearing, this stainless steel option should be going straight into your basket. Bru cups also keep your hot drinks steaming and cold ones ice cool thanks to a double wall vacuum.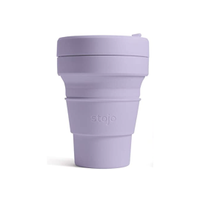 Stojo On The Go Collapsible Coffee Cup, £12.99 | Amazon
Wondering how to go plastic free whilst still being on-trend? Stojo coffee cups are the way to go. Coming in (nearly) all of the colours of the rainbow, you can sip and look stylish simultaneously.

3. Ditch the plastic bottles and packaging
London consumes the largest amount of plastic bottled water in the UK. I'm guilty of it. I liked the convenience of it. But, considering that by 2050, there will be more plastic bottles in the oceans than fish, we really need to fix this.
Plastic bottles make up 10% of all litter in the Thames, with ¾ of the fish inside consuming it, and considering how much I care about animals, these stats really hit home for me.
4. Educate yourself
Did you know you can't really recycle plastic bags? It takes the average plastic shopping bag 100 years to decompose and that's only if it's exposed to sunlight and air (which landfill rubbish often isn't). So, that plastic bag you chucked in the bin last week will probably outlast us all.
I now use reusable tote bags for everything. I have one for 'fresh food', like fruit and veg, and one for dry goods, aka everything else.
Considering 12.2 million tonnes of plastic litter enter the marine environment each year, it's no wonder that 94% of the plastic rubbish that enters the ocean ends up on the sea floor. It's not realistic for me to think I'll never buy another plastic bottle of water again, but I can make sure I only bin it in a recycling bin and never in one that's overflowing. These will likely just end up blowing away.
Good resources include the Greenpeace, Friends of the Earth, and Rainforest Alliance sites, among many more.
5. Protect your health
You probably already know that plastic is seriously unhealthy for you. So why do we keep buying it? One answer: convenience and lack of planning.
Chemicals like BPA and phthalates are used to make plastics and resins. When plastic is heated up, which can happen if your plastic bottle is in the sun, for example, these chemicals can leech into the contents.
Since they're known endocrine disruptors, they can cause a whole load of health issues. I've traded in for a glass and stainless steel as they're both natural elements, so are free from chemicals, and are wholly recyclable.
6. Opt for reusable cutlery and straws
I'm normally the first person to choose a plastic fork rather than a metal one. But, as it's too small to recycle, it just adds to our ever-growing landfill.
There is, however, a way around it. Opt for an eco-friendly travel cutlery set, instead. After finding out that the UK and US use almost 550 million straws a day - most of which end up in the ocean or take 200 years to break down into toxic particles - I'm all buying reusable straws, made from stainless steel, glass or bamboo. I got mine from Eco Straws.
It's also worth reading up on how to build a green office and adopt more sustainable eating, while you're here.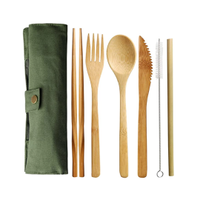 nuoshen Bamboo Cutlery Set, £5.99 | Amazon
Don't worry, you're not the only one thinking about splinters when you use wooden cutlery. Don't fret, this bamboo set has a natural anti-viral protectant that seals the bamboo. Also, the handy case means the set stays clean in your bag.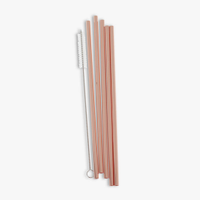 Ginger Ray Rose Gold Stainless Steel Straws, £6 | John Lewis
Want straws that match your phone case? Ginger Ray's rose gold ones are perfect for slurping your morning smoothies or iced-lattes in the most aesthetic way. And, you get five in a pack - winner.

How to go plastic free: your essential product checklist
- A reusable water bottle, to replace plastic water bottles, Delphine used this BKR glass bottle, £38. - A reusable coffee cup, to replace plastic coffee cups, this Circular&Co (RRP 14.95) one is made from single use cups. - A folding spork, to replace plastic cutlery when eating out, get this Maydahui set for 13.99. - A tote bag, to replace plastic bags, how about this Orlebar Brown natural organic tote bag, £20? - Reusable food bags, to replace cling film and plastic sandwich bags. The Koella reusable sandwich bags, £12.96 are great. - Glass Kilner jars, to replace plastic lunchboxes or waste from lunch bought out. Buy the Kilner breakfast jar set with spoon from £9. - Recycled toilet paper, replace non biodegradable toilet paper with a Who Gives a Crap bundle, £30 for 24 - A bamboo toothbrush, to replace plastic toothbrushes. You can get four Hash Direct bamboo toothbrushes for £5.99. - A soap bar, to replace plastic bottled soap. Delphine loves the All Naturals soap, £6.15. - A facial cleansing cloth, the Myroo facial cloth and cleanser, £4 is a great sub for cotton pads. - A plastic free razor, to replace disposable plastic shavers. Have you tried this Friction Free Shaving razor, from £14?
What I learnt from going plastic free for a week
I was heartbroken by what I learnt about what we're doing to the environment and wildlife (as well as to ourselves).
I feel I've finally seen just how unnecessary so much of my disposable plastic use is. Plus, it's amazing to see just how much a difference we can all make by refusing, reducing, reusing, repurposing and recycling everything we can.
This article was originally published in 2017.
Celebrity news, beauty, fashion advice, and fascinating features, delivered straight to your inbox!