I'm a Health Writer who just spent two weeks trying a walking challenge - and noticed some surprising results
Daily walks promise to boost stamina, metabolism, heart health and more.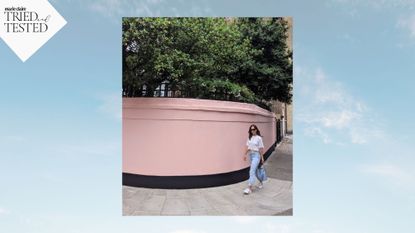 (Image credit: Amy S)
When I envisage the perfect morning routine, I normally picture myself skipping out the door for a morning stroll with a coffee cup in hand. I'm clued up on the many benefits of walking - I know heading out first will set me up for the day, boost my mental health and offer a much sought-after endorphins boost.
That said, I rarely manage to make it happen. I'm not a morning person, and so often find it something of a pipe dream to get up and out first thing.
That said, a study published earlier this year in Nature caught my eye and got me thinking. The paper concluded that working out is nearly always good for you, but working out outside, specifically, is better. How so? Well, participants in the study who walked outside saw a greater increase in cognitive function than those who walked inside. The authors even noted: "In a world where many people hit the gym before or after work or on their lunch break, our results suggest that these people would be better served by simply getting outside."
So, it was settled. A bit like the TikTokers Hot Girl Walking or soft hiking, I was going to try walking every day for two weeks. That's right - in a bid to see how early morning walks actually made me feel, I gave a 30-minute pre-breakfast stroll a go. Read on to find out how I got on, plus what an expert thinks about walking every day for health and general wellbeing. Walking workouts at the ready.
I tried walking every day for two weeks - here's how I got on
Is walking every day good for you?
While we wouldn't normally encourage working out every day - life is about balance, after all - walking is a low impact form of exercise which boosts heart health, general wellbeing and more. So much so, you'll likely all know that the NHS advises aiming for a minimum of 10,000 steps a day.
So, why is it so good for us? "Walking is one of the simplest, most effective ways to physically boost your health and wellbeing," says Monique Eastwood, celebrity trainer and founder of fitness app, Eastwood Fit. She always encourages her clients to get outside in nature and walk when they can. "Walking - especially in nature - can have a positive effect on our mental and physical wellbeing."
While tuning into a podcast or music works for some people, Eastwood recommends being mindful of your surroundings to fully destress. "When you connect with nature and its natural beauty - the birdsong, the wind in the trees, the different colours of your surroundings - it slows down your thoughts and calms your breathing, lowering your stress levels," she explains.
So, what about walking for physical health or walking for weight loss? "Physically, walking will challenge you as the uneven terrain stimulates different muscles in the ankles, knees, hips and core," explains Eastwood. Increasing the speed at which you walk or choosing hills can power up the workout and work your heart, lungs and whole body a little more, she says.
Wondering whether 10,000 steps a day is the best number to aim for? Eastwood has this key piece of advice: "As a general rule, you will burn calories by just walking 10,000 steps. That said, how many you burn really does depend on what kind of steps you are taking. Instead, just focus on challenging yourself and going for as long as you can fit in."
Keen to read how I got on trying a walking challenge for two weeks? Keep scrolling.
I tried walking every day for two weeks - my verdict
Days one to five
Heading into day one of my challenge meant deciding what my aim was for each day. Having struggled with morning workouts in the past, I settled on a 30-minute pre-breakfast walk. That said, it'd help if I actually remember the challenge I've set myself to do when I emerge from bed in a hazy blur. Day one, and to be completely honest, I make it to lunchtime before I remember.
For my next attempt, I recruit my boyfriend to remind me when the alarm goes off. After all, there's more chance of success if I have to be held accountable right? Right - which is why come day two, I whack on some gym leggings, grab a cup of tea in my KeepCup lovingly made by my boyfriend (read: a supportive push to get me out the door) and head to my local park, I've already clocked about five-minutes by this point, and once there, I spend 20-minutes taking in the nature. I deliberately chose not to bring headphones so that I could soak up the sounds and I returned home feeling bright and chirpy, ready to tackle a day of deadlines.
Over the next few days, I try mixing it up on my walks by listening to a podcast or calling my mum so we can chat as I clock up my steps. I'll also admit that on a couple of days, I went for my walk after breakfast - the pre-breakfast idea may work for some but for me, I often wake up ready for a bite to eat, especially when I've done an exercise session the day before. What's most important about these challenges is making sure they work for you and your body, after all.
Days five to ten
Days five to ten and I've fallen into something of a routine - that said, it's not quite as I had imagined. For practical reasons - more on those, below - it didn't make sense for me to try and squeeze in the 30-minute walk first thing and pre-breakfast every day.
On days when I'm working from home, having a commitment to force myself outdoors is ideal to guide me into having a nature break from the desk. But on days when I'm in town for meetings and events, incorporating the half an hour of walking works differently: it's more efficient and easier to keep up if I squeeze it in say, by getting off a tube or bus stop earlier and walking to my destination.
Jessica Christensen, CEO of holistic training company Mavericks Life Co, gives me some good advice. "There's no universal rule regarding the best time to walk. The key is finding a time that fits your schedule, makes you feel good, and allows you to walk regularly," she explains.
Although walking first thing in the morning can provide personal time before the day begins, she goes on, the benefits of walking can be felt at any time of the day. Plus, "it's worth noting that exercise before breakfast can be really beneficial for some people, but problematic for others," she points out, "so tune into how you feel and see what works for you." Amen to that.
Days ten to fourteen
After more than a week of purposefully adding 30-minute walks into my routine, I've started to realise that by setting hard rules at the beginning I was setting myself up for failure. Like any activity for fitness or wellness, the best chance you have of sticking to it is if you find the best way to balance it with the other commitments in your life.
For me, walking 30 minutes before breakfast was not something I could - or as it turned out, I really wanted - to do. But, really focusing on ways in which I could consciously enjoy 30 minutes of walking, be it during commuting, while catching up over the phone with friends and family or having a solid mind-clearing stroll of my own, brought me the most joy.
Will I keep it up? I reckon so. I enjoyed seeing my step count tick up and felt more energised throughout the day. Nature can be a really great budget-friendly reminder to be more mindful, too - something we could all benefit from. Now, question - will you give it a go?
Shop MC UK's go-to walking kit:
On Running Cloudvista Waterproof trainers
Although designed with trail running in mind, these comfortable and supportive trainers are also perfect for a daily walk on a mix of terrains. They're waterproof too, so no need to suffer with soggy socks and shoes when the weather turns.
Yeti Rambler 18oz Water Bottle
Hydration is key when you're on the move. This water bottle, reportedly a favourite of Victoria Beckham, comes in a range of sizes but the 18oz version will hold just over half a litre of liquid. It will also keep your hot drinks warm and your cold drinks chilled, with its double-wall vacuum insulation. If it's good enough for VB...
What happens if you walk everyday for 2 weeks?
According to the NHS website, walking every day is one of the simplest and most affordable ways of staying fit.
Benefits include improved stamina, metabolism, and heart health.
Do note, as well: they stress that you needn't walk for hours. "A brisk 10-minute daily walk has lots of health benefits and counts towards your 150 minutes of weekly exercise, as recommended in the physical activity guidelines for adults aged 19 to 64," the site reads.
Celebrity news, beauty, fashion advice, and fascinating features, delivered straight to your inbox!
Amy Sedghi is a freelance journalist, specialising in health and fitness, travel, beauty, sustainability and cycling.
Having started her career in The Guardian newsroom working with an award-winning team, Amy's proud to have reported on a variety of topics, speaking to a range of voices and travelling far and wide to do so. From interviews on ski lifts to writing up breaking stories outside courtrooms, Amy is used to reporting from a range of locations (she's even been known to type up a story in a tent).
She also loves being active, spending time outdoors and travelling - with some of her favourite features she's worked on combining all three. Cycling and eating her way round the Isle of Man, learning to sail on the Côte d'Azur and traversing the Caminito del Rey path in Spain are just some of her highlights.
Covering a diverse range of subjects appeals to Amy. One minute she may be writing about her online styling session with Katie Holmes' stylist and the next she's transporting readers to the basketball courts of Haringey where she joined a group trying to lower knife crime in the capital.
While at university, Amy was awarded The Media Society bursary. Following her stint at the Guardian, Amy worked at Google and as well as writing for Marie Claire, she regularly contributes interviews, features and articles to National Geographic Traveller, The Guardian, The Independent, The Telegraph, Stylist, Refinery29, Glorious Sport, Cycling Weekly and Rouleur.
When she's not writing, Amy can be found trying to get through her towering stack of books-to-read, cycling down at Herne Hill Velodrome or looking for the next place to eat and drink with friends.