The lazy girl's guide to the best workouts
If you're allergic to treadmills, these classes are for you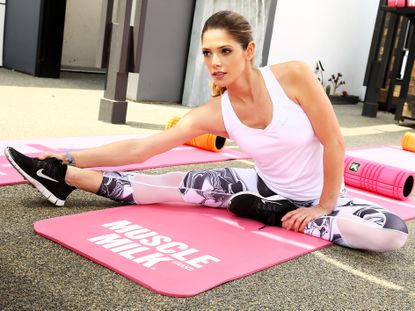 (Image credit: Sara Jaye Weiss/REX/Shutterstock)
If you're allergic to treadmills, these classes are for you
The daily recommendation of exercise is half an hour, but if the thought of sweating it out in a gym or legging it in your local park makes you cringe with dread, those 30 minutes can seem like a life time.
The good news is, the rise in fitness popularity also means there's been a rise in classes that are more fun, and less of chore. So before you submit yourself to the 'too lazy to even try basket', try and submit yourself to the lazy girl's guide to the best workouts.
Gymbox and StubHub have teamed up to offer music fanatics the ultimate festival fitness class in time for Summer. A workout that combines both cardio and strength training, Crowd Surf Ready will have you lifting and surfing your way to the front of the crowd.
During the class you learn how to lift and be lifted - starting with partner work where you help each other with pull ups before lining up on a crash mat to pass heavy objects down the line (even those of you brave enough to have a go on top).
Get your groove on at the Pole Dancing School
It's no secret that working with your own body weight is a great way to build muscle, so doing things like lifting yourself up onto a pole and flipping upside down will no doubt build your strength.
Once you get over the giggles, this actually becomes quite a full-on workout.
Work that booty at Frame
Who doesn't like whipping their hair in front of a wind machine? Get all Beyoncé with Frame's dance classes. It's a whole body workout.
Plus, you'll take away some shapes to throw down on the dance floor the next night.
Swing your hips with Hula Fit
If you thought the days of hula hooping ended when you left school, think again. This workout isn't just fun (when you get the hang of it) it's perfect for toning your abs too — especially your obliques.
Do it at home or become part of The London Hula Hoopers. It's a gym in a plastic circle.
Get high at Flying Fantastic Trapeze
At Flying Fantastic Trapeze, engaging your core is key and using the strength of your arms to lift and hold you is paramount, but you won't even notice that you're actually working out because moves like The Mermaid, The Birdcage, Hocks and Bird's Nest, will take your mind to a place where you're dressed in sequinned circus garb, performing in front of a crowd.
And yes, you will eventually suffer from muscle fatigue - a sure sign that you're getting a proper work out.
Celebrity news, beauty, fashion advice, and fascinating features, delivered straight to your inbox!