Collagen feet fillers take the pain out of high heels
Wave goodbye to aching feet as doctors develop an unlikely solution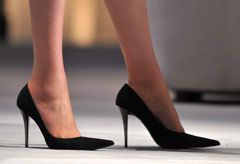 (Image credit: Rex Features)
Wave goodbye to aching feet as doctors develop an unlikely solution
As any stiletto-loving lady knows, high heels look fabulous but can be shockingly painful. But there's no need to restrict yourself to flats this Christmas party, as doctors have a solution - collagen fillers for the feet.
According to experts, it's one of the country's fastest growing cosmetic trends, with sales increasing five-fold in the past 12 months. And Cosmetic clinics are predicting even greater figures during the run-up to Christmas.
The simple and painless procedure - which involves injecting protein into the balls of the feet - costs £240 and lasts between two and three months. It does not need to be removed or altered once injected, and side-effect last less than 48 hours.
Dr Nick Milojevic, of the Harley Medical Group, says: 'Patients commonly have pre-Christmas fillers to get camera-ready. But this year we've received increased enquiries for foot fillers to pad out the ball of the foot to reduce pain when wearing heels.'
Last month, it was revealed that Victoria Beckham may need surgery on her feet after years of wearing towering heels left her with painful bunions.
Harley Medical Group Director, Liz Dale, says: When women who've had the treatment put on their shoes, the transformation is immediate. They feel more comfortable and are able to dance or mingle the night away.'
Celebrity news, beauty, fashion advice, and fascinating features, delivered straight to your inbox!