Christmas turkey tips from a Michelin-starred chef
No, we're not entirely sure how to cook a turkey either. So we asked an expert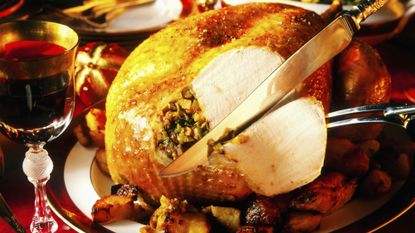 (Image credit: Rex)
No, we're not entirely sure how to cook a turkey either. So we asked an expert
No pressure or anything but once you've invited the parents over for Christmas dinner, and the in-laws, and Barbara from next door, they will be expecting to feast upon something pretty special. You can't serve up any old Sunday roast on December 25th. And now isn't the time to admit you're not a hundred per cent sure how to cook a Christmas turkey, anyway. But before you start fishing around for giblets and fretting over the stuffing, allow Steve Smith, head chef at the Michelin starred Jersey-based restaurant, Bohemia, to share his wisdom.
Invest in your turkey
Spending that little extra on an organic or free-range turkey is certainly worth it. Not only is it ethically sourced, it will also have better nutritional benefits and deliver on flavour.
Preparation
Wash and thoroughly dry the cavity of the bird before leaving it to reach room temperature. Putting a moderate amount of softened butter under the skin of the bird will ensure it remains moist. Finally, truss the legs together so it retains its shape throughout cooking. Follow these simple steps, and you will have an absolute showstopper of a turkey.
Festive extras
Stuff the cavity of the turkey with herbs, citrus fruits, and an onion to add flavour. However, it is important to ensure there is space for heat to circulate. To make the stuffing seasonal, add some festive favourites such as cranberries, chestnuts, sage and clementine zest.
Soak the bird
Prep the bird 24 hours before by soaking it in brine. Make your own brine with water, sugar, salt and thyme – add lemons and bay leaves for more flavour. This will make the bird juicy and moist.
Leave it alone!
When the turkey is in the oven try to resist opening the oven door as this can make the turkey dry. Remove the foil from the breast to allow it to brown around 45 minutes before the turkey is ready
Wait
It may be difficult to wait but once cooked allow the turkey to rest for 20 minutes. The heat will force the juices to the centre of the bird. By allowing the juices to soak into the flesh the turkey will be a lot moister. Cover with foil and tea towels to keep it warm.
Stress-free carving
Leave the turkey to rest for at least 30 minutes before carving. This allows the meat to relax, making carving easier. Separating the breasts from the legs and thighs will make carving a lot more manageable as you can simply slice the breast meat, and the rest should fall off the bone.
Glorious Gravy
Don't dispose of the caramelised juices left behind by the turkey as they make the perfect base for the gravy. Adding Madeira, a tablespoon of plain flour and quality stock to it will make your gravy rich and delicious.
Leftovers
You should start thinking about leftovers before you've even bought the bird. To decide what size turkey you require remember that the general rule is one pound per person; get a bigger bird if you want plenty of meat leftover.
Your Boxing Day leftover turkey sandwich recipe
Head Chef Steve Smith, who has held a Michelin Star for over 15 years from the age of just 24, has created a truly outstanding dining experience with his ingredient and flavour driven tasting menus at Bohemia. Here's his secret recipe for the perfect leftover turkey sandwich.
Ingredients: Turkey, cream cheese, apple & celery, pecan and mizuna on multispeed/rye bread
Makes 4 sandwiches
8 slices of rye/multispeed bread 10 generous slices white turkey meat 100 grams sliced/ flaked turkey leg meat 1 granny smith apple sliced 24 pecan nuts roughly chopped 1 stick celery finely chopped 40g mizuna 120g cream cheese or Philadelphia Salt and pepper 2 tbspns hazelnut vinaigrette 25g butter Method
Butter all of the bread. Divide the cream cheese between 4 slices of the bread and spread evenly. Sprinkle the pecan nuts and celery over. Divide the brown turkey meat between the sandwiches and cover with sliced apple. Season with salt and pepper. Mix the mizuna with a little hazelnut dressing, Place on top of the turkey meat. Place the white turkey meat on top, and place the remaining slice of bread on top. Cut with a sharp serrated knife and serve.
Bohemia Bar & Restaurant, Green Street, St. Helier, Jersey JE2 4UH, Channel Islands For reservations please call: 01534 880 588 or visit www.bohemiajersey.com
Celebrity news, beauty, fashion advice, and fascinating features, delivered straight to your inbox!