Mulberry rarely goes on sale, but you can currently get up to 20% off
The Mulberry Black Friday and Cyber Monday deals are going strong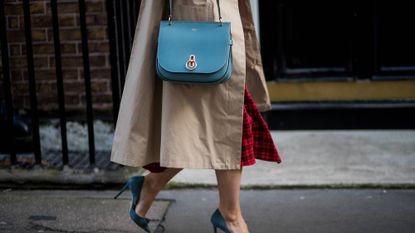 (Image credit: Christian Vierig / Getty )
The Mulberry Black Friday deals are still going strong
If you're looking for a luxury handbag, the Mulberry Black Friday and Cyber Monday deals are likely to be something you have been keeping an eye out for this year.
While the brand's iconic bags often carry a sizeable price tag, they are certainly investment pieces - and even better if you can get your hands on a classic Bayswater with a decent discount.
The designer Black Friday deals extended into the weekend, and with Cyber Monday sales starting there's no need to worry about missing out. That investment luxury handbag could still be yours if you've decided that now's the time to buy.
So take a look at the Mulberry Black Friday and Mulberry Cyber Monday deals, and make the most of the savings. For the first time in a long time, you can even find up to 20% off deals directly on the brand's website until November 27th at midnight. Keep scrolling to shop our favourite Mulberry sales now.
Mulberry Black Friday and Cyber Monday quick shopping links:
Is there a Mulberry Black Friday sale?
Historically, Mulberry has opted to skip the sales, meaning fashion devotees had to scour other retailers for discounts from the British heritage brand. However, this year you'll find discounts directly through their site with up to 20% off classic styles like the iconic Bayswater and Sadie satchel.
Mulberry's Pre-loved section is a great way to buy some investment pieces at a fraction of their original cost. Each style has been quality checked by the Mulberry team, so you know you won't be disappointed. There are some great styles available now, so you don't have to wait.
When does the Mulberry Cyber Monday sale start?
The discounts on Mulberry bags extended across the weekend, and with Cyber Monday quickly approaching there are still sales to be found directly on their site, or through various retailers.
Take a look at some of the best Mulberry deals we've found...
Mulberry Black Friday and Cyber Monday deals
The sales are well underway with no signs of slowing down, and right now you can find deals on Mulberry bags, wallets and other leather goods. Some retailers are even offering up discounts of up to 59% off.
Keep scrolling to shop our favourite picks.
Does Mulberry have a Cyber Monday sale?
While Mulberry does not technically brand it as a Black Friday or Cyber Monday sale, it will continue its sale until November 27 at midnight. Several larger retailers that stock Mulberry are also offering discounts at the moment. You can pick up a bargain at House of Fraser, John Lewis and more.
Is a Mulberry bag a good investment?
Yes, we're not talking about cheap designer handbags here. Mulberry handbags start at around £400 for a small bag and go up to over £1,000, but they are true investment pieces.
They are made here in the UK using the finest quality materials, such as Italian leather. Mulberry is pushing to be more sustainable, and in fact just re-released its iconic Alexa handbag, made more sustainably.
Plus, the styles are classic and timeless, so truly do stand the test of time. A Mulberry Bayswater will still be fashionable in years to come, and if anything the leather makes it look better with age.
So if you have been saving for an investment piece, the Mulberry Black Friday and Cyber Monday deals could just be what you're looking for.
What's Mulberry's return policy?
Mulberry offer a full refund on all products purchased, but the period in which you can do so is shorter on sale items, including the Black Friday sale.
You can request a refund on pieces purchased on the Mulberry website up to 30 days after receiving your order for all full priced goods, or 14 days after for sale items.