Whatever it is that takes to make an icon, we can be fairly certain that Dior's Saddle bag has *it*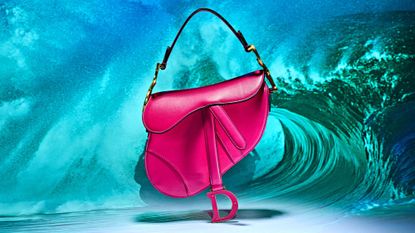 (Image credit: Future)
What makes an icon? It's a question often pondered in the arena of fashion, and a label often overused. Longevity? Timelessness? Mass appeal? A combination of all of the above? Perhaps it's less prescriptive; a magical conjuncture of qualities we'll never quite be able to put our collective finger on. Whatever it is, we can be fairly certain that Dior's Saddle bag has it.
It made its debut in 1999, designed by then-Creative Director John Galliano as part of Dior's spring/summer 2000 collection. Fashion lore suggests it was inspired by photographer Helmut Newton's iconic, provocative 1976 composition 'Saddle 1', though this remains a mysterious, unconfirmed nugget of information.
Shown on the cusp of the millennium, it was part of a collection that signalled the dawn of noughties fashion. On the catwalk, models including Gisele tucked the bag snuggly under their armpit, its flattened shape hugging the side of their body, arm crooked and thumb casually hooked on the stirrup-esque hanging 'D' clasp. "It was new and different, from the shape, colours, fabrics and textures, to how it was designed to be worn—close and fitted against the body—was all new and exciting," remembers Ceanne Fernandes-Wong, CEO and co-founder of handbag subscription rental platform Cocoon, where both vintage and contemporary versions of the bag have a 100% utilisation rate, meaning they are constantly booked out by members.
The fear of the millennium bug safely behind us, we galloped into a decade in which fashion and celebrity became both consumable and inextricably linked like never before. As accessibility to the internet widened, so did our exposure to celebrity style. Fashion TV reached its zenith; The Clothes Show made way for makeover formats like What Not To Wear, bringing fashion with a capital F to the everywoman, lifting it from the pages of glossy magazines and beaming it into the living rooms and everyday lives of the masses. Sex And The City settled into its third season, the eclectic, designer-heavy wardrobe of protagonist Carrie Bradshaw becoming evermore a draw. This heady concoction set the stage for the era of the 'It bag', an era that arguably began when Bradshaw toted a white, pink and gold chain-print version of the Saddle bag in episode five of season three.
By 2001, the bag had helped Dior's accessories sales soar by 60% as ubiquitous noughties celebs including Paris Hilton, Nicole Ritchie and Mischa Barton were pictured carrying it. Its popularity peaked in 2003, before tapering off to be superseded by various It bag successors, including Mulberry's Roxy, Chloe's Paddington and Marc Jacobs' Stam. Nevertheless, it had sparked a phenomenon that would see handbags become the ultimate status symbol—a trophy purchase to be paraded—and therefore the most lucrative cog in the engines of major luxury fashion houses.
After disappearing, in 2014, the Saddle unexpectedly resurfaced—clutched by the perfectly manicured hand of Beyonce no less; an icon carrying an icon. A relic from her Destiny's Child era perhaps, its reappearance set in motion a chain reaction that would gradually see the style resurrected from its nadir. Two years later K-Pop sensation CL took to Instagram toting a vintage velvet limited edition 2003 Saddle with 'Adiorable 69' emblazoned across it.
A whole new audience was introduced to the style and the resurgence gathered pace, with various resale and vintage sites noting an uptick in searches. (The same bag, in mint condition, will currently set you back more than £3,000 on some resale sites.) Soon, high-profile models and influencers were seen carrying vintage Saddles too.
RELATED STORIES
The One: Why the Mulberry Bayswater is still an "It" bag over 20 years later
By 2018, with Dior now under the creative leadership of Maria Grazia Chiuri, the brand formally reintroduced the bag as part of the autumn/winter 2018 collection. It was a smart move. As a spokesperson for resale platform Vestiaire Collective points out, the reissuing of a once-iconic design "reinforces the message that their designs are timeless and meant to be reused and cherished, rather than being discarded after one season. This shift aligns with the growing focus on sustainability and responsible fashion practices in the industry."
Its design was adapted to modern-day life, with a slightly larger capacity to accommodate phones and other gadgets, and the addition of a removable strap to allow it to be worn across the body, but its key features remained untouched. A social media campaign feted the retail launch in July of that year, with 100 of the world's biggest fashion influencers simultaneously posting a photo of themselves with the new Saddle. Searches for the bag—both vintage and new—spiked 957% in 48 hours, according to Lyst, which named it the hottest women's product in its 2018 Q3 Lyst Index. And so its resurrection was complete.
Its return has gone hand-in-hand with the revival of early-noughties fashion trends (much to the horror of many a Millennial). From chain mail tops and low-rise jeans to corsets and cargo pants, the sartorial sins of our past have been repackaged for a new generation by the likes of Bella Hadid, Hailey Bieber and Kendall Jenner—and Dior's Saddle fits snugly within that aesthetic in an impressively unironic way. Add to that our growing appetite for vintage and preloved fashion, and you have the perfect recipe for a comeback.
Now, as we reach peak Barbiecore amid the release of the live-action film, so too does this iconic bag with its latest iteration; hot pink. And just like Barbie, the Saddle bag has firmly cemented itself in history—and provided the ultimate proof that fashion really is cyclical.
Shop the Dior Saddle and Slingback Pumps
Celebrity news, beauty, fashion advice, and fascinating features, delivered straight to your inbox!
Fashion Writer, Editor and Consultant
Bibby Sowray is a London-based freelance fashion writer, editor and consultant with extensive experience across both print and digital publications. She has written for British Vogue, ELLE UK, The Telegraph, The Sunday Times Style, Stylist and many more.