The official Pitch Perfect 3 trailer is here and we're so hyped for it
Aca-believe it.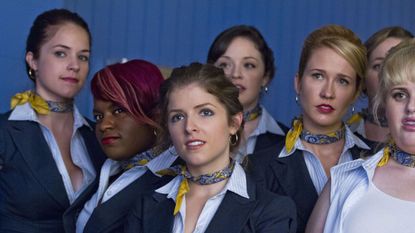 (Image credit: Moviestore/REX/Shutterstock)
Aca-believe it.
The newest Pitch Perfect 3 trailer has arrived and it marks the end of an era for the Barden Bellas. As the final instalment in the comedic a capella film franchise (we don't know who the heck took a chance on it, but we're sure glad they did), it looks like it's set to be bigger than the prequels with upgraded costumes and hilarious action sequences.
Everything we know about the Pitch Perfect 3 plot
After graduating from Barden University in Pitch Perfect 2, the girls are all separated and seem to have hit a low point in their lives. They decide to relive their college days by reuniting as the Barden Bellas, competing in a big European competition for the opportunity to perform for the USO troops. However, they've got some major competition in the form of a rock n' roll girl group fronted by Ruby Rose.
The trailer was filled with exciting new hints of the Bellas' future, here's everything we're looking forward to below...
Life after Barden University
While some TV shows get away with keeping their characters in school forever (The OC, we're looking at you), Pitch Perfect 3 embraces the Bellas' post-university life and it's not pretty. The trailer revealed that everybody's stuck in that weird early 20s limbo, with Chloe (Brittany Snow) second-guessing her veterinarian career, Fat Amy (Rebel Wilson) rebranding herself as street performer Fat Amy Winehouse and Becca (Anna Kendrick) throwing in the towel and resigning from her job. Even though we loved seeing the girls at college, it's refreshing to see them as grown women now - even if the reality check seems to be hitting them hard.
Ruby Rose. Just anything Ruby Rose.
The punk rock actress tipped our Kinsey scale when she first appeared on Orange is the New Black and we've been obsessed with her ever since. Ruby, who plays a character named Calamity, looks like she'll be Becca's biggest rival as the leader of a fellow girl group that has absolutely no time for the Barden alumni. In a sneaky video she released of a Pitch Perfect 3 rehearsal, it's clear that her gang's a lot more rock and roll than the Bellas as they shredded guitars and a drum set.
A full on Mission Impossible sequence
We have absolutely no idea how the Bellas are going to get to this point, but the trailer was awash with scenes that wouldn't be out of place in a Tom Cruise flick. The girls channeled Top Gun in an ill-fated skydiving attempt, bungled a cliche explosion getaway and Fat Amy gave Bruce Lee a run for his money with some sausage link nunchucks. Sure it's not exactly Wonder Woman, but there's something about watching an action movie gone wrong that always tickles our funny bone.
The new Pitch Perfect 3 director and writer
While we're super sad that Elizabeth Banks won't be directing the final installment of the series, the new director Trish Sie and writer Kay Cannon look like they're going to bring a lot to the table. Trish has made her name directing off-the-wall music videos for OK Go (including their famous treadmill and zero-gravity stunts) and we're excited to see similar creative antics from the Barden Bellas - though maybe Amy should stay away from the silk ropes after what happened in Pitch Perfect 2.
It'll also be interesting to see what Kay Cannon, a screenwriter who's paved her way writing for offbeat comedies like 30 Rock, New Girl and more recently Girlboss, will bring to the cast's impressive comedic chops. The line 'They really do need to join the workforce' already has us giggling.
If you're still missing Elizabeth Banks, don't worry - she's not gone far. She's going to reprise her role as a brutal acapella commentator, so she'll still make it to the silver screen.
A cheesy good old friendship fest
Pitch Perfect has been the best thing to happen to onscreen female friendships since Bridesmaids and the grand finale of the franchise looks to be the cheesiest. There's just something so lovely about seeing the gang all back together again - even Hailee Steinfeld managed to make time for the Bellas amidst her budding pop career - and we're excited to see how the Bellas sing us out this time round.
While it's sad that Skylar Astin doesn't seem like he'll be returning to play Becca's bubbly love interest, who needs him when you've got a group of misguided yet lovable friends? (If we could get an invite to that crazy hotel party, that would be awesome...)
You'll have to curb your excitement for now though, as the film won't be released until 22 December 2017 in the UK. Time really doesn't move fast enough.
Celebrity news, beauty, fashion advice, and fascinating features, delivered straight to your inbox!
Megan is a freelance journalist who covers entertainment and all things lifestyle, with a particular passion for fashion, beauty, travel and Keanu Reeves stories. She has previously worked on staff for titles including Marie Claire UK, CNN Style and The Evening Standard and has written for titles such as Bustle UK, Wallpaper*, Forbes and Hong Kong Tatler. She splits her time between London and her hometown Hong Kong, where she currently lives with the love of her life - an elderly dog named Poppy - and her husband.