Paul Rudd: 'I identify myself as a parent and a husband way more than as somebody who rides around on the back of an ant'
The star of Marvel's Ant-Man movies and Hollywood's comedy go-to guy, Paul Rudd, has come a long way since Clueless. Here, he tells Tracy Ramsden about falling in love, embarrassing his kids and being the seventh most popular character in Friends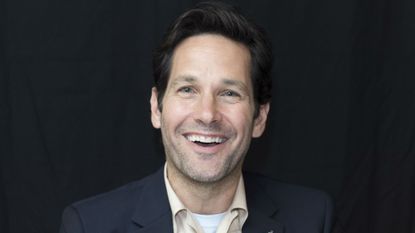 (Image credit: Rex Features)
The star of Marvel's Ant-Man movies and Hollywood's comedy go-to guy, Paul Rudd, has come a long way since Clueless. Here, he tells Tracy Ramsden about falling in love, embarrassing his kids and being the seventh most popular character in Friends
Paul Rudd just took his car in for a tune-up, he's about to go to the gym, and then he'll catch up on some emails before doing the school run.
'This is the exciting life of being a major motion-picture figure,' he deadpans down the phone from his home in New York.
The truth is, the 49-year-old once synonymous with the nice guy next door has a lot to be excited about. Paul Rudd is a bona fide superhero these days.
'It's a cool club to belong to,' he says, sounding more like a competition winner than one of Hollywood's most bankable stars. Joining the hallowed upper echelons of Marvel Studios in 2015, Rudd landed the lead in Ant-Man, a role he'll reprise this month in Ant-Man And The Wasp. 'At the Marvel offices, I can go up to the third floor and get buzzed straight in. You feel as if you have the keys to the executive washroom.'
Of course, Paul Rudd is no stranger to gaining access to exclusive clubs – he found himself unexpectedly on the periphery of 'the big six' when he joined the cast of Friends at the show's peak in 2002 (the series finale in 2004 was watched by 52.5 million people in the US), as Phoebe's boyfriend, Mike.
'I went in with the awareness that one episode of that show was going to be seen by more people than everything that I'd ever done up until that point combined,' he recalls.
'I also knew that no one was going to be tuning in for "Mike Hannigan",' he laughs. 'I didn't want to get in the way. I was like, I'll just stand in the back with Gunther.'
'It's easier to make somebody cry than to make somebody laugh'
It was in the 1995 cult teen classic Clueless that Rudd first won us over; when Cher (Alicia Silverstone) uttered, 'I am totally butt crazy in love with Josh', and we couldn't have agreed more. Since then, he has released a movie – often multiple movies – every consecutive year, and the frequency with which he racks them up is astounding.
In 2004, he appeared in no less than five productions (including his comedy breakthrough as Brian Fantana in Anchorman: The Legend Of Ron Burgundy); there were another five in 2005, six in 2006, eight in 2007. Is it any wonder The New York Times described him as 'the MSG of actors'? Because 'you can add Paul Rudd to any movie, and the movie will taste better.'
Anchorman was significant because it marked the beginning of his working relationship with producer Judd Apatow, who he went on to work with several times (including The 40-Year-Old Virgin, Knocked Up and This Is 40). It heralded a new golden age of Hollywood comedy that turned key players, including Will Ferrell, Jack Black, Ben Stiller, Leslie Mann and Amy Poehler, into blockbuster stars alongside Paul Rudd. Though he downplays his clearly serious work ethic.
'You know what, I'll show up, tell me where to stand and I'll leave at the end of the day,' he says. 'I don't come from a family of actors, I didn't grow up around it and so when I go to Los Angeles for work, or to a premiere, I like it because it feels like I'm just popping in. I identify myself as a parent and a husband way more than somebody who rides around on the back of an ant,' he laughs.
This month, as well as reprising Ant-Man, Rudd's teaming up with Steve Coogan for Ideal Home, a film about a bickering gay couple who land the unexpected task of raising a ten-year-old boy. 'I've always been a massive fan of Steve's – I love Alan Partridge – and having now worked with him twice [firstly in Our Idiot Brother in 2011], I'm just a massive fan of the man himself.'
Yet it seems that the world still waits for great comedy actors to strategically move towards a darker place – to 'do a McConaughey' – in order to win the critical acclaim. Is that annoying?
'No, what's annoying is that nobody is hiring me to play the guy with the incurable disease!' Rudd quips in mock horror. 'It's always been the case that comedy never gets the props that drama does. But Steve Coogan in Hamlet 2 is such a committed and brilliantly funny performance. Jack Black in School Of Rock is one of the great comedic performances of the last decade, and certainly some of the things Jim Carrey has done, and what Will Ferrell does. It's easy to write them off and say, "Oh, that's just a comedy", but it's so much more than that. It's easier to make somebody cry than to make somebody laugh, because everyone's sense of humour is so different. Whereas if something is moving, more people will find it moving.'
Rudd met his wife of 15 years, Julie Yaeger, a former publicist, when he moved to New York after shooting Clueless. Amy Heckerling, the director, told him, 'You need to get a publicist'.
'She was the first person I met in New York. We started talking and there was a maturity with her – she had experienced some tragedy in her life, I had too, and the impression I got was, wow, this is a woman. This isn't a girl. I was really taken with who she was and how she had overcome and was in the process of overcoming adversities in her life. There was a perspective that she had and still has on the world that you don't come to easily – it's earned and most people don't have it at such a young age.'
The couple have two children – son, Jack, and daughter, Darby – who must have earned bragging rights at school for their dad's superhero status.
'Oh, I'm still the embarrassing dad,' he laughs. 'My daughter is eight and thinks I'm the bee's knees. My son is 13 and doesn't even want me going to his school. I make jokes to a series of eye rolls.'
'The only good thing about my father being dead is that he doesn't have to see what's happening [in America] now' - Paul Rudd
Much of Rudd's grounding has been attributed to his British-born parents and ordinary, suburban upbringing in Kansas City, Missouri, where he moved to aged ten from New Jersey.
'They told me I could be anything I wanted to be, but I had to work hard for it. They also provided a home in which I could believe in myself, so when I was starting out I felt like I was able to conquer the world. Of course, I was completely naive and couldn't [laughs], but I have to believe that was because I knew I was supported emotionally and in every other way by my mom and dad. Both my parents were very funny and realistic. My dad was a history fanatic and a really outspoken liberal who was always writing letters to newspapers, arguing about all sorts of backward issues in his estimation of this country. So I was surrounded by this kind of truth to power attitude and a tenacity.'
What would his dad [who died in 2008] make of America today, I wonder?
Rudd pauses, before carefully concluding, 'I have often said the only good thing about my father being dead is that he doesn't have to see what's happening now, because if he did, I can't even imagine what he'd say. I mean, I can imagine, but yeah. There would be a lot of letters...' he tails off.
It would be remiss to write off Paul Rudd as 'nice' simply because there's a gaping hole in Hollywood for nice guys right now. He's also thoughtful, smart, and damn good at his job. And comedy matters. Perhaps now more than ever.
Ant-Man And The Wasp is in cinemas from 3 August. Ideal Home is in cinemas now.
Celebrity news, beauty, fashion advice, and fascinating features, delivered straight to your inbox!