Actress Laura Harrier talks film icons, fashion and fulfilling her romcom dream
Following her big break in Spike Lee's BlacKkKlansman with a starring role in Tom Hanks' new film, Laura Harrier's career is soaring. Here, the American actress talks to Jane Mulkerrins about red-carpet fashion, reshaping romcoms and the power of speaking out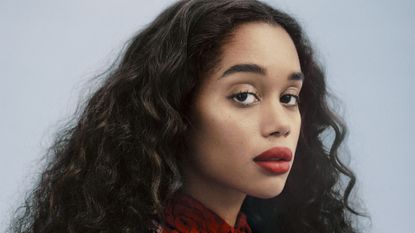 (Image credit: Styling by April Hughes Photographs by Olivia Malone)
Following her big break in Spike Lee's BlacKkKlansman with a starring role in Tom Hanks' new film, Laura Harrier's career is soaring. Here, the American actress talks to Jane Mulkerrins about red-carpet fashion, reshaping romcoms and the power of speaking out
It's Friday lunchtime in the busy restaurant of a stylish hotel in New York's Tribeca and Laura Harrier isn't mincing her words. 'Dick pics are unsolicited sexual advances, and nobody wants to see them,' she sighs. 'Keep your clothes on until you're with somebody in a consenting situation, and then you can take them off.'
Recently, the 29-year-old actress went viral on Instagram calling out men who send her unwelcome shots of their genitalia. 'When I posted that, I was really pissed off, but I also just thought it would be funny,' she recalls. 'Then, all these young girls were writing to me, being like, "Thank you so much for saying that. I hate it when that happens." Teenage girls have to put up with so much.'
Sipping a cappuccino in our leather banquette, Harrier goes seemingly unrecognised by the fashionable hordes. I can only assume that the extravagant Afro wig she sported in Spike Lee's Oscar-winning BlacKkKlansman, has thrown them off the scent of there being a rising star in their midst. I'm not sure she'll be able to enjoy a coffee in such uninterrupted anonymity for much longer. Harrier's short but impressive career to date is a testament to savvy selectivity; she followed up her 2017 film debut (as former love interest Liz Allan) in the blockbuster Spider-Man: Homecoming with BlacKkKlansman, and has just finished filming Bios, a science-fiction drama with Tom Hanks, set for release next year. Her first independent film, Balance, Not Symmetry, was released in July.
A former model (she hated it; more on that later), she's one of the faces of Louis Vuitton, alongside Michelle Williams, Thandie Newton and her friend, Sophie Turner. The day we meet, she's still sporting a set of glittering, LV-embellished acrylic nails from the Met Gala she attended four days earlier, in a leather and leopard-print minidress, custom-made for her by Nicolas Ghesquière, and a cropped blonde wig. But the nails, she laments, are going to have to go when she heads home to LA later that night; they don't work well with her favourite hobby, pottery. It's safe to say that there will be more nails, and many more Met Galas in the future – Harrier's star is in the ascendant.
You're part of a generation of young actors who are very committed to activism and not wary of speaking out. Do you see it as a responsibility that comes with having a public profile?
'I think there's obviously more of a space for your voice to be heard and to be more in control of your voice because of social media – it has presented a whole new platform for people. And using our voices feels natural to my entire generation. But I'm also very wary of celebrity activism. I don't consider myself an activist. I'm a human being with opinions and morals, but it seems that as soon as you're in the public eye and you're somebody who does that, all of a sudden you are "an activist". To me, activists are people who are standing on the front lines in Ferguson [Missouri].'
Did you learn anything new about black history playing Patrice, your activist character in BlacKkKlansman?
'Before we started filming, Spike [Lee] gave me a reading list, and I went to some of his classes – he's a tenured professor at NYU [New York University] – and watched a lot of interviews with [revolutionary student activist] Angela Davis, on whom Patrice is partially based. It gave me such a deeper understanding of black history, because, in my public high school, I didn't learn about the Black Panthers or the Black Power Movement. I read about Martin Luther King, but never learnt about Malcolm X. There is a huge part of American history that has been whitewashed away.'
You've just wrapped filming Bios with Tom Hanks. Does it feel as if work has kicked into another gear for you since BlacKkKlansman's huge success?
'Yes, it definitely changed my life, and working with Spike was one of the biggest opportunities I could have wished for. I've admired him and his work my whole life. He's shaped American film-making; he's shaped black film-making. I wouldn't be an actor if it wasn't for him – he's put people that looked like me on screen in such a wider space than anyone did before, and he's told black people's stories since the beginning. I saw Do The Right Thing when I was a kid, and watched a bunch of his movies in high school. He was the first person who made me understand what an auteur really is.'
'Using our voices feels natural to my entire generation'
Your look at the recent Met Gala was very bold, and you seem to have a real eye for fashion. Has that always been the case?
'I've been a fan of Nicolas [Ghesquière] since I was a kid and he was at Balenciaga. I don't know why; I grew up in the suburbs of Chicago, and wasn't exposed to anything to do with fashion, but I just loved clothes. Now, I get to work with him and wear his clothes all the time – it's so weird. And being at the Met Ball was very surreal. It's like, "I'm here, and everybody I ever grew up seeing in films or music is here, too."'
Do you ever feel that there's a conflict between the frothiness of fashion and the red carpet, and speaking out on issues, as you have, such as climate change?
'I don't think that one negates the other. You can be a woman, and love fashion and clothes, and that doesn't mean you don't care about big issues. I don't understand why it's like, "OK, you're wearing a pretty dress, you're not a feminist."'
You dropped out of NYU to model, but gave it up pretty quickly. What did you dislike about it?
'Modelling meant I was able to live here [in New York] at a really young age and be independent and travel, but the job itself wasn't for me. But it was different then. Girls have so much more individuality now, and different types of women are celebrated. When I was a model, it was literally just skinny white Russian girls, so nobody was booking me for jobs. I'd go to meetings at agencies in Paris and they'd sign me, and then they'd say, "Oh, we already have a black girl." It was just unapologetically racist. Fortunately, I think that's changing.'
What are the roles that you want to play next?
'I want to do romantic comedies and other films in which you don't see people who look like me; movies where you've never really seen people who don't look like Kate Hudson. I don't know what people's thought process was when they believed that audiences couldn't connect to seeing people of colour fall in love.'
Would you consider writing or producing in order to get those films made?
'Yes, definitely. That's something I'm working on now. I'm developing some adaptations of books. I can't say anything more about them at this point, but I'm going to make sure I get my romantic comedy moment.'
All clothing and accessories by Louis Vuitton autumn/winter 2019 collection
Celebrity news, beauty, fashion advice, and fascinating features, delivered straight to your inbox!
The leading destination for fashion, beauty, shopping and finger-on-the-pulse views on the latest issues. Marie Claire's travel content helps you delight in discovering new destinations around the globe, offering a unique – and sometimes unchartered – travel experience. From new hotel openings to the destinations tipped to take over our travel calendars, this iconic name has it covered.