How accurate is The Crown? Fact vs fiction in six key season finale moments
It's a bit of a tangled web to say the least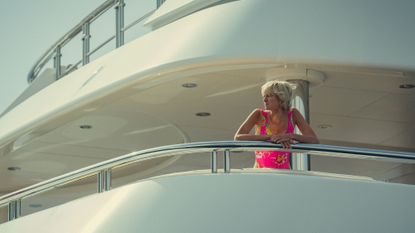 (Image credit: Netflix)
The Crown season six is the most controversial instalment of the Netflix show yet, detailing the events leading up to—and the aftermath of—Princess Diana's untimely death in Paris, in 1997. But how accurate is The Crown? Here's a deep dive into six key moments in the new season to separate fact and fiction.
The new series of The Crown, which was released on 16th November 2023, explores Diana's fraught relationship with the British press, as well as her short-lived romance with international playboy Dodi Fayed. Netflix reassured viewers before the release that the topic would be handled with 'respect', but there's no denying those fateful moments make for uncomfortable viewing. Actress Elizabeth Debicki, who plays Princess Diana in the season, went as far as to say that she found filming her final days "unbearable".
When dealing with such recent royal history and harrowing events, striking the balance between fact and fiction was no mean feat for The Crown creator Peter Morgan, who has come under criticism for some depictions being 'intrusive and clumsy' according to The Telegraph (via Forbes). Here's where the facts stop and the fiction begins during the first instalment of The Crown.
How accurate is The Crown?
The Crown is a work of fiction based partly on real events, but this should be taken loosely. After all, while some aspects of the royal family's interpersonal relationships are documented, the majority of their intimate conversations are imagined in the Netflix series—naturally, that information is largely private.
There are also plenty of events The Crown doesn't cover, according to the show's creator Peter Morgan. He explained to Variety: "We once wrote down all the things that we hadn't put in The Crown. Speculation about paternity, affairs, this, that. It's unbelievable, all we could have written."
Did Harry's book Spare influence The Crown's sixth season?
Prince Harry's controversial memoir Spare delves into a lot more detail on royal life from the point of view of estranged Royal Family members Harry and Meghan—with much of it unflattering towards the rest of the Royal Family. While reading this may have proved somewhat insightful, The Crown Creator Peter Morgan assures he 'hasn't read a word of it' in a bid not to become too influenced by Harry's point of view.
"I've not read a word of it. Not that I wouldn't be interested," he told Variety. "But I didn't want his voice to inhabit my thinking too much. I've got a lot of sympathy with him, a lot of sympathy. But I didn't want to read his book."
How accurate is The Crown season 6? 6 key moments unpacked
With part one of The Crown season six released on Netflix on 16th November, we delve into six pivotal moments in the first four episodes, which largely centres around Princess Diana's estrangement from the then Prince Charles and blossoming relationship with Dodi Fayed.
1. Princess Diana's ghost
One of perhaps the most surprising moments in the sixth season of The Crown so far is the introduction of Princess Diana as a ghostly figure, engaging in post-death conversations with both then-Prince Charles and Queen Elizabeth II.
This could be considered one of The Crown's biggest leaps, as it appears to be based completely on fiction, with no accounts from either Charles or the Queen on the subject. The show's creator, Peter Morgan, has stressed that this element of the story should be taken as 'vision' rather than a 'ghost', explaining: "It was her continuing to live vividly in the minds of those she has left behind," he explained to Variety. "Diana was unique, and I suppose that's what inspired me to find a unique way of representing her. She deserved special treatment narratively."
Yet, the whole appearance does appear to veer into the realm of the spiritual, with a poignant interaction between the late Princess Diana and Prince Charles in the fourth episode of the new season.
"You were always the most beloved of all of us," he tells her. To which she replies: "Thank you for how you were at the hospital. So raw, broken… and handsome. I'll take that with me."
Diana continues: "You know I loved you so much, so deeply, but so painfully too. It's over now. It'll be easier for everyone with me gone. Admit it. You've had that thought already." To which Charles replies: "The only thought I've had since the moment I heard is regret."
2. Dodi's fiancée waited on his yacht while he entertained Diana
While it appears that some of the more intimate conversations between those involved in the love triangle depicted in episode one of the sixth season of The Crown have been fictionalised, the crux of this story is very much true—at least according to Dodi's alleged former fiancée Kelly Fisher.
Kelly was first introduced as Dodi's girlfriend in season five of The Crown and appears again in the first episode of the show. As Dodi grows closer to Diana, he reveals that she's sat waiting on a neighbouring yacht. It would appear that there was some truth in this seemingly unlikely set-up. According to reporting from society reporter Dominick Dunne in Vanity Fair, Kelly was 'devastated and traumatised' by her treatment from Dodi, which included being flown out to St Tropez only to be left alone while he serenaded his new love interest, Diana, on a boat nearby.
But where the lines are blurred is whether Princess Diana was even aware of Kelly's existence, with Dominick Dunne continuing: "I think it is safe to say that Diana didn't know that Kelly Fisher was on another family yacht, waiting for furtive visits from Dodi, with whom she had been in a relationship for nearly a year. Diana had already played that scene in her marriage to Prince Charles."
3. Princess Diana and Dodi Fayed's kiss
The kiss between Dodi and Diana, which is captured by paparazzi photographers and splashed all over the tabloid papers much to the embarrassment of the Royal Family, is a key moment for series six. But while the kiss and media circus that followed did happen, the conditions surrounding it were largely fictionalised.
The shot was taken by Italian paparazzi photographer Mario Brenna, but the idea that Dodi's father Mohamed hired him in a calculated fashion was 'absurd and completely invented' he told the New York Times.
4. Princess Margaret was the only royal to attend Camilla's 50th birthday party
It's true that Prince Charles's 50th birthday bash for Camilla was somewhat overshadowed by the coverage of Diana on holiday with the Fayed family in St Tropez, but there are some inconsistencies around the party itself.
In The Crown's depiction, Princess Margaret is the only one to attend the birthday party, with the Queen unwilling to endorse Charles' relationship with Camilla at the time. However, in reality she wasn't there according to reporting from royal biographer Sally Bedell Smith in The Times.
In episode one of The Crown, Charles shows his romantic side, making an impassioned toast about season chances to Camilla that includes Captain Wentworth's famous letter from Jane Austen's Persuasion. But according to Sally Bedell Smith, there was no toast—nor a birthday cake. In fact, the only person who spoke at the event was Camilla's son, Tom Parker Bowles, who simply said "Happy birthday, Mummy" and thanked Charles for hosting the party.
5. Prince Charles and Princess Diana's truce
In a heartwarming moment in episode two, Princess Diana and Prince Charles share a poignant moment in what was unbeknownst to them, their last meeting, making a promise to each other to be 'brilliant at divorce' for the sake of not just the children, but also themselves.
While this does add a peaceful conclusion to their turbulent story, there isn't much evidence to suggest that this intimate moment actually happened, with whatever went on in their last conversation an understandably private moment.
6. Princess Diana meets with a psychic
It's been well documented that Princess Diana did indeed meet with psychic Rita Rogers, flying in the Harrods helicopter to the Derbyshire village of Grassmoor to seek advice from who was thought to have become a trusted friend.
Speaking to The Derbyshire Times after Diana's death in 2003, Rita said of their relationship: "She rang at least once a week to see how I was as well as for readings. I still feel her around me. She's happy and she's proud of her boys. The crash was an accident - and no, she wasn't pregnant as people have said.
"She was very fond of Dodi. She rang me at 4pm, nine hours before the crash, to tell me she was in Paris and Dodi had gone to get the ring. But I know she was still very fond of Charles."
The Crown is available to stream on Netflix.
Celebrity news, beauty, fashion advice, and fascinating features, delivered straight to your inbox!
Lauren is the former Deputy Digital Editor at woman&home and became a journalist mainly because she enjoys being nosy. With a background in features journalism, Lauren has bylines in publications such as Marie Claire UK, Red Magazine, House of Coco, women&home, GoodTo, Woman's Own and Woman magazine.
She started writing for national papers and magazines at Medavia news agency, before landing a job in London working as a lifestyle assistant and covers everything from fashion and celebrity style to beauty and careers.