The real story of Kelly Fisher, Dodi al Fayed's alleged fiance before he met Princess Diana
Your need-to-knows about their whirlwind romance.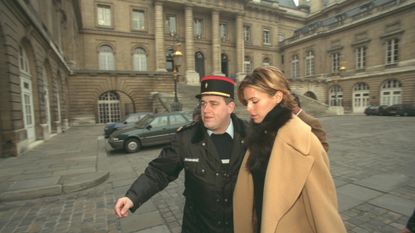 (Image credit: Getty Images)
Kelly Fisher might not be a name you've come across before, but she's an important part of The Crown's sixth season. Particularly during episode one, we see Dodi al Fayed, played by Khalid Abdalla, embroiled in a love triangle with two women—Kelly Fisher and the late Princess Diana.
The Crown season six landed on screens this week and is largely centred around Diana's untimely death and the events leading up to that fateful day in Paris in 1997. Episode one of the sixth and final season of The Crown explores Dodi al Fayed's relationship with both Princess Diana, played by Elizabeth Debicki, and his girlfriend before that, Kelly Fisher, played by Erin Richards. Kelly was first introduced as Dodi's girlfriend in season five of The Crown and returns to the latest season as his fiancée.
While the line between fact and fiction is often blurred in The Crown, it's clear that Dodi and Diana's early days had a murkier undertone than we might have realised, with Dodi accused of "humiliating" his ex Kelly before she sought revenge. There are even claims of overlap between the two women.
After pictures emerged in the summer of 1996 of Dodi and Diana kissing on the Fayed family yacht, Kelly - with the help of LA lawyer Gloria Allred - sued Dodi for $440,000. The model claimed that these pictures were the only confirmation she got that their relationship was over, according to reporting from the LA Times at the time.
Cue the damning headlines that read "Diana stole my man, now I want $1 million" from Australia's Daily Telegraph, while The Mirror's splash read, "You're a Dodi rotten cheat." According to reporting from society reporter Dominick Dunne in Vanity Fair, Kelly was "devastated and traumatised" by her treatment by Dodi, which included being flown out to St Tropez only to be left alone while Dodi serenaded his new love interest, Diana, on a neighbouring yacht.
But was Diana aware of what was going on? Apparently not, according to Dominick Dunne, who wrote in Vanity Fair: "I think it is safe to say that Diana didn't know that Kelly Fisher was on another family yacht, waiting for furtive visits from Dodi, with whom she had been in a relationship for nearly a year. Diana had already played that scene in her marriage to Prince Charles."
It's safe to say Dodi's relationship history was far from simple, which The Crown creator Peter Morgan explores in the show's final season. Below, we delve into who Dodi's previous girlfriend, Kelly Fisher, was and why she sued the billionaire playboy after the relationship ended.
Who was Dodi Fayed's 'fiance' before Diana?
Kelly Fisher met Dodi al Fayed in Paris in the summer of 1997 and the pair reportedly enjoyed a whirlwind romance. Kelly was a successful model, gracing the pages of Vogue, Elle, and Cosmopolitan, as well as working with major fashion brands including Armani, Victoria's Secret, and Calvin Klein. Dodi had a reputation as an international playboy, enjoying huge wealth due to his father—Harrods owner Mohammed al Fayed's—successes in business.
The relationship moved quickly, with Dodi allegedly showering his new girlfriend with affection. "He lavished attention on her and told her that he was in love with her," a friend told the Daily Mail at the time (via Vogue). "Within a short while, she was convinced she was in love with him too."
In February 1997, Dodi allegedly proposed with a $233,000 sapphire and diamond ring. According to Gloria, Kelly's lawyer, they were due to Marry on 9th August 1997 after less than a year of dating.
Why did Kelly Fisher sue Dodi al Fayed?
Kelly Fisher claimed that Fayed had jilted her for Princess Diana, and subsequently filed a breach of contract lawsuit against him with Santa Monica Superior Court. A spokesperson for the Fayed family denied that Dodi had ever proposed. Part of the claim, which was filed with the assistance of Kelly's lawyer, Gloria Allred, stated that Dodi wanted the model to "put her career in second place behind him and to spend more time with him and less on her modelling career".
Reading from a statement at the court, Gloria explained that Dodi had: "Led her [Kelly] emotionally all the way up to the altar and abandoned her when they were almost there. He threw her love away in a callous way with no regard for her whatsoever."
Gloria continued: "To compound matters, Miss Fisher learnt about Mr Fayed's betrayal, not from Mr Fayed but instead from the `kiss photo' that was published and circulated around the world to Miss Fisher's utter dismay, shock and shame."
In 1997, Kelly dropped the lawsuit against Dodi and his family out of respect for the deceased, according to reporting from AP Newsroom. In a statement to journalists, Kelly's lawyer Gloria said: "Out of respect for the tragedy, and tremendous loss the Fayed family has suffered, she [Kelly] has authorised me as her attorney, to dismiss her lawsuit against Mr Fayed. Although she does have the legal right to pursue the lawsuit against his estate after his death, she has voluntarily chosen not to exercise that right."
Gloria went on to explain that Kelly, who kept the $233,000 sapphire and diamond engagement ring that was gifted to her by Dodi during his alleged proposal, "forgives" Dodi for the pain he had caused her.
She told journalists: "Kelly suffered greatly because of the break up with Mr Fayed. She was engaged to him, and they had planned to marry August 9th 1997. Kelly loved Dodi very much, and she is devastated by his loss, and that of Princess Diana. Nothing is more important than the life of a human being. In the light of this enormous tragedy, Kelly forgives Dodi for all of his past injustices against her."
Where is Kelly Fisher now?
Kelly, now 55, is currently working as a property developer in South Carolina, where she lives with her husband and child, according to reporting from iNews. Now going by the name of Kelly Movshina, the former model met Mikhail Movshina, a Russian pilot, in 2007 on a safari in the Central African Republic. The couple share a daughter, who was born in 2011.
When can we watch The Crown's sixth season?
---
The Crown Season 6 part one premiered on Thursday, 16th November 2023 on Netflix, while part two will land shortly after on Thursday, December 14th 2023.
Celebrity news, beauty, fashion advice, and fascinating features, delivered straight to your inbox!
Lauren is the former Deputy Digital Editor at woman&home and became a journalist mainly because she enjoys being nosy. With a background in features journalism, Lauren has bylines in publications such as Marie Claire UK, Red Magazine, House of Coco, women&home, GoodTo, Woman's Own and Woman magazine.
She started writing for national papers and magazines at Medavia news agency, before landing a job in London working as a lifestyle assistant and covers everything from fashion and celebrity style to beauty and careers.