The Wagatha Christie documentary has landed - here's what to expect
It's time for Coleen Rooney's side of the story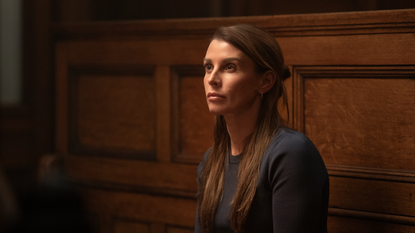 (Image credit: Disney+)
The 'Wagatha Christie' drama that shocked the nation when it started back in 2019 is the topic of a brand new documentary - and we'll all have a front-row seat to watch all the juicy details.
The three-part docuseries focuses on the events leading up to the Rooney vs Vardy court case - as well as the case itself - and is told from Coleen's point of view.
From the infamous Twitter post to the events leading up to the 'Scousetrap' and the subsequent court case, Coleen Rooney: The Real Wagatha Story shares details of the famous showdown which first gripped the nation four years ago and has since spurred everything from a West End show to a dramatisation on Channel 4.
Now, it's Coleen's turn to tell her side of the story - and she isn't holding back.
When does Coleen Rooney: The Real Wagatha Story documentary start?
Coleen Rooney: The Real Wagatha Story is available to stream now and centres around her life in the public eye, as well as the famous court case. During the series, Coleen states: "They're my words, and I stick by them."
The Channel 4 dramatisation, titled Vardy v Rooney: A Courtroom Drama, was a success when it aired in 2022 and Coleen's personal documentary is expected to be a hit following the nation's obsession with the 'War of the Wags'.
What is the Wagatha Christie documentary about?
In the three part series, Coleen explains how she felt 'forced to set a trap' for her former friend, Rebekah Vardy. The drama began in October 2019, when Coleen revealed that information about her personal life had been leaked to the press - and it was coming from her friend. Cue the now-iconic: "It's....Rebekah Vardy's account" post.
Coleen believed that her friend was behind a number of false stories which featured in The Sun, all of which came from details she had posted on her private Instagram account. The stories included that Coleen had been in a car accident, that she would be travelling to Mexico for a 'gender selection' procedure, as well as a flood in her home and her planned return to TV.
In the documentary, Coleen shares how she plotted to find the person who was leaking information and that she used tactics to try and 'trap' Rebekah after suspicions had been raised, leading to the famous 'Wagatha Christie' nickname—a nod to bestselling detective novelist, Agatha Christie.
The full post which she shared in 2019 read: "Over the past five months I have posted a series of false stories to see if they made their way into The Sun newspaper. And you know what, they did! The story about gender selection in Mexico, the story about returning to TV and then the latest story about the basement flooding in my new house.
"I have saved and screen-shotted all the original stories which clearly show just one person has viewed them. It's ……….Rebekah Vardy's account."
As well as sharing details of her side of the story, Coleen also opens up about her personal life leading up to the events, as well as throughout the ordeal, and explains how it affected her and her family.
The docuseries goes into more detail about exactly what went down during this period and how Coleen was able to find out the truth behind who had been leaking the stories. After the drama unfolded, Coleen spoke exclusively to Vogue about the feud, telling the publication: "What I said in that post, I still stick by today."
Coleen also reveals that she didn't tell anyone she was going to send the post, shocking those around her with such a bold move. "[The part] my friends and family were most surprised at me [for was] putting the post up," she explained to Vogue. "All these messages of support coming in... Then I thought, 'Oh, my God, this has gone extreme.'"
Three years on, there was a subsequent court case (where Rebekah tried to sue Coleen for libel) countless interviews, a new docu-series, a West End show and a courtroom drama on the way—it's safe to say the impact of that fateful post did blow up in a way Coleen couldn't have predicted.
What happened during the Rooney vs Vardy court case?
Coleen won the Rooney vs Vardy case after a short trial, with Judge Justice Steyn ruling that Rooney had succeeded in establishing that the essence of the libel was 'substantially true'.
The case came to trial in May 2022 after Rebekah sued Coleen for libel back in 2020. On 29 July 2022, the court dismissed the claim. It was a colossal loss for Rebekah, with the high court deciding that she must pay 90% of Rooney's court costs, which is thought to be a larger proportion than in many equivalent cases.
The trial hit headlines not only for its juicy details and surrounding scandal—but also for the impeccable style of the two feuding 'Wags', who were pictured outside courts in tailored suits and oversized sunnies throughout the trial.
During a screening for Coleen Rooney: The Real Wagatha Story ahead of its release, which Marie Claire UK attended, Coleen explained that she had not expected such a focus on her court wardrobe given that she didn't 'want to be there' and didn't have the time or energy to formulate specific looks - instead largely using what she had in her wardrobe. However, much was made of Coleen and Rebekah's outfits during the case with the women constantly compared in the tabloids.
How to watch the Wagatha Christie drama in the UK
All three episodes of Coleen Rooney: The Real Wagatha Story are available to stream now on Disney+, so you can watch them all at once or in instalments.
You'll need a subscription with Disney+ to watch the show—membership is currently priced at £7.99 per month.
Is there a trailer for the Wagatha Christie documentary?
Yes, Disney+ released a trailer, starring Coleen. The trailer shows media coverage of the scandal, which is dubbed 'War of the Wags', as well as Coleen setting the scene, saying: "Someone on my personal page was informing The Sun newspaper of my private posts and stories. I thought, I'm going to do something about it."
Think you've heard it all? @ColeenRoo tells her truth in a three-part documentary-series, Coleen Rooney: The Real Wagatha Story. Streaming October 18 on Disney+. pic.twitter.com/MtefHD6BlDOctober 13, 2023
See more
Fans have commented on the trailer, saying they can't wait to see the show. "This case is the gift that just keeps giving," wrote one follower. While another said: "Can't wait for this."
Coleen Rooney: The Real Wagatha Story is available to watch on Disney+ now.
Celebrity news, beauty, fashion advice, and fascinating features, delivered straight to your inbox!
Lauren is the former Deputy Digital Editor at woman&home and became a journalist mainly because she enjoys being nosy. With a background in features journalism, Lauren has bylines in publications such as Marie Claire UK, Red Magazine, House of Coco, women&home, GoodTo, Woman's Own and Woman magazine.
She started writing for national papers and magazines at Medavia news agency, before landing a job in London working as a lifestyle assistant and covers everything from fashion and celebrity style to beauty and careers.