7 Unbelievable Twitter Spats We Couldn't Take Our Eyes Off
Do you spend more time snooping on Twitter than actually tweeting? With celebs arguing it out left, right and centre, we don't blame you.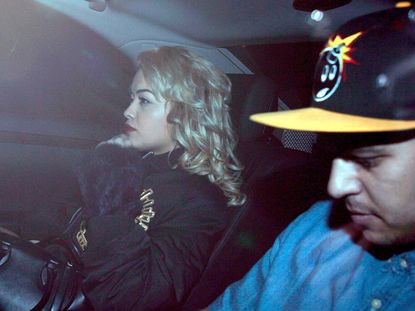 (Image credit: Rex Features)
Do you spend more time snooping on Twitter than actually tweeting? With celebs arguing it out left, right and centre, we don't blame you.
Take a look back at our favourite Twitter spats:
1. The One About The Ex
In 2012 Rob Kardashian and Rita Ora decided to call time on their relationship. And it wasn't a friendly split. Believing that his ex had supposedly cheated on him, the Kardashian let rip to the world. He wrote: 'How can a woman who is so busy trying to start her career have time to be with so many dudes all while in relationship? She cheated on me with nearly 20 dudes while we were together. I wonder how many she will sleep with now that we are apart.' Rob then hastily deleted his tweet but #RitaWhora ended up trending. Not cool.
2.The Music Bust-Up
The Twitter spat between Azealia Banks and Lily Allen seemed to come out of nowhere, but found its momentum when Banks called Allen's husband 'a thumb' and their children 'ugly'. Allen responded with a cracker of a tweet: 'Not even gonna @ her but if she wants to talk about weak, I'm sure her record sales to date should suffice. One hit wonder... And my husband? Don't even go there bitch or your totally unnecessary security detail may actually have something to worry about #wannabe.' Eeek.
3. The One Where They Kiss And Make-Up
The Osbournes (Kelly and Sharon) had been feuding with Lady Gaga for months. It all started when Kelly criticised Gaga's appearance at the 2012 Grammy Awards. But when Gaga tried to bury the hachet by giving Sharon a birthday cake for daughter Kelly after her recent X Factor performance - the reaction from Kelly was probably not what she had imagined. Kelly tweeted: 'Not to be ungrateful but why would you send me a birthday cake via my MOTHER in a country half the world a way? #justsendittoME #lovenotwar'. Followed by: '#Hypocrisy #StefaniStopIt You are so far behind you think you are first! I live for a #Cause not for the #Applause!!!!!!!' But in the end, they forgave and forgot, with Kelly tweeting: '@ladygaga I acted like a child last night. Just not into publicity stunts call me and we will end this like adults. I dont want 2 fight anymore.'
4. The One That Made South Park
This one involved Miley Cyrus and Sinead O'Connor. Weird but true. In a nutshell, Miley twerked semi-naked, a lot, throughout her 2013 VMA performance, causing Sinead to pen a open letter to Miley, telling her: 'They will prostitute you for all your worth, and cleverly make you think it's what YOU wanted...' Miley responded on Twitter with: 'I don't have time to write you an open letter cause I'm hosting & performing on SNL this week.' South Park even spoofed this episode.
5. The Kanye One
Never one to mince his words, Kanye West let his feelings about Jimmy Kimmel be known after he spoofed West's BBC interview with Zane Lowe. He wrote: 'Jimmy Kimmel is out of line to try and spoof in any way the first piece of honest media in years.' Modest Kanye, very modest. Then he went on: 'Sarah Silverman is a thousand times funnier than you and the whole world knows it.' Talk about hit him where it hurts, Kanye...
6. The One With Creative Differences
We all know that Mark Ronson produced Amy Winehouse's Back To Black album in 2007. But after he said in an interview that he had 'created the tracks' on the album, Amy kicked off on Twitter, saying: 'Ronson you're dead to me. One album I write and you take half the credit – make a career out of it? Don't think so BRUV.' Yikes.
7. The Lover's Tiff
Remember when Lindsay Lohan was dating Samantha Ronson? If so, you'll probably remember that they played a great deal of their relationship out on Twitter. Lohan would write things like: 'I was right all along. Cheat. Being cheated on does wonders to you,' and 'PLEASE leave me ALONE. And stop staying in the room below me, you've woken me and my mother up. Go to bed. Keep cheating, you win.' Oh, the drama.
Which has been your favourite celeb Twitter spat? Spill...
Celebrity news, beauty, fashion advice, and fascinating features, delivered straight to your inbox!