Taylor Swift and Zayn Malik's Fifty Shades single is everything
The world is freaking out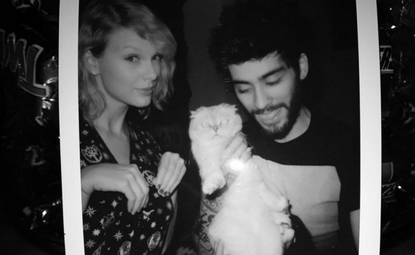 The world is freaking out
OK, so, we knew that Taylor Swift and Zayn Malik have hung out a few times, courtesy of Zayn's girlfriend, Gigi Hadid BUT we didn't realise they were working on something together. Yes. A duet. And yes, for the soundtrack of next year's Fifty Shades of Grey sequel.
Pop music's biggest secret trickled out yesterday when Taylor Swift tweeted the cryptic comment 'Z | T | 50', and it didn't take long for her 82 million followers to decipher what this meant.
What followed was the below Instagram post featuring a snippet of the track I Don't Wanna Live Forever and some very steamy footage from the new Fifty Shades Darker film. Cue mass hysteria as 2m people watched the video within the first hours of it hitting the world wide web.
And yes, it's everything you could have wanted and more. It's sexy, it's sultry, and the lyrics are as emo as your heart could desire:
'Wonder if I dodged a bullet / Or just lost the love of my life?'
'What is happening to me? / I don't wanna live forever/ 'Cause I know I'll be living in vain, I just want to keep calling your name, until you come back home.'
The track was produced by fun.'s Jack Antonoff (AKA Lena Dunham's boyfriend of four years) and marks Taylor Swift's first single of 2016 and Zayn's last before he releases his new album next year.
With Taylor Swift's catchy lyrics and Zayn Malik's velvet falsettos, we're not sure how their combined fanbase is quite going to cope.
But now, it all makes sense. We've noticed Zayn Malik and Gigi Hadid spent a lot of time with Taylor earlier in the year, including Zayn posing with Taylor's cat Meredith, and of course it meant they were collaborating!
Well, that's our Valentine's Day sorted for next year, then. Thanks Taylor, Zayn, Jamie and Dakota.
Celebrity news, beauty, fashion advice, and fascinating features, delivered straight to your inbox!