This new TV show will fill the gap left by Big Little Lies
Brand new show Riviera starts on Sky Atlantic tonight. Lucy Pavia caught up with its star, Julia Stiles.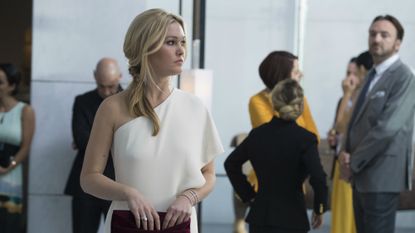 (Image credit: Sky Atlantic)
Brand new show Riviera starts on Sky Atlantic tonight. Lucy Pavia caught up with its star, Julia Stiles.
Brand new show Riviera starts tonight on Sky Atlantic. Set in billionaire's playground Monte Carlo, it stars every Millennial's rom-com favourite Julia Stiles and more super-rich property porn than you can shake a diamond encrusted stick at. In the July issue of Marie Claire, Stiles - who recently announced she is pregnant with her first child - talked all about the show, her upcoming wedding and why she thinks the Queen is so necessary right now...
Julia Stiles is describing what sounds like the best cinema trip of all time. The film was Magic Mike and her movie buddies were her friend, actress Amber Tamblyn, and comedienne Amy Schumer. It was the first time Julia Stiles and Amy Schumer had met. 'I had so much fun,' says Stiles. 'She brought a flask of tequila, and we were throwing popcorn at the screen and shouting from the back.'
The cinema date led to Julia Stiles doing a cameo on Inside Amy Schumer last year (a rude and funny skit called 'Pussy Painting'), but in the main the 36-year-old New Yorker isn't known for taking laugh-a-minute roles. After those millennial nostalgia-inducing turns in 10 Things I Hate About You and Save The Last Dance, she was cast as Nicky Parsons in the thinking person's action franchise Bourne – a part she would return to over the next 14 years – took a Golden Globe-nominated role as Lumen Ann Pierce in crime thriller series Dexter and starred with Jennifer Lawrence in Hollywood Oscar magnet Silver Linings Playbook. Perhaps because of this, I'm (unfairly) expecting Julia Stiles to make quite a serious interviewee, but when we meet for lunch at a south London restaurant, she's relaxed and quick-witted, greeting me in a red Burberry trench, her dark blonde hair pinned up, enthusing about the food in the south of France, where she's just been filming.
Julia Stiles is on a whistle-stop trip to London after finishing the first series of new Sky Atlantic drama Riviera, set in Monte Carlo. The actress plays newly-wed American Georgina, who attempts to solve the mysterious death of her billionaire husband Constantine in a yacht explosion – what else? The show is a winning mix of thriller, a beautiful Côte D'Azur backdrop and vicarious snooping into the lives of the 0.0001 per cent. As a bonus, Stiles got to work with her fiancé, camera assistant Preston J Cook, who she met on the set of the 2015 film Go With Me. She says they found life renting an apartment in Nice so romantic that they nearly had a quickie wedding…
Riviera is set in a billionaire's playground. Did filming there make for some pretty good people-watching? 'I was born and raised in New York and there is a rich elite there, but the level of wealth in the south of France is pretty remarkable. I had never seen yachts that big before. One of the producers has a little motorboat, and we would go out on the water a lot while the captain would tell me the story of each yacht. There was this giant one owned by a Russian and we were told he has bodyguards diving under the yacht periodically to make sure there aren't any explosives. I mean you couldn't write this stuff, but I guess we kind of did!'
It must have been lovely to work with your fiancé again. 'We were so lucky, because you often don't get to [work together], and if you're away from each other it can be hard on your relationship. [When I got the part] I panicked and thought, "Oh my god, I'm going to be away for seven months." But they hired him because he has a great résumé and they needed someone bilingual. It turned into the most romantic experience ever.'
How is the wedding planning going? 'It's very abstract [laughs]. I did have a discussion with [Preston] where I said, "Oh, I don't want to spend a year planning a wedding. This is so romantic, let's just do something impromptu here in the south of France!" But it was unrealistic, because it would have been shoehorned in right after we finished shooting. And I really like fantasising about what the wedding could be, and having those discussions with him. Eventually, though, you do just have to pick a date!'
In Riviera, you star alongside former Game Of Thrones' actor Iwan Rheon, who played a horrendous character [Ramsay Bolton]. Did you watch it? 'I didn't, but I said to him during filming how much I loved living in Nice – how people don't recognise you, and even if they do they don't photograph you. It was a calmer day-to-day life for me, and he was like, "What are you talking about? I can't go anywhere here!" But I think that's just Game Of Thrones…'
Where are things less relaxed for you? 'The aggressive paparazzi intrusion exists a lot in New York. There are neighbourhoods where I instantly feel panicky and self-conscious, because I know they hang out there. It's funny that if I've just left the gym and have no make-up on and wet hair, they'll find me. But if I've come from work, and I'm feeling my best and looking fabulous, I literally cannot get arrested!'
A lot of American celebrities threatened to move to Canada if Trump won, but you beat everyone to the punch and did it before he got elected 'Yes! [Laughs]. So my fiancé lives in Vancouver and we had been going back and forth long distance for a while, but when we got engaged, I moved because I wanted to be around him. I was ready for a change of pace from New York, too. Honestly though, like many people, I cried and couldn't stop crying during the election and afterwards.'
It's like watching a car crash in slow motion… 'Seeing the Duke and Duchess of Cambridge at the BAFTAs reminded me that, if we had a royal family – dignified people who have to set an example – Donald Trump would never be able to get away with some of the things he says and does.'
You became famous in your teens, but then hit pause on your film career to go to Columbia University. In retrospect, are you pleased that you did that? 'I went to university just as I got more work. In many ways, I didn't capitalise on that because I was in school, but I have no regrets. I started my freshman year when Save The Last Dance came out and remember thinking, "I don't want to be 40, sitting around with a bunch of studio executives and feeling insecure about that." Although now I think that you don't really have to go to university, I could feel at the time that I was being recognised more and my life was changing in that way. I needed that stability and security.'
You starred in 10 Things I Hate About You 18 years ago. Your character Kat is, among other things, an outspoken teenage feminist. Do you think she'd be less of an outsider if the movie was being made now? 'I think [feminism] has definitely become more popular these days. If you look at any awards shows, people seem to be constantly wanting to have a variety of stories told. And with the Women's March in Washington, there's definitely this appetite for stronger female role models.'
Julia Stiles stars in all episodes of Riviera, which will be available from 15 June exclusively on Sky Atlantic and Now TV
Celebrity news, beauty, fashion advice, and fascinating features, delivered straight to your inbox!