Leonardo DiCaprio: His Career In Pictures
From Romeo + Juliet to The Wolf Of Wall Street, a look back at Leonardo DiCaprio's stellar career...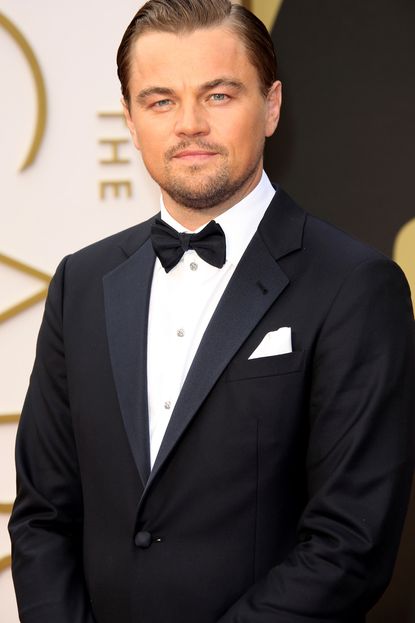 From Romeo + Juliet to The Wolf Of Wall Street, a look back at Leonardo DiCaprio's stellar career...
Leonardo DiCaprio: It's a name known around the world, and one that's guaranteed to elicit a few squeals. Everyone remembers the moment they fell in love with the actor - either as Romeo in Romeo + Juliet, when he glimpsed fair Juliet across the fish tank ('Did my heart love 'til now? Forswear its sight. For I never saw true beauty 'til this night.') or in THAT car scene from Titanic. Leo had 'A-list' written all over him ever since he first walked on-screen.
Hailing from Hollywood itself, the son of German-Italian immigrants was destined for stardom, winning a role in TV series Growing Pains when he was just a teen. But it wasn't until 1997's Titanic that he really made a name for himself, causing 'Leo-mania' to explode amongst teen girls (pre-Bieber Fever, obvs).
But even with Leo's good looks, there's one thing nearly everyone - not just teen girls - can agree on: he's an incredible actor. From playing a mentally handicapped brother in What's Eating Gilbert Grape to tranforming into the epitome of a villain as a slave-owning landowner in Django Unchained, there isn't a role Leo isn't keen to take on. No wonder his career has lasted so long - but we'll always be a sucker for his romantic films.
With four Academy Award nominations under his belt and a string of box office hits, it doesn't look like this star is going anywhere soon. But though his critically-acclaimed career has failed to gain him an Oscar (his losses have become memes, gifs, vines), we know that Leo is one of the best actors of our generation.
So in honour of his 41st birthday today, we've decided to turn the spotlight back on Leo's stellar career - with pictures of course.
Leonardo DiCaprio: His Career In Pictures
Enjoy...
Leonardo DiCaprio: His Career In Pictures
Enjoy...
Parenthood, 1990
After several small television commercials, little Leo first arrived on our screens in 1990 when he landed his first big break - a part in TV soap Parenthood. At the tender age of 16 the actor won over his first critics when he was nominated for Best Actor at the Young Artist Awards. Just how cute? Very.

This Boy's Life, 1993
Three years after his first starring role, Leonardo DiCaprio bagged his second big break with a part in This Boy's Life. But it wasn't just any part: the actor beat off stiff competition from more than 400 young hopefuls, and was eventually chosen by Robert De Niro - who also starred.

What's Eating Gilbert Grape?, 1993
What's Eating Gilbert Grape was one of Leonardo DiCaprio's most memorable roles, marking him out as a future star. Acting alongside Johnny Depp, Leo played a handicapped boy who was cared for by his brother, and earned himself both Golden Globe and Oscar nominations in the process.

The Quick And The Dead, 1995
By 1995, Leonardo was growing into his good looks and the film parts were coming thick and fast. Having already worked with Robert De Niro and Johnny Depp, Leo won a role in Sam Raimi's The Quick and the Dead, starring alongside Sharon Stone, Russell Crowe and Gene Hackman. Not bad, huh?
Total Eclipse, 1995
Later that year, 19-year-old Leonardo was given the role of Arthur Rimbaud in Total Eclipse - a part that was originally meant for River Phoenix, who died during pre-production. Critics described his performance as 'phenomenal'.

The Basketball Diaries, 1995
Moving swiftly onto his fourth film of the year, Leo put his good looks to good use, starring in Jim Carroll biopic, The Basketball Diaries.

Romeo + Juliet, 1996
1996 was the year Leo's star got brighter, taking up a role in one of our personal favourites, Romeo + Juliet. Starring opposite Claire Danes in the Baz Luhrman-directed Shakespere remake, it went on to become one of the year's highest grossing box-office hits.


Marvin's Room, 1996
Just months later, Leo embarked on his next all-star project, Marvin's Room. The flick, about two sisters (Meryl Streep and Diane Keaton) who reunite after a 20-year feud, saw the actor partner with Robert De Niro once again.

Titanic, 1997
Tissues at the ready. Arguably his biggest film of all time, Leo put himself well and truly on the Hollywood map with his role as Jack Dawson in James Cameron's big-budget flick, Titanic. As well as earning numerous award nominations (and causing the world to fall in love with Leo) Titanic defended its title as the world's highest grossing movie right up until 2010. But it wasn't necessarily the happiest time in the actor's life: 'I have no connection with me during that whole Titanic phenomenon and what my face became around the world,' he said of the film three years later. 'I'll never reach that state of popularity again, and I don't expect to. It's not something I'm going to try to achieve either.'
The Man In The Iron Mask, 1998
Doesn't he look young? Riding high on a wave of Titanic success, Leo stepped straight into The Man in the Iron Mask in 1998 playing both King Louis XIV and his imprisoned brother.
The Beach, 2000
After a string of big-budget movie hits, Leonardo took a well earned rest and didn't return until 2008 with Danny Boyle's flick The Beach. It may have been panned by critics, but that didn't stop teenage girls flocking to the cinemas in their droves to see Leo's tropical paradise go awry.

Don's Plum, 2001
Leonardo shot low-budget black and white movie Don's Plum in 1995, starring alongside Tobey Maguire and Kevin Connelly, as a favour to up-and-coming film director R. D. Robb. But almost as soon as the flick was made, Leo teamed up with Tobey to block its release, claiming it was never meant to be used for commercial purposes. In 2001 they lost the battle, and it was released to excellent reviews at the Berlin Film Festival.

Gangs Of New York, 2002
He may have been Mr Nice Guy up until 2002, but Leo played a pretty convincing villain in Martin Scorsese's Gangs of New York, seeking revenge for his father's murder. Eeek!
Catch Me If You Can, 2002
Not happy with just two Golden Globe nominations, Leonardo earned a third with a widely praised performance as fraudster Frank Abagnale Jr. in Catch Me If You Can. Not only was his performance great, Leo cut a seriously stylish pilot. Swoon!

The Aviator, 2004
Teaming up with Scorsese once again, Leonardo took on the role of American film director and aviation pioneer Howard Hughes. He reportedly spent more than a year in preparation for the role. Finally, the actor got his hands on a Golden Globe and was also nominated for an Oscar for the role.

Blood Diamond, 2006
A gritty film about the diamond trade in the Sierra Leone Civil War, Blood Diamond earned Leo praise - and another Golden Globe nomination - for his portrayal of diamond smuggler Danny Archer.

The Departed, 2006
Later in 2006, Leonardo earned yet more praise for his critically acclaimed role of a police officer undercover in the Mafia. The hit earned him a second Golden Globe nomination, making him one of the few stars to be nominated for the same award twice in one year.

Body Of Lies, 2008
Ridley Scott-directed 2008 flick, Body of Lies, saw Leonardo teaming up with Russell Crowe for the second time, playing an agent battling Terrorism in the Middle East. Althought it received favourable reviews from critics, it didn't set the box office alight.

Revolutionary Road, 2008
In 2008, Leonardo reunited with Kate Winslet in Revolutionary Road, 11 years after their breakthrough movie, Titanic. The flick was directed by Kate's then-husband, Sam Mendes.

Shutter Island, 2010
By 2010, Leo was more than able to pick and choose the films he wanted to star in. After taking a two-year break, the actor was back in Scorsese-directed thriller Shutter Island, about a US marshall investigating a disappearance at a psychiatric hospital.

Inception, 2010
Inception's complex and shocking storyline was celebrated by film critics the world over as highly innovative and seriously smart. Leo led the way, giving a critically acclaimed performance in this mind boggling flick about the sequence of dreams.


J.Edgar, 2011
In 2011, a super-sleek Leonardo DiCaprio was smouldering in Clint Eastwood's Hoover biopic, J.Edgar. The actor was virtually unrecognisable as the ageing politician, starring opposite Naomi Watts, Ed Westwick and The Social Network's Armie Hammer, who even shares a smooch with the leading man.

J. EDGAR MOVIE PICTURES

Django Unchained, 2012
It was only a matter of time before Quentin Tarantino came calling. In 2012, Leonardo DiCaprio took the lead in Tarantino's gruesome, Western flick Django Unchained, to rave reviews. The bloodthirsty flick, which saw him head up a star-studded cast (Jamie Foxx, Christoph Waltz and Kerry Washington to name but a few) was flooded with awards nominations, including nods for five Oscars.

The Great Gatsby, 2013
2013 was a great year for Leo fans as we saw the actor in an adaptation of F. Scott Fitzgerald's literary classic, The Great Gatsby. In it, Leo plays a 1920s 'new money' millionaire as he tragically pines for the lost love of Daisy Buchanan (Carey Mulligan). Also starring real-life childhood friend Tobey Maguire, The Great Gatsby was full of glittery fashions, wild parties and a killer soundtrack. It went on to make over $350million at the box office and bagged two Academy Awards.

PICS: LEONARDO DICAPRIO IN THE GREAT GATSBY

Wolf Of Wall Street, 2013
The Hollywood superstar stepped back in time to play real-life stockbroker-turned-convict, Jordan Belfort, who conned investors out of millions in this book-to-film adaptation. Featuring a standout performance from Leo (would we expect any less), the film also featured a scene-stealing performance from Matthew McConaughey, and saw the debut of Suicide Squad star Margot Robbie. Netting another Academy Award nomination for Leo, the actor failed to win (though he did win a Golden Globe) but earned $392million at the box office, cementing his position as one of the leading actors in the industry.

PICS: LEONARDO DICAPRIO IN THE WOLF OF WALL STREET

Celebrity news, beauty, fashion advice, and fascinating features, delivered straight to your inbox!
The leading destination for fashion, beauty, shopping and finger-on-the-pulse views on the latest issues. Marie Claire's travel content helps you delight in discovering new destinations around the globe, offering a unique – and sometimes unchartered – travel experience. From new hotel openings to the destinations tipped to take over our travel calendars, this iconic name has it covered.