EXCLUSIVE: The 7 Albums That Changed Pixie Lott's Life
Looking for some music inspo? Look no further than our cover star Pixie's life-long favourites...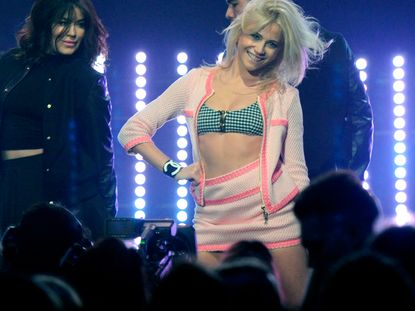 Looking for some music inspo? Look no further than our cover star Pixie's life-long favourites...
Otis Redding, Best Of
'Otis is one of my favourite vocalists of all time because his voice and performances are so full of passion and he inspired lots of my vocals on my last album as did Candi Staton and her storytelling soul voice. They really move you when they sing.'
Adele, 19
'This is my favourite Adele album - her debut. It's when I first fell in love with her honest voice , and I knew every word to every song. I was so happy when she got the recognition all around the world that she deserved for her second album, 21.'
MGMT, Orac ular Spectacular
'This album reminds me of when I first started going out with my friends in my teens. We'd always get ready to it and then dance out to it, drive in the car to it and then even listen to it when we went to bed. It felt so fresh and fun and reminds me of gooood times.'
Stevie Wonder, Hotter Than July
'Just one of Stevie's albums I grew up on and I fell in love with his song 'Lately'. I thought he was such a talent and mixed genres up in such a clever way.'
Whitney Houston, Greatest Hits
'Whitney - and Mariah Carey - inspired me so much when I was young because of the ir amazing powerhouse vocals. I was in awe of them and would listen to them all the time, singing along and that's what taught me how to sing as a youngster.'
Motown Classics
'It's an album full of all my favourite songs I grew up listening to and a sound I fell in love with at such a young age. Songs with so much passion and soul but also great catchy pop songs too that made you feel something.'
Arctic Monkeys, Whatever people say I am, That's what I'm not
'I loved this album! The lyrics, melodies and the sound - I used to sing along on the train to school. I also loved the Kooks debut album, and Jamie T's, just as much around this time, too.'
Read our full interview with the lovely Pixie Lott in our February issue, out now.
Celebrity news, beauty, fashion advice, and fascinating features, delivered straight to your inbox!