John Legend updates Baby It's Cold Outside for the #metoo era
The Legend that is John has re-recorded that controversial Christmas hit with Kelly Clarkson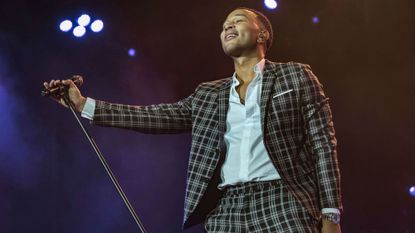 The Legend that is John has re-recorded that controversial Christmas hit with Kelly Clarkson
John Legend has re-written lyrics to the 1944 Christmas song Baby, It's Cold Outside, and re-recorded it with The Voice coach Kelly Clarkson.
Why? Well, in the wake of the #MeToo era, the vocals are both controversial and outdated.
It is a song with alternate lines sung by a man and woman, in which the man attempts to convince her not to risk a journey home in bad weather - and instead to stay and have a drink.
Critics of the track say that lines such as, "say what's in this drink? (No cabs to be had out there)", could be a reference to date rape.
Instead, Chrissy Teigen's other half updated the recording, and revealed the new lyrics in an interview with Vanity Fair.
These include:
"I really can't stay (Baby it's cold outside)"
"I've gotta go away (I can call you a ride)"
"This evening has been... (So glad that you dropped in)"
"...so very nice (Time spent with you is paradise)"
"My mother will start to worry (I'll call a car and tell 'em to hurry)."
They continue:
"What will my friends think... " sings Clarkson.
"I think they should rejoice," John replies.
"...if I have one more drink?"
"It's your body, and your choice."
The original lyrics were written by Frank Loesser. Since then, artists such as Michael Buble and Idina Menzel and Cee Lo Green and Christina Aguilera have covered the song.
In our opinion, the song's newfound consensual sensitivity is sincere and still sassy. The updated track will feature on a new version of Legend's Christmas album, released later in the year, and we couldn't be more ready.
Celebrity news, beauty, fashion advice, and fascinating features, delivered straight to your inbox!
Olivia – who rebranded as Liv a few years ago – is a freelance digital writer at Marie Claire UK. She recently swapped guaranteed sunshine and a tax-free salary in Dubai for London's constant cloud and overpriced public transport. During her time in the Middle East, Olivia worked for international titles including Cosmopolitan, HELLO! and Grazia. She transitioned from celebrity weekly magazine new! in London, where she worked as the publication's Fitness & Food editor. Unsurprisingly, she likes fitness and food, and also enjoys hoarding beauty products and recycling.