Self-help guru Rachel Hollis shares ways to get back on track when the world's against you
Fear. Grief. Loss. Betrayal. Best-selling author Rachel Hollis has been through all these emotions. Here, she shares her five crucial ways to get through the mother of all years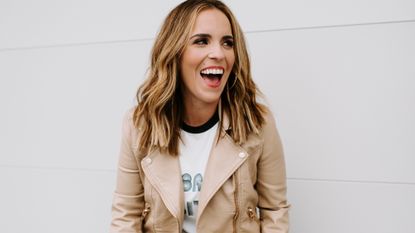 Fear. Grief. Loss. Betrayal. Best-selling author Rachel Hollis has been through all these emotions. Here, she shares her five crucial ways to get through the mother of all years
Rachel Hollis is a huge deal. With 1.8 million followers hanging on her every post. And now, with the publication of her latest book, Didn't See That Coming: Putting Life Back Together When Your World Falls Apart, the self-help guru shines a spotlight on the hardships of a global pandemic and the end of her 16-year marriage. Reflecting on loss and grief, the mum-of-four's shock divorce annoucement, earlier this year, blindsided her loyal followers and provoked a lot of soul searching for Rachel Hollis and her fans. Here, she reveals the five action points getting her through a divorce, the pandemic and everything in between.
1. Make peace with the unknown
I need you to make peace with the fact you don't know what the future will bring. This is not easy. The only way you can make peace with an unknown future is to harness strength from your past and live wholly and fully in the present. I believe the obstacles we've overcome in our past don't make us weaker, I believe those trials make us warriors. When I'm able to harness that strength and fight to stay present in the present, I don't need to worry about the future. I can rest in the knowledge that today is enough.
2. Take a conscious decision to rebuild
When we come through crisis, we are forced to build new foundations. Whether you're aware of doing so or not, you are laying the groundwork for the life you will have from here on out. You are creating - consciously or subconsciously - your new reality and if it must happen either way, then please, be conscious about what you are doing. The gift in this - yes, I said gift - is that you are able to rebuild and in doing so, you get to decide what is a must in your life and what you need to let go of. Don't just rush right back into life as it was, first ask yourself what isn't worth bringing forward with you.
3. Write down your vision of the new you
Grab a notebook and try completing these prompts: The things I love most about my life today are... If I could change anything about my life it would be... In both instances I'm going to ask you to focus most on the present life you have and your future possibilities.
If you write down what you wished would have happened or how you want things to be different, it won't serve you. Instead allow yourself to daydream about the possibility of what the new you can be. There's a good chance that one of the things causing you anxiety is your mind spinning around with thoughts of 'What now?' or 'Will I ever be happy again?' or 'Will I ever get over this?' By creating a narrative for yourself showing a beautiful vision of your future - even one that's different from what you were planning - you're answering those questions for yourself and quieting that noise in your mind.
4. Pick one thing and stop doing it immediately
It's not enough to just be conscious of it, or even to write it down. Challenge yourself to first create, then really examine a list of things you won't bring into your future with you and choose one thing to stop doing immediately. All of us have things that we desperately need to let go of; choose one today and instantly live in the power of that choice.
5. Choose a goal to start pursuing immediately
Look, I get it, the very last thing most people want to think about in a difficult time is a goal they can pursue. But, y'all, I swear there is a method to this madness. In full transparency, I love setting goals. People think that a goal must be for financial gain or weight loss or a bigger promotion or a nicer car. But the truth is, a goal can be about anything. You can create a goal to learn sign language or to pay off your student loans or to repaint your local community centre. You can create a goal to learn to eat intuitively or to stop fighting with your sister. You could create a goal to learn to make the world's best carrot cake. It doesn't matter what the goal is, it only matters you have one and it's something you care about.
When you do achieve the thing, the confidence it will give you to create the life you want is the foundation you'll use to propel you closer to that vision you created of the new you. The you who walked through the fire and came out scarred and beautiful. Believe me.
* Didn't See That Coming: Putting Life Back Together When Your World Falls Apart by Rachel Hollis (published by Dey Street Books) is out now.
Celebrity news, beauty, fashion advice, and fascinating features, delivered straight to your inbox!
Maria Coole is a contributing editor on Marie Claire.
Hello Marie Claire readers – you have reached your daily destination. I really hope you're enjoying our reads and I'm very interested to know what you shared, liked and didn't like (gah, it happens) by emailing me at: maria.coole@freelance.ti-media.com
But if you fancy finding out who you're venting to then let me tell you I'm the one on the team that remembers the Spice Girls the first time round. I confidently predicted they'd be a one-hit wonder in the pages of Bliss magazine where I was deputy editor through the second half of the 90s. Having soundly killed any career ambitions in music journalism I've managed to keep myself in glow-boosting moisturisers and theatre tickets with a centuries-spanning career in journalism.
Yes, predating t'internet, when 'I'll fax you' was grunted down a phone with a cord attached to it; when Glastonbury was still accessible by casually going under or over a flimsy fence; when gatecrashing a Foo Fighters aftershow party was easy-peasy-lemon-squeezy and tapping Dave Grohl on the shoulder was... oh sorry I like to ramble.
Originally born and bred in that there Welsh seaside town kindly given a new lease of life by Gavin & Stacey, I started out as a junior writer for the Girl Guides and eventually earned enough Brownie points to move on and have a blast as deputy editor of Bliss, New Woman and editor of People newspaper magazine. I was on the launch team of Look in 2007 - where I stuck around as deputy editor and acting editor for almost ten years - shaping a magazine and website at the forefront of body positivity, mental wellbeing and empowering features. More recently, I've been Closer executive editor, assistant editor at the Financial Times's How To Spend It (yes thanks, no probs with that life skill) and now I'm making my inner fangirl's dream come true by working on this agenda-setting brand, the one that inspired me to become a journalist when Marie Claire launched back in 1988.
I'm a theatre addict, lover of Marvel franchises, most hard cheeses, all types of trees, half-price Itsu, cats, Dr Who, cherry tomatoes, Curly-Wurly, cats, blueberries, cats, boiled eggs, cats, maxi dresses, cats, Adidas shelltops, cats and their kittens. I've never knowingly operated any household white goods and once served Ripples as a main course. And finally, always remember what the late great Nora Ephron said, 'Everything is copy.'