Life after lockdown: how to get your head around the New Normal
Life is suddenly looking brighter with a phased lifting of lockdown restrictions now in place, so why are we still feeling anxious? Therapist Anjali Singh-Mitter reveals how to be more resilient about life after (how many?) lockdowns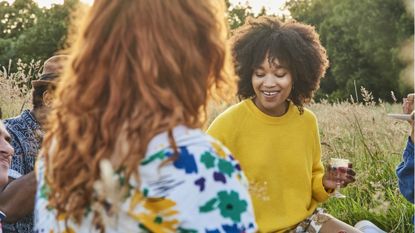 Life is suddenly looking brighter with a phased lifting of lockdown restrictions now in place, so why are we still feeling anxious? Therapist Anjali Singh-Mitter reveals how to be more resilient about life after (how many?) lockdowns
I never expected to live through a global pandemic, and I never expected leaving my house will remain a calculated risk in this age of the new normal, this uncharted land of life after lockdown.
The challenges of adjusting to our new normal will take up a lot of our mental and emotional resources, because when we're stressed, our body's natural response is 'fight or flight'. Adrenaline sends blood rushing to our extremities as our body cranks up in a primal way to fight a predator or run away.
We don't have to worry about being eating by sabre-toothed tigers anymore, yet we haven't evolved a new response mode for internal, non-physical stress - AKA life after lockdown. But this primal instinct is still a positive in the 21st century. Why? It makes us remarkably resilient. When we're in fight or flight mode, we often do things we might otherwise think completely inconceivable.
Survival mode is something we absolutely excel at, so regardless of how you've been feeling over the last year, or how stressed you feel about life after all three lockdowns, you're absolutely built to be a survivor.
Fight or flight mode encourages us to have an inherent distrust that things may not be as they seem. That's our survival instinct kicking in and stopping us from stepping out into danger. This is a challenge many of us are facing as schools go back (roll on March 8), restrictions ease and life after lockdown enters a new phase. So how do you do this? How do you teach your mind to be adaptable with whatever life after three lockdowns throws at you ? These five action points are something I practise with many of my clients.
Life after lockdown - how to cope mentally
1. Don't try to recreate the past
You're stepping into a new normal. Nothing is exactly the way it once was. You can never recreate something that has already passed, so don't try to, it'll only make you frustrated. You can and will create your own new normal.
2. Stress will hinder your judgement
Stress does absolutely nothing for you. It hinders your sense of judgement. It prevents you from being able to use your mind to your full potential because stress throws you right back into survival mode again.
3. Manage stress with meditation
In my opinion this is the best thing you can do for your mind. Start right now and train yourself to let go and be still. This will allow your mind to rest and refuel. There are lots of apps to teach you the basics. I'm a big fan of Headspace. Meditation will teach you to let go of any feeling you no longer need or want. It will help create space in your mind for new possibilities.
4. Accept you cannot control everything
You may not go straight to exactly where you want to be with your life after lockdown. That's fine. It's not a race, there is no finish line. Take events as they come, and don't take too much on at once.
Your behaviour and the way you express yourself is intrinsically linked to your mindset and attitude. Set yourself up for life after lockdown by simply putting one foot in front of the other, and moving on at a pace you're comfortable with. Don't rush. You don't need to. Focus on the opportunities you do have.
5. Trust yourself
Ultimately, a lot of our anxieties come from not actually trusting that we have it within us to be OK. You absolutely do. My job is about getting people to places they never though they could reach. What many of my clients fail to recognise is that I didn't do any of it - they did.
Therapists are here to show you that you already have all that you need to set yourself up for success. Nobody else holds that much power over you: not your parents, not your partner, not your kids, not even your dog. Your biggest challenge is actually letting go of the belief that you aren't capable of something. Learn to trust your gut, it's tougher and smarter than you think. Don't underestimate how powerful your mind is.
Life after lockdown is a chance to reset. It's unlikely we'll ever get an opportunity like this again. Don't wish it away; look for the silver lining because there is one if you want to see it.
* You can contact Anjali and book sessions at anjalismitter.com. Currently, all sessions for frontline healthcare workers and their families are pro bono
Celebrity news, beauty, fashion advice, and fascinating features, delivered straight to your inbox!
Maria Coole is a contributing editor on Marie Claire.
Hello Marie Claire readers – you have reached your daily destination. I really hope you're enjoying our reads and I'm very interested to know what you shared, liked and didn't like (gah, it happens) by emailing me at: maria.coole@freelance.ti-media.com
But if you fancy finding out who you're venting to then let me tell you I'm the one on the team that remembers the Spice Girls the first time round. I confidently predicted they'd be a one-hit wonder in the pages of Bliss magazine where I was deputy editor through the second half of the 90s. Having soundly killed any career ambitions in music journalism I've managed to keep myself in glow-boosting moisturisers and theatre tickets with a centuries-spanning career in journalism.
Yes, predating t'internet, when 'I'll fax you' was grunted down a phone with a cord attached to it; when Glastonbury was still accessible by casually going under or over a flimsy fence; when gatecrashing a Foo Fighters aftershow party was easy-peasy-lemon-squeezy and tapping Dave Grohl on the shoulder was... oh sorry I like to ramble.
Originally born and bred in that there Welsh seaside town kindly given a new lease of life by Gavin & Stacey, I started out as a junior writer for the Girl Guides and eventually earned enough Brownie points to move on and have a blast as deputy editor of Bliss, New Woman and editor of People newspaper magazine. I was on the launch team of Look in 2007 - where I stuck around as deputy editor and acting editor for almost ten years - shaping a magazine and website at the forefront of body positivity, mental wellbeing and empowering features. More recently, I've been Closer executive editor, assistant editor at the Financial Times's How To Spend It (yes thanks, no probs with that life skill) and now I'm making my inner fangirl's dream come true by working on this agenda-setting brand, the one that inspired me to become a journalist when Marie Claire launched back in 1988.
I'm a theatre addict, lover of Marvel franchises, most hard cheeses, all types of trees, half-price Itsu, cats, Dr Who, cherry tomatoes, Curly-Wurly, cats, blueberries, cats, boiled eggs, cats, maxi dresses, cats, Adidas shelltops, cats and their kittens. I've never knowingly operated any household white goods and once served Ripples as a main course. And finally, always remember what the late great Nora Ephron said, 'Everything is copy.'