Will Smith releases an unusual 'official statement' following Jada Pinkett Smith's claims
Okay...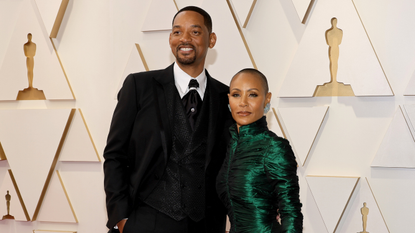 (Image credit: Getty Images)
It was quite a shock when Jada Pinkett Smith revealed she'd been separated from Will Smith for a *whole* seven years.
And now Will himself has addressed the media circus surrounding his marriage with a new video. But, it's not exactly giving much away.
Will shared a video titled 'official statement' on Instagram last night (Tuesday 18th October), but - if anything - it has made things more confusing.
Will started: "So, here's the thing. My opinion is…. Uh…"
He then sneezes into the crook of his arm before the camera pans out to various colourful landscapes, accompanied by upbeat music. So yeah, not too conclusive.
The video comes after Jada shocked the world with the revelation that she and Will had been split up for 'seven years' via People magazine.
She said: "We were actually looking towards separating and divorcing, and we separated. The world just didn't know. Then we had a reconciliation. And then 2016 came, and we had the ultimate break. But the world didn't know."
Jada then added: "I think that that's where some of the misconception about having an open marriage came into play because we were living lives as single people and the world didn't know...."
After revealing that she and Will broke up in 2016, she explained that 'he went on to live a life as a single man, I went on to live a life as a single woman'.
Jada went on to confirm the news in an NBC News primetime special with Hoda Kotb. During the interview, Hoda asked Jada: "Why not just amicably divorce?" and she simply replied: "We don't want to. We love our family. And we love each other. It's more of a life partnership," she explained, before adding: "Now, 10 years from now, Hoda? Who knows."
To which Hoda replied: "Do y'all have a deal, though, that if you start dating someone you tell him? Or if he starts dating someone he tells you?"
And Jada responded: "Well, you know, right now what we're focused on, which has been so beautiful, is deep healing because of everything that's transpired. Now, what happens after that I don't know yet."
It's not the first time the couple has been surrounded by controversy, with Will's very public lashing out at Chris Rock after he made a joke about Jada hitting headlines last year.
But back to Will's, ahem, official statement. Fans have reacted positively to the video, sending their messages of support to the actor.
"I'm going to use this next time somebody asks me about politics!" one follower responded.
Another said: "Always good to zoom out and look at the big picture!"
The post has already amassed over 540K likes.
So far, Will hasn't made any other comments on his wife's revelations, so perhaps this is his way of letting the world know that he won't be in future, either.
Celebrity news, beauty, fashion advice, and fascinating features, delivered straight to your inbox!
Lauren is the former Deputy Digital Editor at woman&home and became a journalist mainly because she enjoys being nosy. With a background in features journalism, Lauren has bylines in publications such as Marie Claire UK, Red Magazine, House of Coco, women&home, GoodTo, Woman's Own and Woman magazine.
She started writing for national papers and magazines at Medavia news agency, before landing a job in London working as a lifestyle assistant and covers everything from fashion and celebrity style to beauty and careers.