Waterless beauty: save water and face with these eco-friendly products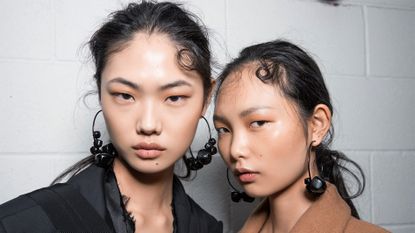 The beauty world is turning off the tap and setting its sights on waterless beauty products instead. And with good reason, too.
The average person in the western world now consumes 140 litres a day, and with the global population slated to reach 10.2 billion by 2050, the demand for water is set to drastically outpace supply.
In fact, according to the World Wildlife Fund, two-thirds of the world's population may face shortages by 2025, as only 1% of the earth's water supply is accessible freshwater (the rest is trapped in glaciers and snowfields).
The writing is on the wall: we need to start slashing our H2O usage.
What's the solution?
One way we can do that is by jumping on the waterless beauty trend as the majority of our products list aqua (a fancy word for water) as the first ingredient.
That's not as hard as it sounds now that leading beauty brands as well as niche companies are on board. L'Oreal has pledged to reduce its water consumption by a whopping 60% (per finished product unit) by next year while other brands are formulating products with zero, or minimal, water and those that can be used without (or with less) water.
Waterless beauty is skin-friendly, too
'Water is inexpensive and often only used in formulations to add volume,' says Linda Treska, founder of Pinch of Colour, the world's first entirely waterless make-up range. 'In some beauty products, the water content can be as much as 90 per cent, leaving very little room for other beneficial ingredients. We've discovered that by removing it, not only are the botanical ingredients like shea butter, apricot and camellia oils left undiluted but the payoff is more hydrating, too.'
The best vitamin C serums also benefit from being free from H20. Vitamin C is notoriously unstable and can be less effective when combined with water – one good reason brands like The Inkey List formulate without it.
Add to this the fact that waterless beauty products don't require preservatives – one of the main causes of sensitive skin – to prevent bacteria from forming and the result is a cleaner, non-inflammatory formula.
New-gen formulas
One solid solution is a beauty bar – a soap-like product to shampoo and condition your hair or deeply cleanse, exfoliate and detoxify your skin. The only water consumed is what you'd normally lather up with, explains Brianne West, founder of water-free beauty company, Ethique.
'Liquid-based shampoo and conditioner are composed of up to 95% water and therefore need to be packaged in plastic materials,' she says. 'Take out the water, however, and they can be formulated into solid bars and packaged in 100% biodegradable materials. One of the biggest benefits is that they last up to five times as long as their liquid-based counterparts.'
Most beauty bars are also sulphate free, avoiding SLS (sodium laurel sulphate), which makes traditional liquids lather up. The pay off? They are more gentle for the skin and scalp, while a lack of packaging – most are simply wrapped in paper – means less waste, too.
Similarly, cleansers and serums in powder form are a burgeoning trend. These finely-milled powders preserve the purity of ingredients and are less likely to degrade with light (especially vitamin C powder). So you're guaranteed a potent hit every time you either activate them with water or dissolve them in your moisturiser.
Swipe through for the best waterless products to add to your routine now. Your skin and the planet will thank you...
Pinch of Colour Healthy Lips Waterless Lip Oil in Berry Bite, £18, Cult Beauty
Apricot and avocado oils bring the moisture while the sheer wash of colour is second to none.
Charlotte Tilbury Instant Magic Facial Dry Sheet Mask, £18, John Lewis
Forget sloppy sheet masks. This one goes on dry but is saturated with vitamins, peptides and oils that are released on contact with the skin. Better still, you can re-use it up to three times.
The Body Shop Lip Juicer in Kiwi, Kale & Watermelon, £7
Get fruity with this 100% vegan, moisture-boosting balm. Literally mouth watering.
Avon Distillery Vitamin C-Shot Powder, £22
Simply mix into your regular moisturiser and reap the skin-brightening rewards of pure vitamin C.
Aveda Rosemary Mint Bath Bar, £14, Lookfantastic
Good-for-skin soap that also exfoliates thanks to rosemary and peppermint leaf powders and is sold in plastic-free packaging. What's not to love?
Dermalogica Ultracalming Barrier Repair, £42, Lookfantastic
Chock full of oat extract and evening primrose oil, this velvety waterless moisturiser is like a fire extinguisher for inflamed, sensitive skin.
Ethique Wonderbar Conditioner, £14.45
A solid conditioner bar with coconut oil and cocoa butter that can be rubbed through lengths and ends to leave hair silky soft. Not only that, but it doubles up as a shaving bar and lasts up to five months with regular use. Genius.
The Inkey List Vitamin C Serum, £7.99, Lookfantastic
By dropping water from the ingredients list, 30% L'ascorbic acid enables skin to reach its full potential. Think more even tone and plumper as vitamin C is known to stimulate collagen production.
Ouai Super Dry Shampoo, £20, Cult Beauty
Some days you just need to go big with your dry shampoo. Designed to absorb more oil at the roots without looking like someone tipped an ashtray on your head, it means you can push the boundaries of acceptable non-hair washing days.
Drunk Elephant Juju Bar, £24, Cult Beauty
Far from traditional soap, this ultra-mild bar – enriched with thermal mud, bamboo powder and marula oil - leaves skin squeaky clean without stripping away its protective barrier.
Aesop Remove, £17, Selfridges
An eye make-up remover with no dilution – seriously? Prepare to be surprised as natural ingredients that are safe to use around the eye (soothing blue chamomile, for example) whip away mascara and eyeliner in a jiffy.
Celebrity news, beauty, fashion advice, and fascinating features, delivered straight to your inbox!
Fiona Embleton has been a beauty editor for over 10 years, writing and editing beauty copy and testing over 10,000 products. She has previously worked for magazines like Marie Claire, Stylist, Cosmopolitan and Women's Health. Beauty journalism allowed her to marry up her first class degree in English Literature and Language (she's a stickler for grammar and a self-confessed ingredients geek) with a passion for make-up and skincare, photography and catwalk trends.