I've had so many compliments on my skin ever since I started using these 3 ingredients
Hello retinol, hyaluronic acid and niacinamide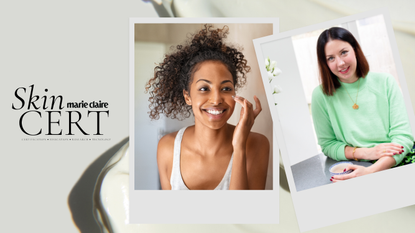 (Image credit: Getty Images/Tanja Ivanova/Ridofranz)
"Have you had a facial or something?" a friend asked recently. "Your skin looks great. You're glowing, in fact."
"No, but I have been using some new products," I replied, quietly pleased that someone else had noticed my results.
My secret? I'd added a retinol treatment formulated with niacinamide to my skincare routine twice a week, coupled with a hyaluronic acid serum that I'd been using day and night.
With two small children, I'm always looking for ways to look fresher and brighter, and by using retinol, niacinamide, and hyaluronic acid over the past few months, I've noticed a big difference to my skin.
What is retinol?
If you're unfamiliar, retinol is a derivative of vitamin A, so it works by accelerating skin cell turnover, leaving behind fresher skin cells on the surface. This means it can smooth the texture of the skin, improve the appearance of fine lines, wrinkles, and hyperpigmentation, and even help to manage acne and active breakouts.
"Retinol is a powerful way of increasing skin cell turnover – effectively the shedding of older, dead skin cells," explains Dr Jonquille Chantrey, surgeon, international lecturer and beauty scientist. "This in turn leads to an improved skin quality—reducing skin roughness as well as having a positive effect on skin tone, hydration and preventing congestion and breakouts. It also increases skin firmness by stimulating collagen production".
I've been aware of retinol and its benefits on the skin for a long time but, as I've had a couple of babies in the past five years, it's not always been suitable. (Retinol isn't safe for use while pregnant or breastfeeding). But, with my body now my own again, I was keen to enjoy the transformative powers this super ingredient is so revered for while also balancing the needs of my sensitive skin.
It's advised that retinol is introduced gently (once or twice a week in the evening initially) so the skin can build up tolerance. As it can also cause irritation, I'd been advised by a dermatologist to use it alongside humectants and moisturisers to keep my skin barrier happy. In essence, allowing me to enjoy the best of both worlds—calmness and rejuvenation.
How I added retinol into my regime
So, with this advice firmly in my mind, I started to use a gentle cleanser on the days I knew I'd been applying retinol. I didn't want to add anything else exfoliating or irritating to my skin. After this first step, I'd apply a very small pea-sized amount of retinol to my face, avoiding the eye area. It's formulated with the ingredient niacinamide to balance the exfoliating action of retinol. Previously when I tried retinol, I found any associated irritation too much and stopped treatment immediately. This time, however, with the addition of the niacinamide, my skin better tolerated the retinol and allowed me to reap its longer-term benefits.
To explain more about how this works, I asked Dr Chantrey to break it down. "Depending on the formulation, niacinamide can have a broad number of mechanisms of action in the skin including antioxidant activity, enhancing epidermal barrier function, decreasing skin hyperpigmentation, reducing fine lines, decreasing redness, and improving skin elasticity. It can also work well with retinol to help to improve tolerance," she says.
To further enhance my results, I've been following with a hyaluronic acid serum and moisturiser. While hyaluronic acid makes a great addition to any skincare routine, it works particularly well with retinol as it binds to water to retain moisture in the skin.
Dr Chantrey explains in more detail: "An HA serum, which can also be layered and combined with other topical active ingredient products without being heavy or occlusive on the skin, can benefit the patient more holistically than just moisturisation alone," says Dr Chantrey. "Depending on the formulation, the increase in surface skin hydration can assist with the exfoliation associated with retinol".
Knowing how to counteract the drying side effects of retinol with hyaluronic acid and niacinamide has been a total game changer for my complexion. I've been able to use it twice a week without any downtime or associated irritation and really seen an improvement in the brightness and texture of my skin texture.
My friend's recent compliment showed just how well the addition of the new products is working and I can't wait to see how it improves over the subsequent months.
Celebrity news, beauty, fashion advice, and fascinating features, delivered straight to your inbox!