I didn't think a retinoid would help my acne – here's why I was wrong
Two months later, I've learned a lot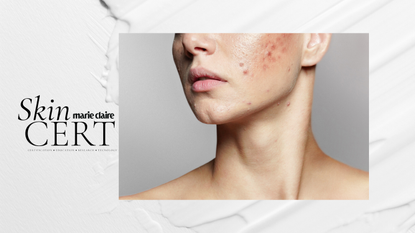 (Image credit: Getty Images/olhakozachenko/Aleksandr Rybalko)
Throughout my 20s – and, indeed, into my 30s – I've suffered from adult acne and have searched high and low for the best acne treatments. Ranging from mild and sporadic outbreaks to severe and cystic never-leaving-the-house-again spots, it's been quite the ride. Sometimes, I've managed to escape with just a couple of hormonal blemishes dotted around my mouth (and covered in the thickest concealer known to man – thank you, Nars), but more often than not, my skin looks congested and red, with painful pustules and hard lumps that build up beneath the surface of the skin. It's left me feeling embarrassed and sad, isolated and ashamed – and, of course, covered in scars.
At times, it's felt like I've tried everything – I've been on antibiotics and prescribed all sorts of topical lotions and creams by my GP. Then, during the first Covid 19 lockdown in 2020, when I was no longer commuting on busy trains, living in the city and caking on a full face of make-up every day, my skin *finally* started to clear. I swore by The Ordinary's Niacinamide 10% + Zinc 1% water-based serum and kept my skincare routine stripped back and as simple as possible.
But when I then decided to come off the contraceptive pill early last year, the acne flare-ups started becoming more and more frequent. Yes, post-pill acne is a thing. And I knew something needed to change.
Retinoid for acne
Now, when it comes to skincare, I tend to stick to the basics (cleanse, moisturise, SPF) – partly because I don't want to aggravate my skin further, but partly because serums and oils containing active ingredients – particularly retinol – always leave me feeling rather confused.
A couple of friends suggested trialling Skin+Me – a personalised treatment plan, prescribed by a dermatologist online. And, at this point, I was willing to give anything a try. I eagerly filled out the online skin consultation, which asks you what your skin goals are, your age, gender, your skin type, skin tone and a range of other questions. I also had to send in some bare-faced pictures of my skin and then patiently wait for a treatment plan to arrive in my inbox.
Based on the photos and the answers I gave in my consultation, the pharmacist confirmed I have acne and prescribed me a 'Daily Doser' treatment to use every evening after cleansing, and before moisturising.
When I looked into the ingredients I was surprised to see Tretinoin – a retinoid – listed, and I wondered if retinoids (and active ingredients in general) might be the key for treating my acne….
What actually are retinoids and how are they different to retinol?
"Retinol is a retinoid, which is a class of compounds derived from vitamin A," explains Dr Hayley Leeman, consultant dermatologist at the Cadogan Clinic. "Retinoids is an umbrella term to describe retinyl esters, retinol, retinaldehyde and retinoid acid. Retinoic acid is the most potent and is the one topical treatment, which has been shown in the medical literature to treat fine lines and photoaging. In the UK, retinoid acid requires a prescription and is commonly prescribed as tretinoin cream. While the other three retinoids (retinyl esters, retinol, retinaldehyde) can all be found in over-the-counter products, they are significantly less potent and do not have the same supporting evidence or scientific data."
Can retinol help acne?
Turns out, retinol can help treat acne. But, as Dr Leeman reminds me, tretinoin is not a retinol. "Tretinoin is retinoid acid and retinol is two conversions away from retinoid acid in the pathway," she says.
"In acne, retinoids often help to reduce inflammation, normalise the hair follicle cell life and reduce sebum production. Retinoids also regulate the amount of keratin being produced by your skin and prevent dead skin cells from sticking together. For acne, the recommended retinoid would be adapalene however tretinoin cream can also be very helpful."
The Dos & Don'ts of using Retinoids
Do:
Save your money (and your skin) and only use a pea-sized amount for the entire face – a little goes a long way.
Use retinoids at night to avoid any direct sun exposure. "This allows time for the product to absorb into the skin," says Dr Leeman.
Start slowly and increase the frequency of application. "Tolerated retinoids can induce significant local irritation initially so start by applying the cream twice a week and build up to using nightly, once your skin has adjusted," adds Dr Leeman.
Use Vaseline to protect the corners of your eyes, mouth and base of your nose – especially if you have sensitive skin.
Dilute the retinol or tretinoin by mixing it with your moisturiser at night if you are unable to tolerate the irritation despite implementing the above measures.
Wear regular sunscreen as you may become more photosensitive.
Wash your hands after applying retinoid so you do not spread this to sensitive areas when you later rub your eyes.
Don't:
Have facial waxes without thorough consultation. "Your skin will be more fragile and you may develop erosions which could lead to scarring," says Dr Leeman. "If you do not read this in time and this has already happened to you, my top tip is to apply La Roche-Posay Cicaplast Balm regularly."
Don't start using retinoids right before an important or red carpet event – "initially you will very likely develop some redness and peeling of your skin," says Dr Leeman.
Don't use retinol if you're pregnant, breastfeeding, or trying to conceive.
Don't be tempted to think more is more and apply a lot thinking it will work faster. It isn't and it won't. Don't lather it on – use it sparingly.
The verdict
After religiously using prescription-strength tretinoin for eight weeks, I'm pleased to report my skin is definitely looking better, but it did go through a period (around weeks 2-5) where my acne got a lot worse. I've heard some people call this period 'skin purging' – where your skin quite literally 'purges' in reaction to using active ingredients.
Of course, prescription skin treatments can take time to work (I'm told it can take up to 8-16 weeks to really see visible results), so I'm trying to remain patient and hope that retinoids (and consistency) will continue to improve my skin. Who knows, maybe I'll reach the grand old age of 32 and finally be acne free?
Celebrity news, beauty, fashion advice, and fascinating features, delivered straight to your inbox!
Alice is a contributing lifestyle journalist with over seven years of industry experience and has worked for the likes of The Telegraph, The Independent, Women's Health, Stylist, Glamour, Grazia, Glorious Sport and more. Specialising in health and fitness, Alice covers everything from the latest product launches to interviewing some of the most inspiring female sports stars of our time.