Three beauty editors just put Peter Thomas Roth's TikTok-famous, line-erasing eye cream to the test
This eye cream has gone viral, but is it as good as it seems?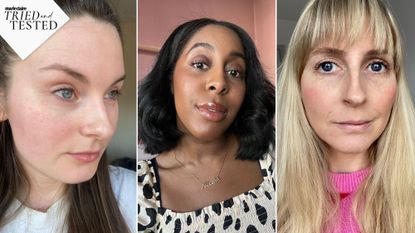 (Image credit: Charley Williams-Howitt, Keeks Reid and Tori Crowther)
Every now and again, a beauty product blows up on TikTok and everyone wants to get their hands on it. From foundations to hair tools and even the best eye creams, the social media app is full of recommendations. So, when we saw the Peter Thomas Roth eye cream racking up thousands of views, we knew we had to give it a go.
Before getting into our review, let us give you a little bit of backstory. This product went viral thanks to the fact that it can transform your eye area in seconds. Peter Thomas Roth Instant FirmX Eye contains Firm-A-Tite™ technology, which is essentially a trio of skin tighteners to lift, firm and tighten any fine lines around your eyes.
The results on TikTok speak for themselves. After watching the before and after videos, you can imagine how excited we were to give it a go. However, we know that when it comes to skincare, it's not a 'one size fits all' approach, so we reached out to three beauty editors and asked them to share their individual opinions on the product.
Keep on scrolling to see what they had to say, and for more inspiration, don't forget to check out our guides to the best eye creams for wrinkles, the best caffeine eye creams and even the best retinol eye creams.
Buy Peter Thomas Roth Instant FirmX Eye
Peter Thomas Roth Instant FirmX Eye
Charley Williams-Howitt, Freelance Beauty Editor
The results
The verdict
"Ah the old 'do you really need an eye-cream?' debate. Sure, introducing an eye cream to your skincare routine if you have specific under-eye concerns can be effective. However, if you're simply looking to hydrate the eye area, you can just use your regular moisturiser. I am a little sceptical about their efficacy, probably because I am impatient and like to see results fast, something most skincare doesn't achieve. But then TikTok and I discovered FirmX Eye Cream.
"O to the M to the G. This stuff is a magic potion sent from the beauty gods, surely? The term Botox in a bottle very rarely lives up to expectations, but (Sir) Peter Thomas Roth, you have delivered and then some. Let me explain.
"First of all I'd like to say that I think this sits more in the make-up, rather than skincare category due to its short-lived immediacy. It has got some clever ingredients that offer long term skincare benefits but it's Firm-A-Tite, the skin-tightening silicates plus seaweed extract, that gives that gratifying instant tightening filter. It's recommended that you apply a small amount with a clean eyeshadow brush under the eye area and up. It's cooling to apply, no tingling or prickling sensation as I was expecting. Then we wait. After about 30 seconds the tightening happens—it feels like sellotape is lifting everything up. Wrinkles fade. Lines disappear. I have gone back to 2013 in under a minute. I'm scared to smile or move in case I break the spell. You can get a slight white residue, which usually means you've applied too much, but this is easily softened with a damp cotton pad. I apply foundation over the top, using my fingers to gently pat around my eye area. It does look a little blotchy at first, but then settles ok. I was going to pass this on to my mum after testing it, but sorry mother, FirmX is staying put—just like my face."
Keeks Reid, Freelance Beauty Broadcaster
The results
The verdict
"I have been putting this review off for a long time because I was genuinely at a loss of how to describe it. I just didn't get it. This product is all over TikTok at the moment and I can see why because it's different, and I can see how it could work well for full-coverage make-up, but for me this was not great.
"Firstly, it really surprises me that this is a product created by Peter Thomas Roth as I have only known the brand to create formulas that are about improving and maintaining healthy skin in the long term, so the fact this is all about an instant fix is confusing to me. It promises to tighten the under-eye area and improve the look of crow's feet, puffiness and fine lines and in all honesty, it kind of did but in a way that feels more suitable to stage make-up than skincare.
"The texture of the cream feels like a translucent paste. You apply a little to your under-eyes and then you need to wait for it to set, like papier mache or glue. After, I was left with a smooth under eye but what also looked like limescale residue in a semi-circle. I had to wear concealer to cover the white cast, but I do think it went on very smoothly on top of the cream. I cannot say the appearance of my under eyes were changed enough for me to ever use it again and I don't like that it has no long-term benefits, but it was certainly an interesting user experience."
Tori Crowther, Freelance Beauty Journalist
The results
The verdict
"After seeing this eye cream all over TikTok, I was very intrigued give it a go, but I was also aware that I've not really got under eye lines to soften or bags to depuff yet since I'm still in my 20s, so heading into it, I knew the dramatic results would be wasted on me.
"This eye cream definitely isn't a joy to use. It leaves an intense tightening feeling — which is what makes it so effective at smoothing and depuffing — but sadly it flaked off after just a few minutes. The results lasted well, but this flaking made it really difficult to apply any makeup over the top. You also have to be careful not to scrunch or touch the area as this can actually make the formula crack a little and give the appearance of more fine lines. The brand's simple (and quite hilarious) instructions are: 'Do not squint or smile.'
"For that reason, this product definitely isn't for beginners or those who aren't really comfortable with their make-up application. If you take this eye cream for a spin, your under eyes will most certainly be transformed, but get ready for touch-ups throughout the day.
"On me, it's difficult to say how good the results were. It definitely made me look more wide awake by tightening the area. Sadly, I found it too uncomfortable to wear and, quite frankly, just don't need a product like that at the moment. I did, however, try it on my mum who had pretty dramatic results. It absolutely lives up to the claim of being instant and it certainly smoothes out fine lines and its ability to depuff near instantly is incredible.
"Overall, it's good for a dramatic and instant effect but difficult to use and isn't easy to add make-up over the top of the formula so, for most people, this wouldn't be an everyday product."
Celebrity news, beauty, fashion advice, and fascinating features, delivered straight to your inbox!
Grace Lindsay is currently Junior Beauty Editor at Who What Wear UK and previously was Marie Claire UK's E-Commerce Writer. With over three years of experience in the fashion and beauty industry, she covers everything from the best make-up and skincare deals to how to shop the stand out trends of the season. When she's not typing away at her laptop, Grace can be found shopping her favourite vintage markets IRL, or catching up on her never-ending list of books to read.