Wondering how to apply fake tan? We've got all the tips straight from the pros
No streaks here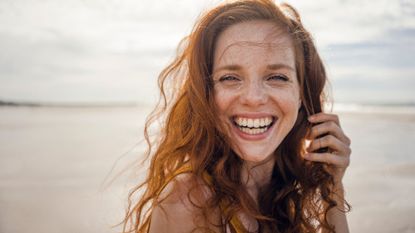 (Image credit: Getty Images Westend61 1043593964)
In a perfect world, our self-tan efforts would be indistinguishable from the real deal. But in the here and now, applying the best fake tan with zero streaks or patchiness is no mean feat.
However, that's not to say that it's impossible, you just have to make sure that you're following the correct steps. If you're not sure what they are, not to fear, as we've done the hard work for you and asked the experts for their best fake tan tips.
For more inspiration, don't forget to check out our edits of the best tanning waters, the best gradual tans and even the best instant tans. We've also put together a guide to the biggest fake tan mistakes, so make sure to give that a read.
For now, without further ado, here's how to separate a good sunless glow from the bad…
How to apply fake tan, step by step:
1. Exfoliate your body
"The biggest mistake I see is people blaming a self-tan product for turning them patchy," says tanning expert James Read.
"Really, dry skin is the culprit because it absorbs extra DHA (dihydroxyacetone, the active ingredient in self-tan). Always exfoliate 24 hours beforehand and moisturise with an oil-free product so your skin is like a fresh canvas."
According to A-list tanning expert James Harknett, you should pay particular attention to exfoliating your wrists, ankles, elbows and knees, as these are the prime areas prone to colour grabbing.
2. Prep your face
A scrub is too harsh for your face. For gentle exfoliation, the best cleanser will contain glycolic or salicylic acid, which dissolves sebum and other dead skin cells.
"Then, rub a piece of ice over your cheeks, forehead and nose prior to applying self-tan to close the pores so they don't get clogged with formula," says Read.
3. Choose the right fake tan for your skin type and tone
Choosing the right tan for both your face and body is very important. "If you suffer from dry skin, opt for a cream as it is more hydrating," says Michaella Bolder, St.Tropez's Tanning & Skin Finishing Expert. "Mousses are great for normal skin with no concerns and gels offer oily skin the added bonus of a quicker tan result."
Your skin tone also needs to be considered. "If you have a fair skin tone and you freckle in the sun, then a red-based tan will complement your colour," says Harknett. "Olive skin tones and those who tan well on holiday should choose a green base."
As for novices? Choose a gradual tan as it contains less tanning agent than regular self-tans.
Now, when it comes to the face, make sure you are choosing a tan specifically designed for that area (our roundup of the best fake tans for your face should help).
"The skin on your face has a tendency to go a little darker as your PH balance is higher," explains Read, which is why you don't want to use the same product that you are using on your body.
4. Start at the top and work down
Now, onto the actual tanning bit. "Apply self-tan in long, sweeping motions using a tanning mitt, and add a few more pumps of product for each section," says Bolder.
"Start from one arm, across the chest, to the other arm and then down your torso. This allows the product to fade more evenly down the legs as opposed to leaving tidemarks of new product around the ankles."
Avoid showering for six to eight hours and use talc-free body powder on sweat-prone areas. "Dust it under the armpits, around the breast area and the back of the legs to prevent the tan from sweating off," says Read.
When tanning your face, the best make-up brushes can come in handy. Use a foundation brush to apply the self-tan, working from the inside of the face out, buffing it in as you go.
You can also dab Vaseline along your brows and hairline to avoid any slip of the hand developing in dodgy marks.
5. Invest in a back applicator
If you don't live with someone that's willing to help fake tan your back every time you want a sunkissed glow, then a back applicator will be your new best friend. These clever tanning tools will help you to reach those nooks and crannies that are easily missed.
6. Don't forget the aftercare
So, you tan has developed and it's looking great. Although it might seem like there's nothing else to think about, aftercare is crucial in making sure that your tan fades evenly. This will differ depending on the self-tan formula you choose.
"Work a gradual tan into your skin every day for three days until you reach your desired colour, then take three days break," says Bolder.
If you've gone for a regular fake tan, then Bolder recommends applying it for two consecutive days then again seven days later. "Exfoliate after four days to keep the skin surface fresh."
Facial self-tan needs extra attention. "Due to heavy cleansing and speedier cell turnover, you will need to reapply a facial tan every second or third day."
But the golden rule that applies to all of the above is moisturise every day to lock the colour in and encourage a gentle fade.
Celebrity news, beauty, fashion advice, and fascinating features, delivered straight to your inbox!
Grace Lindsay is currently Junior Beauty Editor at Who What Wear UK and previously was Marie Claire UK's E-Commerce Writer. With over three years of experience in the fashion and beauty industry, she covers everything from the best make-up and skincare deals to how to shop the stand out trends of the season. When she's not typing away at her laptop, Grace can be found shopping her favourite vintage markets IRL, or catching up on her never-ending list of books to read.